Jilin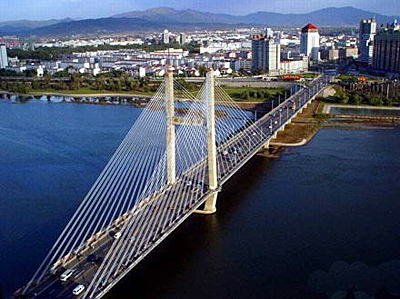 Jilin in brief
Jilin City is the only city in China to use the same name as the province it belongs to. It is a very famous city in northern China for beautiful winter sceneries especially the very special frost and various interesting festivals. It is a great place to go all around the year, but winter may attract you most. You will find very interesting activities and all the delicious food Jilin provides for its lovely visitors. We promise that it will not let you down.
Brief Introduction to Jilin
Jilin City is a diverse mix of 35 ethnicities including Mongols, Huis, Manchurians, Koreans, etc. Jilin City was originally called Jilin Wula which in Manchurian literally translates as "City of the river's edge". And Jilin City is called River City as well. Indeed the city sits on the banks of the Songhua River and at the foothills of a large mountain range. When the Kangxi Emperor of the Qing Dynasty traveled up the Songhua River he was amazed at the beauty of this small outpost.
Jilin City has long attracted visitors due to its natural beauty; however the region is also rich in agricultural production, hydro-electric power, minerals and forests making it one of the wealthiest regions in northern China. The city is also rich in cultural diversity, it is known as the most culturally diverse city in northern China: Manchu Nationality custom in Wula Street, Aladi Village, Korean life style in Xingguang Village... making the city an attractive cultural destination as well. The most prosperous areas of Jilin City lie near the East Market and Big East Gate.
What to see in Jilin City
To the east of the city is Mount Longtan, to the west of the city is the snowcapped mountain that was frequently climbed by the emperors, to the south is the scenic Zhuque Mountain, and to the north of the city lies the famous Beishan Mountains, and tying them all together like a length of silk is the Songhua River, a fantastic natural path for tourists to explore the beauty of Jilin City.
The interesting festivals in Jilin City
Jilin also has a long and rich cultural and industrial history and was a industrial heartland from the 14th -19th centuries in northern China and also a major army barracks, many of the buildings in the city were originally built during ancient times and have been kept well preserved and are still functional today.
It has many interesting festivals:
Songhua Lake Gourmet Festival
Songhua Lake Leisure Travel Festival
Mount Changbai Red Leaves Travel Festival
International Frost Ice and Snow Festival
Xuehua Beer Festival
Songhua River Water Lantern Festival
Just come and enjoy all these specialties of Jilin City!