Jilin Catholic Church

More Photos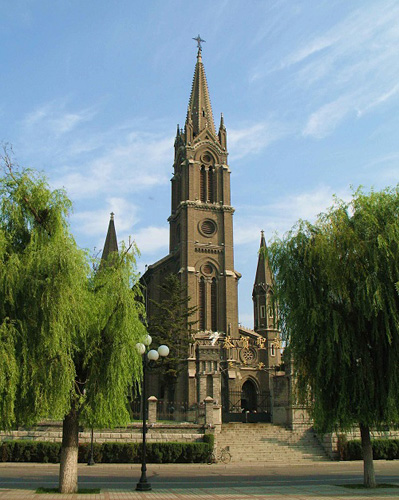 Construction on the Catholic Church of Jilin City began in 1917 and was completed in 1926. It was built in the mould of classic Germanic Churches, a style that was first developed in France from12th century and became popular in West Europe from the 12th century to 15th century.
One of the distinctive features of this Catholic Church is the belfry in the middle which holds an original European bell that can be heard for several kilometers when mass is held. The materials used to build the church are also unique, which are large blue stones shipped in from the Ashihada area of Jilin Province, giving the exterior of the church a distinctive bluish hue. In total the church has 16 stone columns and 24 stained glass windows, combining both religious and ethnic flavor.
High hopes were held for the church and for the dissemination of the catholic faith throughout China, however these lofty hopes were never realized, Catholicism first arrived in China in 1508 and arrived in north-east China in 1682, however an oppressive imperial government dampened and virtually erased Catholicism within mainland China, Jesuit priests were forced to flee to small cities like Macao.
Quick Questions
Our team is waiting for you questions. Please feel free to ask us any questions you might have about our China package tours, Chinese culture, or the sites available. We will gladly help you with any special needs you might have and all questions, like our trip designing is completely free of charge.