Hong Kong Transportation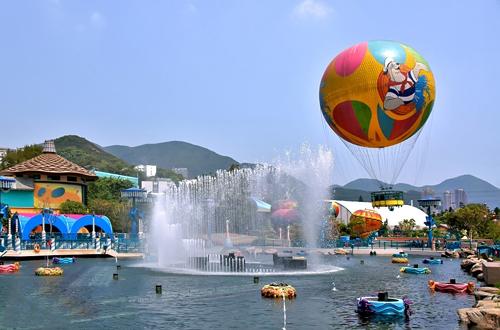 As a cosmopolis and financial center, Hong Kong has a honeycomb transportation network linking its different districts including railways, ferries, tunnels, subways and taxis as well as an intercity network linking it with mainland China. Octopus Card, an electronic peyment system, has been applied in Hong Kong for the convenience of passengers and can be purchased in every station of Mass Transit Railway, which can be used for payment in public transportation and at parking lot, convenience stores, supermarkets, fast food restaurants, vending machines and even theaters.


By air


Hong Kong is mainly served by Hong Kong International Airport, which is located in Chek Lap Kok of Lantau Island, 35 kilometers from city proper. There are five ways to get city proper from the airport.


1. Airport Express is available in the airport station which is near the Arrival Hall to transfer passengers from airport to city proper (stops: Asia World-Expo Station, Airport station, Tsing Yi Station, Kowloon Station and Hong Kong Station). Shuttle trains from airport to city proper run every 12 minutes from 05:50am to 01:00am. The last train leaves from Airport Station at 12:48 pm.


2. Hong Kong International Airport is also served by thorough bus lines linking the city's various districts.


3. In addition, Passengers can turn left from Arrival Hall and walk to Taxi Stand to catch a cab. The red ones link airport with all areas except the Tung Chung Road and South Lantau. Green cabs run on designated roads of New Territories and Lantau Island. Blue cabs link airport with the whole Lantau Island. A taxi can carry five people at most.


4. Hotel's shuttle buses are also available transferring passengers from airport to major hotels. Counter Service is located in the Tourist Bus Station on the No.2 Terminal Building. Commonly, it takes HK$140/p for one way from airport to hotels in Hong Kong Island, and HK$120/p one way from airport to hotels in Kowloon District. Hotel's shuttle bus runs every 15 minutes from 06:00 am to 01:00am.


5. With the assistance of Society for Rehabilitation HK, visitors who have trouble in moving are able to book a bus service via calling +852 8100 8655. Working hours: 09:00am to 17:00pm.


By water


Up to now there are four boundary-crossing ferry piers in Hong Kong, respectively, Hong Kong-Macau Ferry Terminal, China Ferry Terminal, Tuen Mun Ferry Pier, Sky Pier. Several companies provide ferries to costal cities such as Macao, Zhu Hai, Zhongshan, Nansha.


By land


Three boundary-crossing railways have been established for the sake of passengers from mainland China to Hong Kong including Beijing-Kowloon Through Train, Shanghai-Kowloon Through Train and Guangzhiou-Kowloon Train. Hung Hom Station serves as their terminal station.
People from mainland China to Hong Kong commonly will take a bus from Shenzhen to Huanggang Port Control Point and reach Hong Kong by Mass Transit Railway (MTR) or other transportation.

City transportation


1.By train
---MTR (Mass Transit Railway)
Running time: from 06:00am to 01:00am.
Nine Major routes: Island Line, Tsuen Wan Line, Kwun Tong Line,Tung Chung Line, Tseung Kwan O Line, Disney Resort Line, Airport Express Way, KCR Light Rail (running between Tuen Mun, Yuen Long, and Tin Shui Wai) , KCR East Rail, KCR West Rail.
---Tramway


Run by Hongkong Tramways Company Limited, the tramway stretches over 13 kilometers running between Kennedy Town, Shau Kei Wan and Wong Lai Chung Valley.


--Funicular railways
The funicular runs every 10 to 15 minutes from 10:00am to 23:45am. It measures 1.4 kilometers from Admiralty Garden Road to Victoria Peak. Tourists can take feeder bus 150 from Central Star Ferry Pier to cable car station. Singular fare is HK$20 and round-trip fare HK$30.

2. By ferry
Facing the IFC Mall, Central Piers serves as the major pier for ferryboats from Hong Kong Central District to outlying islands or Victoria Harbour. It is adjacent to MTR Hong Kong Station. In addition, bus stations and some substations besides the pier provide buses to Hong Kong Island, southeast region of Kowloon and Ma On Shan of New Territories.
Tourists can take a star ferry from Hong Kong Central District or Wan Chai to Tsim Shai Tsui. Running time is from 06:30am - 23:30pm. Cost: HK$1.7- $2.2.
Outlying island routes: Outlying Islands Ferry Pier, Cheung Chau, Lamma Island, Lantau Island, Peng Chau. Cost: HK$10-31.


3. By public bus


Public buses are the major transportation means of Hong Kong. They fall into three categories: monopoly buses, non-monopoly buses and public light buses. Most of monopoly buses are controlled by five companies. Service time begins from 06:00 am to midnight.


4. By taxi


Hong Kong provides all-night taxies. Taxi fare is calculated by a taximeter. Red taxi charges HK$15 for the first two kilometers and extra HK$1.4 will be charges for every subsequent 200 meters. Green taxi charges HK$12.5 for the first two kilometers and extra HK$1.2 will be charged for every subsequent 200 meters. Passengers need to pay tunnel fee and bridge fee (HK$3-50).