Hong Kong Cuisine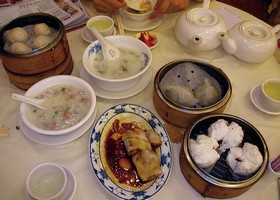 Hong Kong is absolutely the paradise of food buffs. Hong Kong People have a great passion for foods and are good at eating. It is no exaggeration to say that they are foodies. Hong Kong offers a variety of foods. Tea snack, steamed buns with BBQ pork, seafood, shrimp dumpling, roast meat, dessert, egg tart and so forth are something they can't live without.
Hong Kong-style Sea Food
Due to its location, seafood is available in Hong Kong all the year around. Hong Kong chefs are capable of cooking seafood which never fails to appeal you. Therefore, eating seafood is a must-try experience when you are in Hong Kong. Lei Yue Mun, Lamma Island, Aberdeen Typhoon Shelter, Sai Kung are the best places to go.
Tea Snack (Dim sum)
Wherever you go in Hong Kong, ubiquitous tea restaurants will reminds you where you are. Hong Kongers have retained the Chinese tradition of drinking tea and adopted British afternoon tea, which lends Hong Kong a touch of exotic atmosphere. Egg Tart, Milk Tea and Pineapple Bun always have a share in light refreshments. Hong Konger won't feel like drinking tea without eating them.
Egg Tart
Egg Tart deserves a single paragraph because it is not only the reminder of the history of Hong Kong but also a veritable delicacy. Hong Kong-style Egg Tarts can be divided into two kinds: one is made from beef tallow and another is made from lard oil. It is less creamy than English custard tarts and melts in your mouth in a matter of seconds.
Hong Kong-style Roast Meat
Toasted meat includes roast goose, roast pigeon, barbequed meat and so forth. Generally speaking, meat is salted in homemade sauce and toasted on stove. Its crunchy peel and slightly-sweet flavor are the favorite of Cantonese and Hong Kongers, a novel delicacy for most westerners. Hong Kong people will roast suckling pig for good luck no matter it is for celebration or just for taking shot.
Hong Kong-style Dessert
Dessert shares a place with the above mentioned in the hearts of Hong Kong People. it has a long history and offers varieties, ranging from Milk Tea, Mango Pudding, Sesame Ppaste to Bean Curd Jelly, each more mouthwatering than another. Many century-old candy shops stand rock-hard in streets and lanes.
Fish Ball
Fish Ball has a history dating back to 1950s. According to Apple Daily, Fish Ball is the most popular snack among students. Vendors purchase them in batch, and the taste is good or bad depends on the hot sauce.
Gourmet Paradise
--- Sai Kung
Sai Kung Seafood Street is probably the most well-known street for seafood buffs. Visitors select food items outside the door and then wait in the restaurant.
--- Causeway Bay
As a famous shopping center, Causeway Bay packs arrays of food stalls, tea restaurants, as well as western bars and Japanese Sushi Bars. It is a great place for seeking foods of authentic local flavor.
---Kowloon City District
The area features many Asian restaurants. Thai restaurants and Chinese restaurants are most popular.
--- Lan Kwai Fong
The world's longest escalator draws people and spurs the catering industry. It has long been the pronoun of nightlife of Hong Kong. Located in Hong Kong Central District, it is one of the most well-known and prosperous food streets in Hong Kong. It is crammed with western restaurants and bars.
---Sim Sha Tsui
Tsim Sha Tsui provides up-to-date delicacies of the world. Japanese restaurants, European restaurants, Italian restaurants, hot pot restaurants, bars can be seen in Tsim Sha Tsui. It is an international gourmet street.