Wong Tai Sin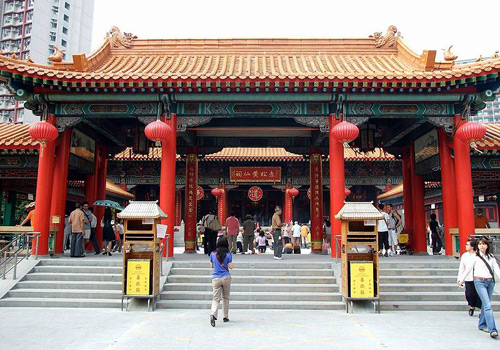 More Photos

Chinese name: 黃大仙祠
Location: Upper Wong Tai Sin Village, Kowloon, Hong Kong.
Opening time: 07:00-17:00.
Entrance fee: free.
Best time for visit: October-November.
How to get there:
- By bus No. 1, 2F, 3 or 11 and debus at Wong Tai Sin Temple.
- By subway and get off at the stop of Wong Tai Sin, get out of the subway station Exit B2 and turn left, the temple is 5 meters' walk away.
About Wong Tai Sin
Wong Tai Sin, literally "Immortal Wong" in English, is a known immortal of Taoism living in Eastern Jin Dynasty (317-420) in ancient China. Born in Jinhua County of Zhejiang Province in 328, he lived as a shepherd boy at his hometown before 15 years old when he was said to be guided by some immortal and decided to live in seclusion in the Chisong Mountain, where he devoted himself to Taoism since 18. Folk legend goes that he often helped others after ascending to heaven and becoming immortal, hence he is highly respected and admired by the common.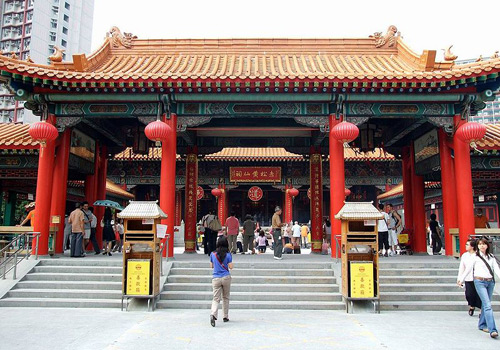 Introduction to Wong Tai Sin Temple
In 1915, the sculpture of Wong Tai Sin was escorted to Wanchai of Hong Kong from Xiqiao Mountain of Guangdong Province by Liang Renan, a Taoist priest who acknowledged Wong Tai Sin as his master. Six years later, Liang got some celestial guidance and the temple was started to be constructed at the foot of the Loin Hill in Kowloon, with the original name of "Sese Garden (啬色园, Sik Sik Yuen in Cantonese)".
For more than a decade, the temple was a religionary place for Taoists only to cultivate themselves and study Taoism and was not opened to the public until 1956. Today the temple has developed to be a resplendent architectural complex standing among high-rises in Kowloon Peninsula, with great fame and numerous believers who believe they will get what they request in the temple via drawing a lucky lot.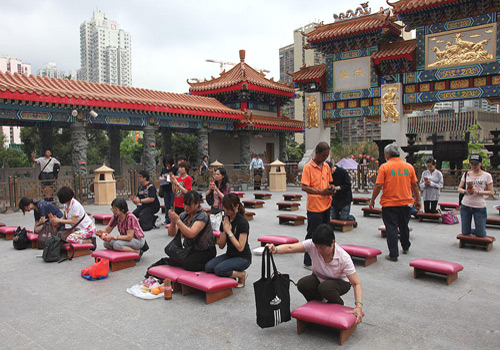 Main Structure of Wong Tai Sin Temple
Occupying over 18,000 square meters nowadays, Wong Tai Sin Temple is strictly arranged according to a divination held in front of Hall of Wong Tai Sin in 1937 with "Five Elements": the copper Flying Warbler Pavilion (medal), the Taoist Texts Hall (wood), the Holy Water Pool (water), the Censer Pavilion (fire), and the Nine Dragon Screen (earth).
In May of 2010, Wong Tai Sin Temple was confirmed as a first-grade historic structure of Hong Kong; meanwhile, it is also the first Taoism temple which are officially authorized by Hong Kong government to be legal to sign and issue marriage certificate and to preside over Taoist wedding ceremony in Hong Kong.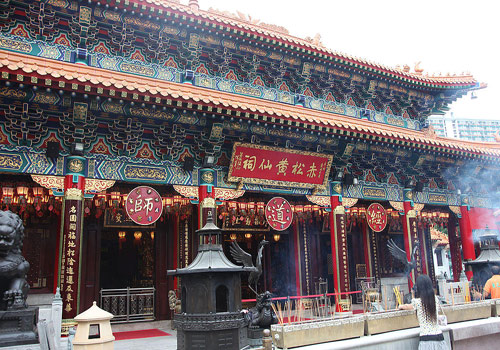 - The Main Hall
Golden roof, red pillars and blue lintel, the main hall of Wong Tai Sin Temple is of typical traditional Chinese temple style. The portrait of Wong Tai Sin is enshrined in the center on the main altar in the hall and behind the altar there is a wooden carving that describes the story of Wong Tai Sin. Besides, the Great Sage Equaling Heaven and the Town God are also worshipped in the hall and more wooden scriptures and pictures themed on Confucianism, Buddhism and Taoism are also showed on the walls inside the hall.
- Three Sages Hall
This is the hall of Lu Dongbin (one of the Eight Immortals of Taoism), Avalokitesvara of Buddhism and Guan Yu (a best-known loyal general in ancient China). Being a temple of Taoism, out of the ordinary, that Wong Tai Sin Temple enshrines and worships figures of other religions has been a vivid feature of it.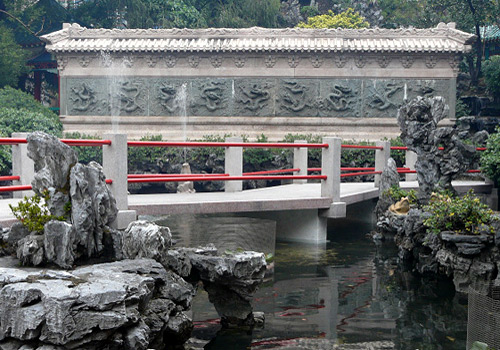 - Nine Dragons Screen
The Nine Dragons Screen in Wong Tai Sin of Hong Kong was constructed modeling the original one in the Beihai Park of Beijing in1981. On the back of the wall is its name in Chinese and a poem inscribed by Mr. Zhao Puchu, deceased Chairman of Chinese Buddhism Association. Complying with traditional Chinese mascot combination, the building located rightmost in the temple named "Phoenix Tweeting" echoes well with this wall with "dragon".
- Congxin Garden
Congxin, literally "do as one pleases" in English, was built in 1991 in memory of the 70th anniversary of Wai Tai Sin temple, with the name originating from a famous saying of Confucius – "Do as one pleases at his/her seventies". Apart from small bridge, waterside pavilion, mini waterfall, artificial lake and pavilion in various styles, a long corridor imitating on the one in the imperial Summer Palace can also be seen in the garden.
Quick Questions
Our team is waiting for your questions. Please feel free to ask us any questions you might have about our China package tours, Chinese culture, or the sites available. We will gladly help you with any special needs you might have and all questions, like our trip designing is completely free of charge.