Tsing-Ma Bridge

More Photos

Chinese name: 青馬大橋
Location: span Ma Wan Channel and connects Tsing Yi Island (青衣島) and Ma Wan Bay (馬灣), leading the way to HK International Airport.
Opening time:
- Visitors Center: 10:00-17:00 on weekdays, 10:00-18:30 on weekends and public holidays;
- Observation Deck: 07:30-midnight
Ticket: free
How to get there: take subway and get off at Tsing Yi Station (青衣站), and exit from Exit A1, and then transfer special line to Visitors Center of the Tsing Ma Bridge.
General information about Tsing Ma Bridge
Starting date of construction: May 1992
Completion date: 1997
Cost of construction: 7.14 billion HKD
Length: 2200 m
Main span length: 1377 m
Height from the sea surface: 62 m
Height of bridge tower: 206 m
Total length of the hanger steel rope: 160 000 km

Introduction to Tsing Ma Bridge of Hong Kong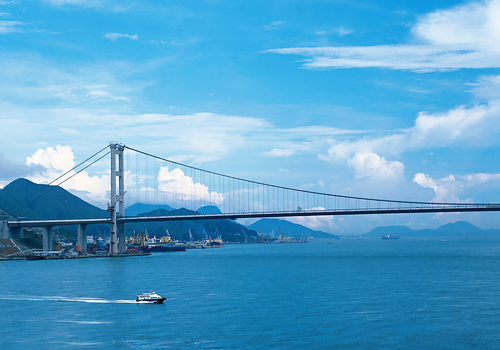 Tsing Ma Bridge belongs to the Ten Cole Projects of Hong Kong International Airport, which is not only a key landmark of Hong Kong but also the longest steel bridge for both vehicles and trains in the world. Being a part of No.8 Lantau Link, Tsing Ma Bridge strides over Ma Wan Channel that connects Tsing Yi Island and Ma Wan Bay; together with the Kap Shui Mun Bridge (汲水門橋) which connects Ma Wan and Lantau Island (大嶼山), the bridge of Tsing Ma is just like a double rainbow, which is proved to be one of the most splendid views of Hong Kong. The bridge was listed in 1999 as Top10 Construction Achievements of the 20th Century by the US Architectural Authority.
Being the sole driveway connecting Lantau Island and Hong Kong International Airport as well as the Kap Shui Mun Bridge, Tsing ma Bridge is a two-storey one with a total length of 2.2 km and was completed only for 5 years. Its open air upper story is a dual 3-lane vehicle road, and the lower storey is for 2 metro Tung Chung Lines , a airport express railway and 2 single vehicle passageways for emergency use.
Sightseeing guide for the Bridge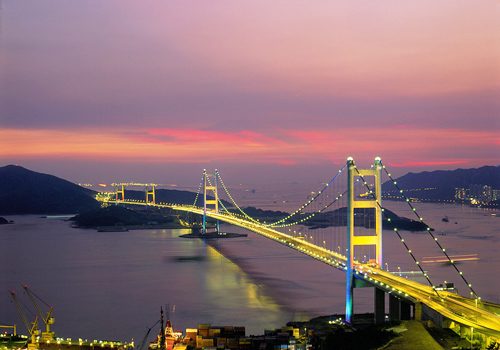 1. The sceneries of Tsing Ma Bridge are magnificent day and night though visitors can not walk on the bridge as there is no pavement. It is suggested to have a overlook of the grand steel-constructed Tsing Ma Bridge at Tsing Xin Mountain (青欣山) of the Tsing Yi.
2. The best site for the bridge view is the Visitors Center in the northwest of Tsing Yi island (青衣島) and its observation platform aside, where possess amazing views of the greatness of Tsing Ma Bridge as well as the Ting Kau Bridge (汀九橋), which connects the HK Island and the New Territories.
3. To have a close look of Tsing Ma Bridge, the simple way is to take a ride of the buses to HK Airport or the Lantau Link (which open from 07:30 -24:00 on weekdays, 10:00 -18:30 on weekends and public holidays, but closed on Christmas Day and New Year Day both in Lunar and New Style Calendar) to crossing a vast expanse of the water at the longest steel hanging bridge of Tsing Ma.
Quick Questions
Our team is waiting for your questions. Please feel free to ask us any questions you might have about our China package tours, Chinese culture, or the sites available. We will gladly help you with any special needs you might have and all questions, like our trip designing is completely free of charge.