Tiantan Buddha Statue

More Photos

Chinese name: 天壇大佛
Location: on Ngong Ping Plateau, Lantau Island, Hong Kong.
Opening time: 10:00-17:30
Ticket: free to visit the outside of the Giant Buddha, HKD23 to go inside the Buddha (the exhibition hall).
How to get there:
- take ferryboat to Mui Wo (梅窩) at No.6 Wharf of Central District, and then transfer bus No.2;
- take subway and get off at Tung Chung Station (東湧站) and exit from Exit B, and then transfer bus No.23.
Introduction to Tiantan Buddha of Hong Kong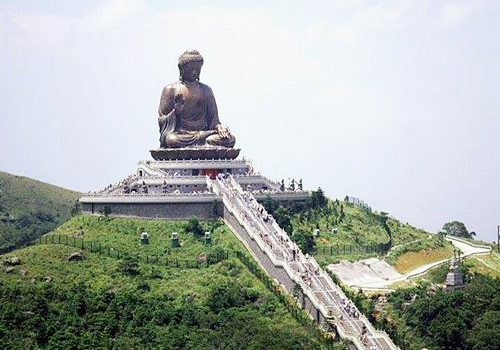 Tiantan Buddha, also known as the Giant Buddha, which is regarded as the largest outdoor bronze statue of Buddha in the world, is formally enshrined on the peak of Muyu Mountain of Lantau Island on December 29, 1993. Located in the left front of Po Lin Monastery, a head of the Buddhism Monastery in Hong Kong, the Tiantan Buddha Statue is a holy land of Buddhists of the city as well as a popular tourist attraction for being a new landmark of Hong Kong. It symbolizes the harmonious relationship between man and nature, people and their religion. With a body height of 26.4 m, a total height about 34 m plus the base, a floor area of 6567㎡ and a weight of 250 tons, the grand and imposing Giant Buddha of Hong Kong reputedly can be seen from as far away from Macau during sunny days.
The design of the Giant Buddha
Imitated the foundation of Tian Tan, the Temple of Heaven in Beijing, the Giant Buddha got its name as Tiantan Buddha. This big statue of Buddha is a sitting Sakyamuni, built with bronze and designed by CASC (Chinese Aerospace Science and Technology Corporation).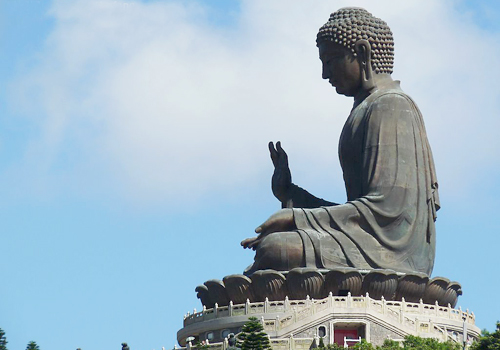 Sitting on a lotus throne on top of a three-storey altar, the posture of Tiantan Buddha is said the one that Sakyamuni meditated under the bodhi tree. Appearing serene and dignified, the right hand of the Giant Buddha is raised to remove affliction, while his left hand rests on his lap in a gesture of giving sermons. Distinctive from other grand Buddha statues which face south always, the Buddha statue of Tiantan faces north, the direction that toward the whole city of Hong Kong. The design of the appearance of Tiantan Buddha is done according to the 32 looks of Buddha, and consulted expressions from that of Longmen Grottoes and clothes and headwear from that of Dunhuang Caves, concentrating almost every characteristic of Buddha-making in heyday of Tang Dynasty (618-907).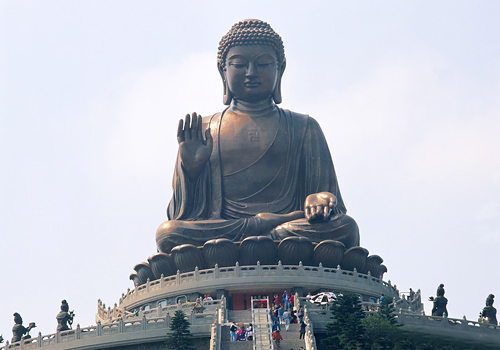 To be well preserved, the Giant Buddha of Hong Kong was additionally designed with scientific techniques in its interior to be strong enough to prevent harm from lightening, typhoon, cold and hot effects and erodes from sea wind and salt airs.
What to see around the Tiantan Buddha?
It is common for most visitors to climb the 268 stone steps to reach the Giant Buddha and then circle the platform (the lotus throne of the Buddha) where the Buddha sits. There are six bronze statues surround the Big Buddha, known as Offerings of Six Devas, in the posture offering flowers, incense, lamp, ointment, fruit and music respectively to the Giant Buddha, symbolizing charity, morality, patience, zeal, meditation and wisdom, which are all necessary to enter into nirvana according to Buddhism theory.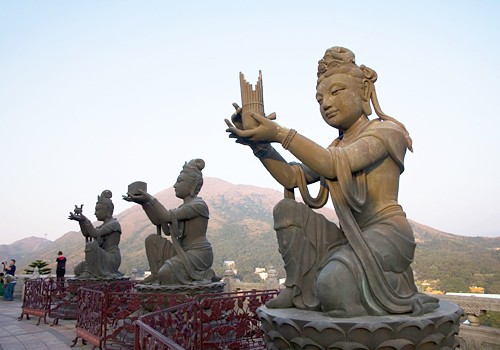 There are three storeys beneath the Tiantan Buddha statue, the Merit Hall, Dharmadhatu Hall and Memorial Hall, which are connected by circular staircases inside and with a big bell hanging in the center, which possesses images of Buddhas and scriptures on the surface and is beaten every 7 minutes, totally 108 times a day which is believed could relieve 108 kinds of annoyances of human beings. In the exhibition halls are exquisite Buddhist artworks, murals, paintings and calligraphies; in the Memorial Hall, a relic of Gautama Buddha was enshrined, consisting of some of his alleged cremated remains. In the Wisdom Path nearby, content of Heart Sutra (or Xinjing, a treasure which is worshiped by Confucianism, Buddhism and Taoism) is carved on stakes and displayed as large-scale outdoor wood carvings. And they are arranged into the shape as the figure 8, which symbolizes limitless and boundless in the theory of Buddhism.
Quick Questions
Our team is waiting for your questions. Please feel free to ask us any questions you might have about our China package tours, Chinese culture, or the sites available. We will gladly help you with any special needs you might have and all questions, like our trip designing is completely free of charge.