Tai-O Village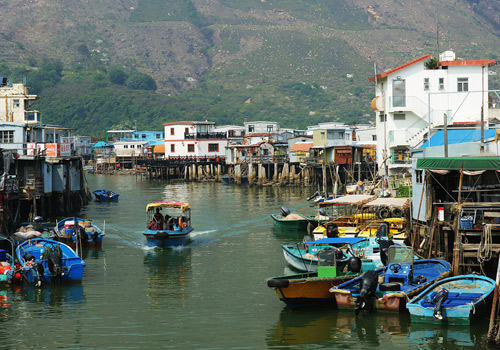 More Photos

Chinese name: 大澳漁村
Location: on the west side of Lantau Island, Islands District, Hong Kong.
Entrance fee: free.
Opening time: all day long.
How to get there: As below are two of the ways to get to Tai O.
1. Take a ferry boat to Mui Wo at ferry No.6 of the Central; after disbark then take bus No.1 to Tai O.
2. Take bus No.11 to Tai O at downtown Tung Chung.
History of Tai O Village
Tai O is a fishing village of Hong Kong sitting on the west side of Lantau Island. The village is surrounded by mountains on three sides and faces Macau and Zhuhai across the Lingding Ocean in the west.
It is believed that Tai O had become a habitation early in Han Dynasty (206BC-220AD) and was developed in salt manufacturing and fishery in Qing Dynasty (1644-1911). During the World War II it functioned as an important transportation junction between Hong Kong and the mainland; and during 1950s-60s the village was once known as one of the four important fishing ports of Hong Kong but got declining because of the remote location and outmoded fishing equipments. The villagers of Tai O once crossed the water by a "rope bridge" for 86 years, and now, that old bridge has been replaced by a new suspension bridge.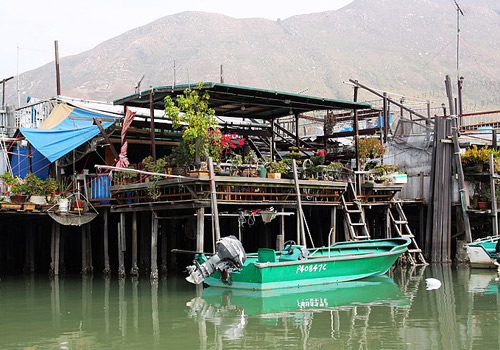 Until this day, Tai O Fishing Village still keeps its old-style fishing port and custom, which becomes a popular place for people to recall the old look of Hong Kong decades ago. As the fishing village developed first on the island, Tai O features vertical and horizontal waterways and wooden wigwams above the water, which brings it the fame of "Venice of Hong Kong". At present there are some 5500 people, majority of who are Hakka People, living in Tai O.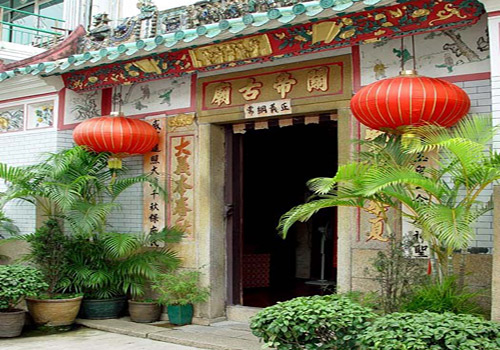 - Kuan Ti Temple
The temple was constructed between 1488 and 1505 in Ming Dynasty (1368-1644) to enshrine and worship Guan Yu (or respected as kuan Ti, Guan Gong, died in 220 BC), who was a general serving under the warlord Liu Bei during the
late Eastern Han Dynasty and is seen as the embodiment of loyalty and braveness by Chinese for more than 2000 years. In China, tradition goes that Kuan Ti can expel all the evil spirit, that''s why there are many Kuan Temples in China and why statue of Kuan Ti is frequently seen in Hong Kong TV plays and movies. Apart from statues of Guan Yu and Liu Bei, portraits of some other famous ancient Chinese figures such as Hua Tuo (physician) and God of Fortune (mythic figure) are also enshrined inside the temple today.
- Duke Yang Temple
Built in 1699, the temple is built in honor of a nobleman named Yang Liang who was meritorious for having done his utmost to protect the last emperor of the Song Dynasty (960-1279), who fled from calamity to Hong Kong. It has been being the most exuberant temple at Tai O and the location is considered to be an excellent place by the local according to Feng Shui. In the temple there is an old bell made in 1699.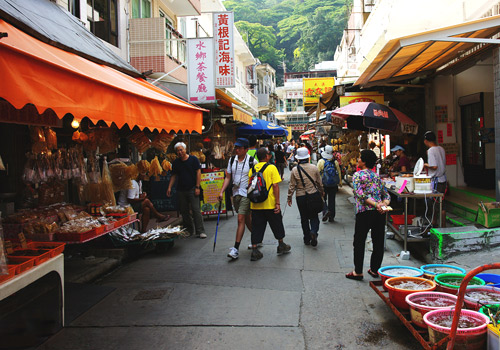 - Tai O Local Market
The market streets of Tai O are lined with various shops, selling dried seafood, snacks, fruits, fabrics, medicinal materials, etc. Walking on the streets, travelers can smell flavor of salted fish and shrimp sauce which are commonly treated as featured local food of Tai O.
- Former Tai O Police Station
This police station was a two-storey building standing on a hill by a ferry of Tai O. Completed in 1902, it is one of the oldest police stations in Hong Kong and a renovation on it will keep it from being opened to public until the end of 2011.
Quick Questions
Our team is waiting for your questions. Please feel free to ask us any questions you might have about our China package tours, Chinese culture, or the sites available. We will gladly help you with any special needs you might have and all questions, like our trip designing is completely free of charge.