Space Museum

More Photos

Chinese name: 香港太空館
Location: No.10 Salisbury Road, Tsim Sha Tsui, Kowloon, Hong Kong.
Opening time:
-13:00-21:00 on Monday, Wednesday, Thursday and Friday; 10:00-21:00 during weekends and holidays;
-Opened until 17:00 on Chinese New Year Eve and Christmas Eve;
-Closed on Tuesdays (except public holidays) and the first two days of Chinese New Year (about late July in western calendar).
Ticket:
-10 HKD for exhibition halls
-Omnimax films and astronomical programs: front seat (24 HKD), back seat (32 HKD)
How to get there:
-Take the Tsuen Wan Line and get off at the Tsim Sha Tsui station. Then walk to Salisbury Road, turn right and walk through pedestrian tunnel near the Young Men's Christian Association.
-Take the Star Ferry at Hong Kong Central District or Wan Chai to Tsim Sha Tsui, and then walk for 10 minutes.
Hong Kong Space Museum, the landmark of Hong Kong


The Hong Kong Space Museum is a famous planetarium in Asia governed by Leisure and Cultural Service Department of Hong Kong Government. It occupies 8 kilometers and is located in Tsim Sha Tsui, Hong Kong. Space Museum was opened in October 1980 for the purpose of popularizing astronomy and space science. Unique egg-shape dome makes the Hong Kong Space Museum a famous landmark of Hong Kong Special Administrative Region. It is made up of two wings: the east wing and the west wing. The east wing is the core of Space Museum featuring Stanley Ho Space Theatre, the Hall of Space Science and several workshops and offices. The west wing accommodates the Hall of astronomy, the Lecture Hall, a bookshop and offices. Permanent exhibits, temporary exhibitions, Astrocalendar, astronomical competitions, lectures about astronomy are given by HK Space Museum. Moreover, Visitors are able to view the astronomical phenomenon through solar telescope and other equipment. Hong Kong Space Museum is a great place to acquire star information, basic astronomical knowledge, and the latest information related to astronomy.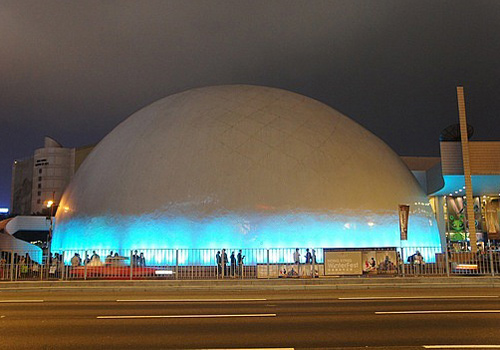 Background of Hong Kong Space Museum


In 1957, the first man-made satellite launched by Soviet aroused the attention of Hong Kong people for astronomy. Hong Kong government suggested to found a planetarium in Victoria Park but ended up with nothing. Up to 1974, Urban Council proposed again and decided to found it at the waterfront of Tsim Sha Tsui Railway Station. Since Opening in 1980, the museum has organized exhibitions and extension activities to popularize astronomy and space science. In 2004, over 3,000 people witnessed the Transit of Venus in HongKong Space Museum. At the same year, a 'sidewalk astronomy' session was held to allow the public to view the passage of the recently discovered Comet NEAT. In gratitude to Stanley Ho, who donated $20 million HKD to the government, the Space Museum officially renamed the Space Theatre as Stanley Ho Space Theatre. Since then, Astrocalendar has been published monthly. Sky Shows, Omnimax films and School Shows have been putting on by HK Space Museum, which attracted visitors to explore the universe. In 2008, the exhibition of China's Shenzhou VII Spacecraft took place in this museum, allowing visitors better learn the technology of manned space flight in China. According to a survey conducted in 2005, Hong Kong Space receives 70,000 visitors annually.
What to see in the Hong Kong Space Museum?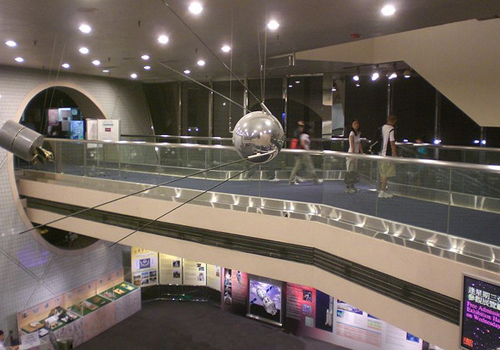 Stanley Ho Space Theatre
Stanley Ho Space Theatre is the nucleus of the Hong Kong Space Museum. The dome of theater is a hemispherical screen with a diameter of 23 metres. The theater has the most advanced Omnimax film projector in the eastern hemisphere and the first planetarium with an automatic control system in the world. Every year, Hong Kong Space Museum produces two multimedia astronomical programs and shows the best Omnimax films. Besides, the Stanley Ho Space Theater is equipped with multi-language systems, each program offering narrations in different language (Cantonese, Mandarin, English and Japanese). Sky shows every month are held in Stanley Ho Space Theater, providing a chance for Visitors to view the seasonal starry sky.

Hall of Space Science
Hall of Space Science introduced the history of Astronomy. The exhibition displays the record on explosion of Taurus supernova in 1054, hence was praised as a treasure of high-energy astrophysics. Besides, some astronomical relics in ancient western countries can be seen here, such as Stonehenge of England, pyramid of Egypt, the Nazca pampa of Peru, the existing oldest star atlas Dunhuang Star Atlas and some other ancient astronomical instrument. In the exhibition of modern astronomy, apart from common astronomical phenomenon, it also presents the development of rockets, modern space exploration technologies and mockup of Space Shuttle, Spacecraft Airtight Cabin Pioneer 10, etc.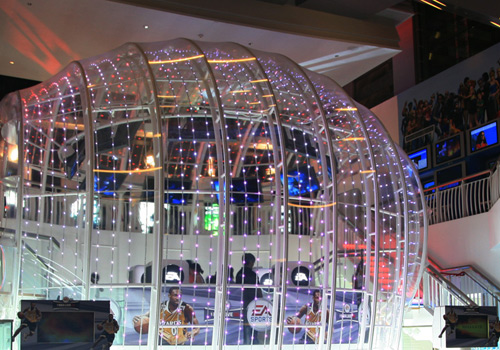 The Hall of Astronomy
Hall of Astronomy displays 12 collections of exhibitions themed the sun. It introduces solar structure, phenomenon about the sun, and the history of studying the sun. Several solar telescopes are established for observing the corona, prominence, chromosphere and photosphere. The Hall of Astronomy encourages visitors handle instrument personally. Thus it is a great place for children to learn through entertaining and educational experiences. In addition, the Museum often organizes activities in Hall of Astronomy in conjunction with other cultural groups to popularize astronomical knowledge.
Quick Questions
Our team is waiting for your questions. Please feel free to ask us any questions you might have about our China package tours, Chinese culture, or the sites available. We will gladly help you with any special needs you might have and all questions, like our trip designing is completely free of charge.