Po Lin Monastery

More Photos

Chinese name: 寶蓮寺
Location: on Ngong Ping Plateau, Lantau Island, Hong Kong.
Opening time: 09:00-18:00 (10:00-17:30 for the Giant Buddha, 11:30-17:00 for Dinning Hall)
Ticket: free (HKD23 to enter the library of the Giant Buddha, and price includes a vegetarian food and dessert)
How to get to Po Lin temple:
- take ferryboat to Mui Wo (梅窩) at No.6 Wharf of Central District, and then transfer bus No.2;
- take subway and get off at Tung Chung Station (東湧站) and exit from Exit B, and then transfer bus No.23.
Travel tips:
1. The temple provides beds for those who want a couple of days' asceticism life, or watch the sunrise at Mount Fung Wong (鳳凰山) the next day.
2. The Dharma Assembly is held from the second day to the eighth day of every lunar April, of which the Bath of Buddha Ceremony is on April 8th.
3. The sole tea plantation of Hong Kong is located nearby Po Lin Temple, where produces the top class teas.
Introduction to Po Lin Temple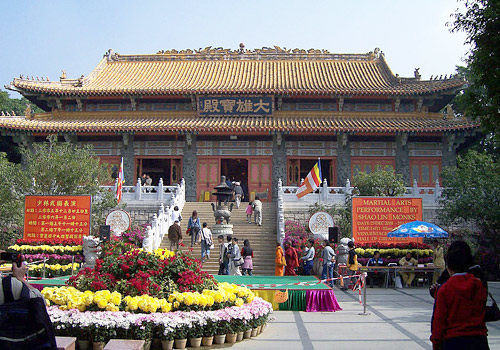 Po Lin Temple, or Po Lin Monastery is the head of the Four Buddhist Temples in Hong Kong and deemed as the Holy Land by Buddhists in the region. It is also the most popular attraction in Lantau Island with its large scale buildings and surrounding picturesque sceneries. The temple of Po Lin was first built in 1906 known as A Big Hut (大茅蓬, Tai Mao Pung) by three monks from Jiangsu Province. And it was in 1924 that the monastery was renamed to be the present one Po Lin. As a sacred Buddhist shrine, devotees to Po Lin Monastery is an endless stream all the year around; Dharma assembly as well as a series of other Buddhist activities are held every year in the temple, such as doctrines-teaching, Kung Fu show, acrobatic performance, etc.
What to see in the Monastery?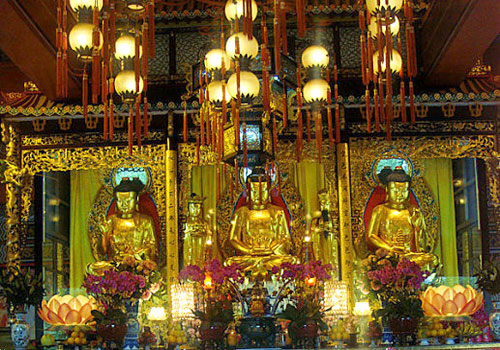 Po Lin Temple is a majestic saddle-roof style with magnificent palace halls. The red-lacquered pillars and green tiles, the splendid complex hiden in thick shades are just showing the solemn and dignity of Po Lin. In the main hall, the Great Buddha's Hall, is three bronze statues of the Buddha, representing his previous life, present life and afterlife, many Buddhist scriptures are enshrined in the hall as well. There are totally over 40 buildings in Po Lin Monastery including a King Hall, Avalokitesvara Hall, and other side halls and rooms for meditation.
The Giant Buddha
The prosperity of Po Lin Monastery in recent years may be attributed to the Giant Buddha on the peak of Muyu Mountain which is just in the left front of the temple. The Giant Buddha also called as Tian Tan (temple of heaven) Buddha because of its imitated structure as the Temple of Heaven in Beijing. The Giant Buddha is a sitting Sakyamuni, built in 1993 with bronze and designed by CASC (Chinese Aerospace Science and Technology Corporation). With a body height of 26.4 m and a total height about 34 m plus the base, a floor area of 6567㎡ and a weight of 250 tons, it is said to be the largest bronze Buddha statue in the world. There are three storeys in the base of the Giant Buddha, with an exhibition hall for Buddhist artworks, murals, paintings and calligraphies. A big bell also equipped inside, with carvings of Buddhas and scriptures on the surface. The bell is beaten every 7 minutes and totally 108 times a day, which is believed that could relieve 108 annoyances of human beings.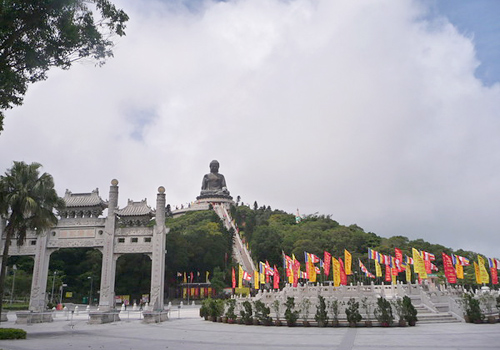 To well preserve the Giant Buddha, it was designed with adopted scientific techniques in interior as greatly enough in lightening protection, typhoon prevention, cold and hot effects prevention and erodes prevention from sea wind and salt airs. The statue is such grand and imposing, it is regarded as a new landmark of Hong Kong as it is visible even in Macau during sunny days.
Quick Questions
Our team is waiting for your questions. Please feel free to ask us any questions you might have about our China package tours, Chinese culture, or the sites available. We will gladly help you with any special needs you might have and all questions, like our trip designing is completely free of charge.