Ocean Park

More Photos

Chinese name: 香港海洋公園
Location: Wong Chuk Hang and Nam Long Shan, Southern District, Hong Kong
Entrance fee: HK$385 (HK$193 for children aged 3-11 years old).
Opening time: 10:00-19:00
How to get there: travelers can choose one of the following ways to get there.
1. Shuttle buses to Hong Kong Ocean Park are available at Admiralty MTR.
2. Buy a "Citybus combined ticket" (contains round-trip bus fare & entrance fee of the park) at Admiralty MTR or at Citybus Stop on Star Ferry Pier, Central, and then take bus No.629 and get off at the park. Please NOTE service times of the buses are different: buses at Admiralty MTR (09:00-16:00, departing every 10 minutes), buses at Star Ferry Pier, Central (09:35-10:55, departing every 20 minutes).
3. Travelers departing from places as below by bus can debus after the buses pass through Aberdeen Tunnel, and then walk for a few minutes to the park.
- Depart from Causeway Bay: bus No. 72, 72A, 92, 96, 592 (of Citybus).
- Depart from the Central: bus No. 6A, 6X, 70, 75, 90, 97, 260 (of Citybus), 262 (of New World First Bus, running from Monday to Saturday).
- Depart from North Point: bus No.41A (of Citybus), 38, 42 (of New World First Bus).
- Depart from Shau Kei Wan: bus No.77, 99 (of Citybus).
- Depart from Cheung Sha Wan: bus No.171 (of Citybus/Kowloon Motor Bus).
- Depart from Diamond Hill: bus No.671 (of Citybus/Kowloon Motor Bus).
- Depart from Kowloon Bay: bus No.107 (of Citybus/Kowloon Motor Bus).
- Depart from Sha Tin: bus No.170 (of Citybus/Kowloon Motor Bus).
Travel Tip
It is not allowed to enter Hong Kong Ocean Park with any food or drink (except infant food). Visitors can buy hot dog, hamburger, chips, rice with Chinese barbecue, ramen, egg puff, waffle and some other kinds of food and drinks in the park.
Introduction to Hong Kong Ocean Park
Opened in January of 1977, the Hong Kong Ocean Park located in Wong Chuk Hang of Hong Kong is an ocean-themed comprehensive park embraced by sea on three sides. Occupying some 870,000 ㎡, the park is divided into three parts: the northern mountaintop of Nam Long Shan (known as headland), the southern garden at the mountain foot (known as lowland) and the Tai Shue Wan, with more than 40 amusement facilities. The hill and the garden are connected by cable car in which seascapes of Deep Water Bay and Repulse Bay are available and tourists can also come and go between the hill and Tai Shue Wan by mountain lift which is the second longest outdoor escalator in the world so far.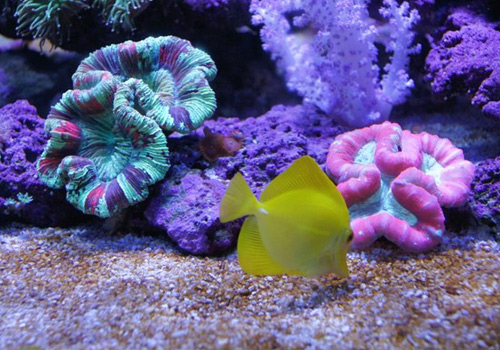 Hosting about 5.03 million visitors in fiscal year 2007/2008, at recent years Hong Kong Ocean Park has been being the most frequented park by tourists in China, and was selected to be one of Ten Most Popular Themed Parks in the World by Forbes website in 2006 and published as the 33rd Most Visited Tourist Attraction in the World by Forbes in next year.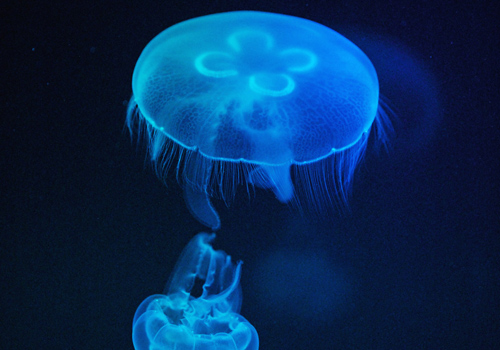 Most exhibitions about marine organism gather in the headland and the Marine Land is the most popular part in the park. After a renovating, the Marine Land uses the coral reef around the Indian Ocean and the Pacific Ocean as the new theme. Now this 4-storey building with glass structure is home to more than 4000 fish (from damselfish less than 2 cm to 3-meter-long zebra shark), allowing maximum 600 tourists to enter and visit it at a time.
Attractions in Hong Kong Ocean Park
1. Headland Rides: The Dragon Roller Coaster, The Abyss Turbo Drop, Flying Swing, Crazy Galleon, Ferris Wheel, The Eagle, Headland Skill Games.
2. Adventure Land: Mine Train, Raging River, Ocean Park Escalator.
3. Amazing Asian Animals: Giant Panda Adventure, Panda Village, Gator Marsh, Goldfish Treasures.
4. Marine Land: Pacific Pier, Atoll Reef, Chinese Sturgeon Aquarium-Yangtze River Exploration, Ocean Park Tower, Sea Jelly Spectacular, Ocean Express, Cable Cars, Japanese Garden.
5. Lowland Gardens: Hong Kong Jockey Club Giant Panda Habitat, Sky Fair, Bungee Trampoline.
6. Whisker's Harbour: Dolphin University, Balloon Up-up-and-away, Clown a Round, Frog Hopper, Merry-go-round, Bouncer House, Whiskers Harbour Playground, Interactive Shadow Play, Animal Story Corner.
7. Tai Shue Wan Entrance: The Aviary, Flamingo Pond.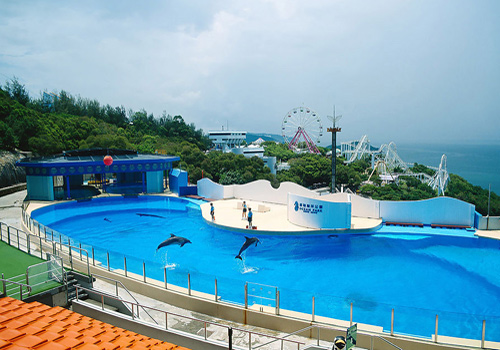 Shows in Hong Kong Ocean Park
1. Emperors of the Sky: A bird show with over 70 species of birds (including steppes eagles, Lanner falcons, striated caracaras and turkey vultures) at the Bird Theater of the park.
2. Ocean Theatre: At present the "Sea Dream" is put on, which features the marine animals of the park and tells the importance of marine conservation.
3. Whisker's Theatre: "Sea Lion Fun Time" reveals a day of the sea lions of the park and "Whiskers and Friends" is a variety show about Whisker (known as Wei Wei 威威 in Chinese), the park's star mascots, and his friends.
Quick Questions
Our team is waiting for your questions. Please feel free to ask us any questions you might have about our China package tours, Chinese culture, or the sites available. We will gladly help you with any special needs you might have and all questions, like our trip designing is completely free of charge.