Lam Tsuen Wishing Tree

More Photos

Chinese Name: 林村許願樹
Location: Lam Tsuen, Tai Po New Town, in the east of the New Territories, Hong Kong.
Opening time: all day long.
Ticket: free.
How to get there:
-Take bus No.64K or 64P at the MTR Tai Po Market Station Exit A3 and debus at Fong Ma Po (Lam Tsuen Wishing Tree).
-Take green minibus No.25K at MTR Tai Wo Station Exit A and debus at Lam Tsuen Wishing Tree.
-Take a taxi at MTR Tai Wo Station Exit A.
Travel tips:
Hong Kong Well-wishing Festival is held during Chinese New Year (usually between late January and early February) every year.


Introduction to Lam Tsuen Wishing Tree


Lam Tsuen Wishing Tree sits near the Tin Hau Temple in Tai Po Lam Tsuen. Every year, wish-makers flood to Lam Tsuen for good fortune. The Lam Tsuen Wishing Tree is said to have the magic power to make a wish real and thus becomes a famous shrine in Hong Kong.
The Lam Tsuen Wishing Tree was originally a camphor tree and later a redbud tree. The present Lam Tsuen Wishing Tree refers to an at least 200 years old banyan tree at the entrance of Lam Tsuen. Besides, there is a newly planted banyan tree inside the village and a plastic Wishing Tree. Lam Tsuen Wishing Tree has long been regarded as a deity by locals, who light candles and burn joss sticks at the root to worship the god. Lam Tsuen Wishing Tree used to be colorful all the year round for it is tied with paper scrolls which are called "Bao Die". It is a tradition to make red or yellow papers on which people would write down their names, dates of birth and wishes, and roll the papers and tie them with weights (usually an orange) and finally toss them up onto the Wishing Tree. Legend has it that if the "Bao Die" does not fall down, a wish would come true. Otherwise, the wish is said to be too greedy.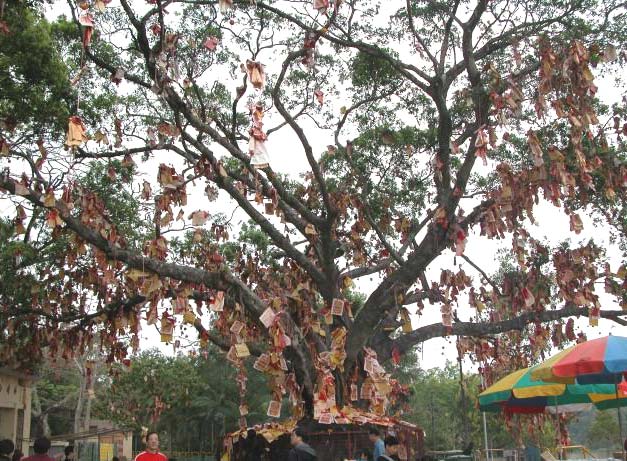 The two banyan trees play different roles: the smaller one is for wishing for pregnance and marriage while the bigger one is for asking for achievement in academics and cause, wealth and health. The Lam Tsuen Wishing Tree at the entrance was covered with "Bao Die" all the year around. As a result, it became extremely fragile. The practice was discouraged by local authority for the collapsing of the old Wishing Tree, which hurt two visitors in 2005. Since then, wooden brackets were established for tourist hanging their scrolls. Nevertheless, there are still people who cast "Bao Die" on the old Lam Tsuen Wishing Tree. Most people make wishes on the plastic Wishing Tree.


Legends about Lam Tsuen Wishing Tree


There are lots of interesting stories about Lam Tsuen Wishing Tree. One is about a worshipper, whose son has very poor academic performance and unexpectedly make a progress after worshipping the hollow tree with him. Another popular legend goes that the original wishing tree was huge with holes in the trunk. When people came to worship it and burn joss sticks, there would be oils flowing down form the holes. Unfortunately, the tree broke down after a fire accident. Surprisingly, before its death, two redbud blossoms appeared on the tree and grew rapidly. Soon the two blossoms were even bigger than the whole wishing tree.


Protection of the Lam Tsuen Wishing Tree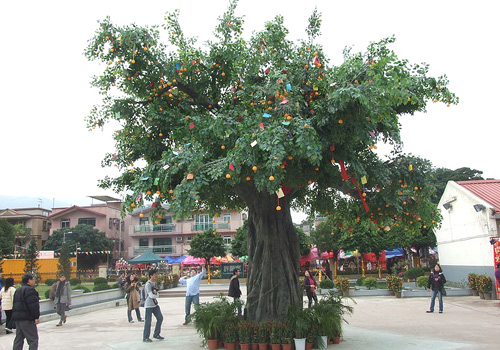 Apart from enclosing the Lam Tsuen Wishing Tree, some other measures are taken to protect the tree. In 2008, Lam Tsuen Village office brought in a new Chinese banyan tree and planted it two meters away from the old Wishing Tree. The new Wishing Tree has an age of approximately 60 to 70 and a height of 20 inches. It is also banned to cast "Bao Die" onto it.


In 2009, a 15-foot-tall plastic Wishing Tree was brought in as a substitution. It has the half height of the old tree. The public can make a wish by buying a "Bao Die" and a plastic orange, writing down wishes and then casting it onto the tree.


In 2010, the village office transformed the Lam Tsuen School into a Wishing Square to hold the "Hong Kong Well-wishing Festival".


In 2011, a Wishing Well was founded beside the wishing trees. The Wishing Well is a rectangle water channel franked by glasses with a length of 4 meters. The public can write down their wishes on paper, put it into a lotus-like lamp and drift the lamp on water to make a wish.
Quick Questions
Our team is waiting for your questions. Please feel free to ask us any questions you might have about our China package tours, Chinese culture, or the sites available. We will gladly help you with any special needs you might have and all questions, like our trip designing is completely free of charge.