Kowloon Park

More Photos

Chinese name: 九龍公園
Location: Tsim Sha Tsui, Kowloon Peninsula, Hong Kong.
Ticket: free
Opening time: all day long
How to get to Kowloon Park:
1. MTR: get off at Jordan Station (佐敦站) and exit from Exit A2, or get off at Tsim Sha Tsui Station (尖沙咀站) and exit from Exit A1.
2. Bus:
- Take KMB (Kowloon Motor Bus) buses No. 1、1A、2、2C、6、6A、7、9、13X、26、35A、41A、63X、81C、87D、98D、203、208、219X、234X、271、281A、296D.
- Take Citybus No. A21.
- Take green minibuses No. 6 or 6A.
3. Ferry: Take Star Ferry and get off at Tsim Sha Tsui dock, and then walk about 10 minutes along Salisbury Road and Nathan Road.
Introduction to Kowloon Park
Covering an area of 13.5 hectares, Kowloon Park is the second largest public park in Hong Kong. Formerly a site for Whitfield Barracks which was out of service in 1967, the Kowloon Park was constructed on the site in 1970 by Urban Council and then officially opened to the public on June 24 at the same year. In 1980, Kowloon Park was reconstructed with a cost of 300 million HKD, and in 1989, the park was expanded with an extra indoor swimming pool and some playground facilities. Today, the battery of British force (Kowloon West Battery Ⅱ) still can be found in the park.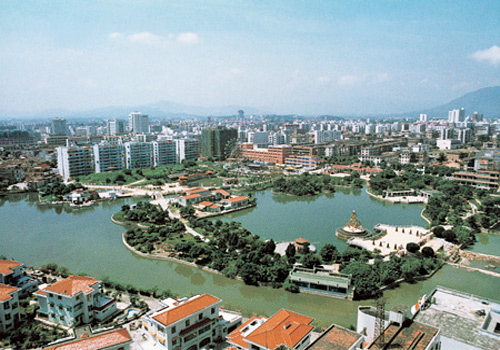 As the largest park in downtown area of Kowloon, the Kowloon Park boasts numerous lush green trees, which attract a great variety of birds. In addition, Kowloon Park is designed with numerous fountains, a Bird Lake, a Chinese-style garden, sculpture gallery, water garden, bird garden, and plants maze, etc. composing a preferable leisure site for both Hong Kong citizens and tourists.
Facilities in Kowloon Park of Hong Kong
Kowloon Park offers a full range of passive amenities and recreational facilities to the public, including 4 indoor heated swimming pools, 4 outdoor swimming pools, a stadium equipped with air condition, a small size field for both football and handball, a fitness trail, a playground and a Chinese garden. Occupying 2300 square meters, the square of Kowloon Park can hold kinds of carnivals, musicales, and outdoor exhibitions. There are also a couple of themed gardens in Kowloon Park, the Sculpture gallery, Roof garden, Chinese Garden, Rose Garden and Maze garden. Furthermore, Kowloon Park was built with bird garden, observation tower, Banyan garden, a walk corridor, nature conservation area, hygiene health educational exhibits, and information center, all of which provide a great range of knowledge to visitors during their sports or relaxing.
- Hong Kong Heritage Discovery Center
It is an exhibition for cultural architecture projects and the latest archaeological discoveries. The center usually undertakes some relevant seminars, workshops, and other activities to enhance the masses, particularly the students' knowledge about cultural relics.
- Swimming Pool
Opened in 1989, in the east of the Park Building with an area of 3 hectares, it is the only site for large or international swimming competitions in Kowloon offering about 1800 seats. It owns 4 heated swimming pools, covering an Olympics standard 50-meter pool, a 25-meter training pool, a 20-meter dive pool and an irregular paddling pool. Outdoor pools include 3 irregular paddling pools connected by waterfalls, a sunbathing area and a children shallow pool.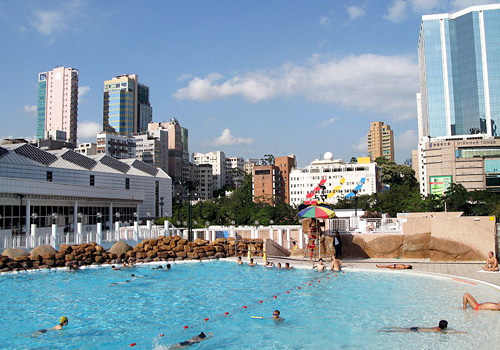 - Indoor Stadium
Occupying 1760 square meters, the indoor stadium of Kowloon Park is located in the west of the Park Building. As the largest stadium in the park, the floor of it is covered with beeches and it can serve for 3 basketball courts, 3 volleyball courts, 3 cast stadiums, 12 badminton courts, and 1 handball field. The stadium can additionally serve for exhibitions, conferences or other activities with its removable grandstands that can accommodate about 800 audiences.
- Children's Adventure Playground
A playground built on the site of the original fortress and battery of the Whitfield Barracks for British force.
- Maze Garden
With an area of 800 square meters, the Maze Garden in Kowloon Park is composed of bamboo weavings, simply but amusingly.
- Football Field
It is a small size firm ground field for both football and handball. Floodlights are installed for night matches.
- Chinese Garden
A lotus pool with rocks and small waterfalls is built in the garden with a Chinese pavilion inside.
- Rose Garden
An ideal location for photo shoots with rich and gaudy roses in Kowloon Park.
- Bird Lake
Formerly a playground for children, it was rebuilt to a Bird Lake in 1989 with 1000 square meters of waterfowl lake. It consists of two pools, a big for storks, and a small for other waterfowls. Over 200 birds belong to 20 varieties can be found in this area.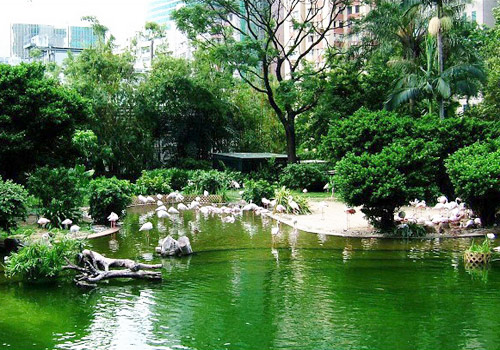 - Bird Garden
Built with 7 cage houses, the Bird Garden of Kowloon Park is home to more than 140 birds fall into 38 varieties.
- Sculpture Galley & Sculpture Garden
It is a scenic spot with an area about 15000 square meters. 12 sculptures are displayed for long-term basis, while about 8 small areas are set for some short-time exhibitions or rotational exhibits of other sculptures. In the south of this area is a round flower gallery with a sculpture of Newton in the center.
- Banyan Garden
Boasts for two large old banyan trees, the Banyan Garden of Kowloon Park provides resting chairs and chessboards; it is also a good place in the garden for an overlook of the football field. It is said that one of the banyan tree is a Chinese banyan survived for over 200 years, which is also the largest one in Hong Kong with a height of 15 m, a crown of 20 m and a trunk diameter of 4 m.
Featured Activities in Kowloon Park
1. Strolling the stalls offering art pieces
In the afternoon of Sundays and public holidays, in the corridor of Kowloon Park are booths and stalls selling artwares, traditional food, or services of painting, photographing, and portraiting.
2. Kung Fu Shows
From 14:30 to 16:30 of every Sunday in the Sculpture Gallery of Kowloon Park are Kung Fu shows, including traditional martial arts from different sects, auspicious animal performances, and interactive activities which visitors can take part in to learn Chinese Kung Fu and Lion Dancing skills.
3. Watching wild birds
Apart from birds in Bird Lake and Bird Garden, about other 100 varieties of birds are found in other areas in Kowloon Park; and the best sites to watch wild birds are the Conservation Garden, Rose Garden, Chinese Garden, Bird Lake and the Fitness Trail.
Quick Questions
Our team is waiting for your questions. Please feel free to ask us any questions you might have about our China package tours, Chinese culture, or the sites available. We will gladly help you with any special needs you might have and all questions, like our trip designing is completely free of charge.