Jade Market

More Photos

Chinese name: 玉器市場
Location: Gansu Street of Yau Ma Tei (油麻地), central of Kowloon, Yau Tsim Mong District, Hong Kong.
Opening time: 10:00-15:30 (It is suggested to visit in the morning as some shops may close after noontime.)
Ticket: free
How to get to Jade Market: take subway to the stop of Yau Ma Tei, and exit from the Exit C and walk about 10 minutes to the Jade Market.
About Jade Market of Hong Kong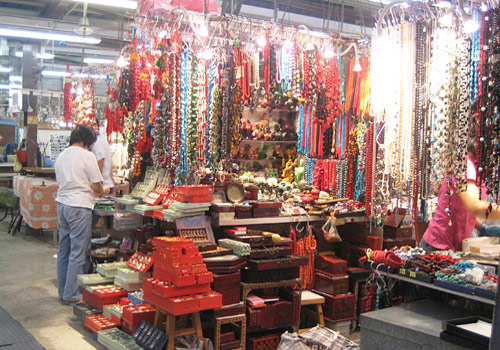 Developed by migrated jade traders from Guangzhou in the early 1950s, the Jade Market of Hong Kong came into being firstly in Guangzhou Street with some stalls just on the ground. Later in 1984, with a view to a regular management and the traffic improvement, the government opened up an area in the north of Gansu Street and built the present jade market, which offers over 400 shops or stalls. Nowadays, in Guangdong Street nearby the Gansu Street, there still exists some stores operate jade articles.
The Jade Market of Gansu Street now becomes the roost of jade and precious stones traders in Hong Kong, selling jadeware in all varieties and grades. Countless exquisite jade of pendants, rings, bracelets, carvings and kinds of ornaments, as well as a great variety of colorful crafts made of crystals and pearls can be found in the market. And the prices vary from tens of HK dollars to hundreds of thousands of HK dollars, and bargain is acceptable.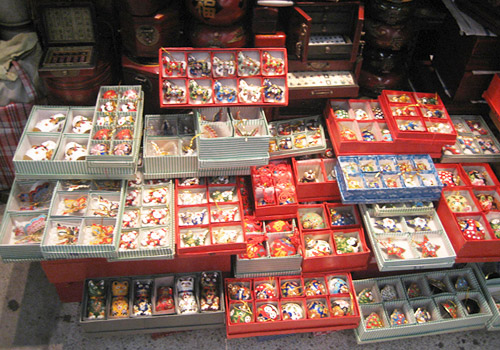 The jade market is made up of two connected parts, the eastern part with about 340 stores and the western part with about 100 stores, a dozen of which also operate the Chinese calligraphies or provide services of ghostwriting of Chinese, English letters, the filling out of some application forms and taxation forms.
Quick Questions
Our team is waiting for your questions. Please feel free to ask us any questions you might have about our China package tours, Chinese culture, or the sites available. We will gladly help you with any special needs you might have and all questions, like our trip designing is completely free of charge.