Hong Kong's Beaches

More Photos

Summer is the best season to beaches of Hong Kong. This tropical place is endowed with bright sunshine, soft beaches, limpid seawater and hot weather all the year round. Hong Kong has a long and winding coastline, which gives birth to dozens of bays and beaches. Sheltered by mountains, many of them are unruffled and free from strong wind. Nevertheless, the water quality has been slightly worsened due to fast urbanization. Presently, 40 bathing beaches are administrated by Hong Kong Leisure and Cultural Service Department. Eleven of them are located in Hong Kong Island, mainly in Hong Kong Southern District. Another twenty nine lie in New Territories and nearby islands, mainly in Sai Kung District, Tsuen Wan, Tuen Mun District, south of Lantau Island, Cheung Chau, Lamma Island. Most of them are well equipped with lifeguards, sharking nets and partially equipped with refreshment kiosks, public BBQ area, dressing room, shower room, etc.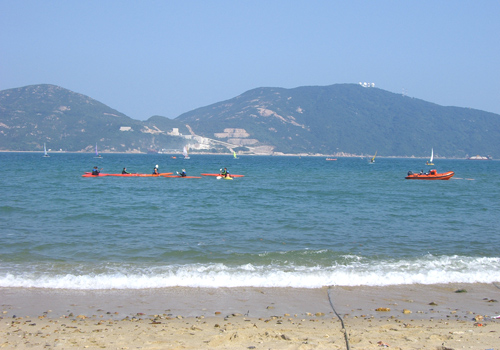 Beaches of Hong Kong

Hong Kong Island

Southern District

Deep Water Bay Beach, Repulse Bay Beach, Middle Bay Beach, South Bay Beach, Stanley Main Beach, Hairpin Beach, St. Stephen's Beach, Turtle Cove Beach, Shek O Bay Beach, Big Wave Bay Beach.

New Territories

Sai Kung District

Clear Water Bay First Beach, Clear Water Bay Second Beach, Silvermine Beach, Trio Beach, Kiu Tsui Bay Beach, HapMun Bay Beach, Ham Tin Bay Beach.

Tsuen Wan

East Bay Beach, Angler's Beach, Hoi Mei Wan Beach, Casam Beach, Lido Beach, Ting Kau Beach, Approach Beach, Ma Wan Tung Wan Beach.

Tuen Mun District

Butterfly Beach, Castle Peak Beach, Cafeteria Old Beach, Cafeteria Nea Beach, Kadoorie Beach, Golden Beach.

Islands District

Kwun Yam Beach,Pui O Beach, Upper Cheung Sha Beach, Lower Cheung Sha Beach, Tong Fuk Beach. Hung Shing Yeh Beach, Lo So Sing Beach, Cheung Chau Tung Wan Beach.

Representative Beaches in different districts of Hong Kong


- Repulse Bay Beach in Southern District


The Repulse Bay Beach is absolutely the most visited beach in Hong Kong thanks to its easy access by vehicles.


Facilities: All in readiness.


How to get there: take the No.6, 6A, 6X, 260, or the No. 40 minibus, at Exchange Square (交易廣場) in Central District.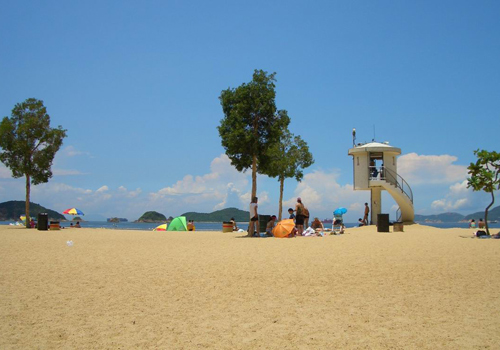 - Shek O Beach in Southern District


As most tourists flock to the Repulse Bay, those who know more head to the Shek O. The Shek O Beach has soft sands, enchanting waterscape, costal villages that are dotted with restaurants, cafes and BBQ stands. There are approximately four thousand visitors to Shek O Beach on weekends in summer, but it is big enough to hold them without causing too much discomfort.


Facilities: dressing room, shower room, washing room and public BBQ area. Shops can be found selling swimming suits, beach mat and snacks along the beach.


How to get there: take bus No.9 at MTR Shau Kei Wan Station.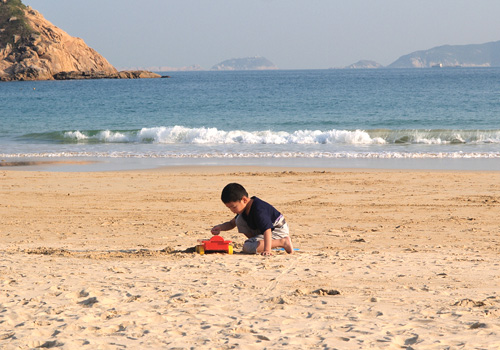 - Golden Beach in Tuen Mun District


Located at the 18.5 km milestone of the Castle Peak Road, Golden Beach is the largest beach in Tuen Mun District and the first artificial beach in Hong Kong. The fine sands are transported from Hai Nan Island. A 480 meters long road lies along the beach with coconut palms, lush bushes and arbors. The Golden Beach is unique in that it has a volleyball court.


Facilities: The beach has everything that should be there. Refreshment kiosks and a luxury hotel can be seen near the beach.


How to get there: Golden Beach is served by KMB 52X, 53, 61M, 252B, 262B; Citybus 962, 962B, 962S, N962; MTR Feeder Bus K51, k53.


- Lido Beach in Tsuen Wan


In the past, Lido Beach was one of the most famous beaches in Hong Kong due to afternoon tea and charming scenery of Rambler Channel. Lido Beach is the only beach with volleyball court in Tsuen Wan.


Facilities: dressing room, washroom, shower room, volleyball court.


How to get there: take bus No.53 at Fu Wah Street near the MTR Tsuen Wan Station.


- Trio Beach in Sai Kung District

Beaches in Sai Kong Peninsula have the best water quality. Trio Beach is the best and most accessible one. With soft sands, calm sea and poetic countryside scenery, Trio Beach is crowded with families and lovers on weekends.

Facilities: dressing room, washroom, shower room, food stalls, public BBQ area.

How to get there: take minibus No.1A at MTR Choi Hung Station or No.101M at MTR Hang Hau Station, debus at Pak Sha Wan and then take a dinghy for ten minutes.

- Pui O Beach in Island District

Pui O Beach is great for surfing. Escaped from summer monsoon, it is popular among families and surfers. Surrounded by Lantau Ialand on three sides, the beach has gorgeous scenery. Even in the peak season, only hundreds of visitors can be found there.
Facilities: washroom,dressing room,shower room, food stalls, public barbeque area and camp site.

How to get there: take any bus from Mui Wo Ferry Pier to Pui O Village. Take bus No.3M at MTR Tung Chung Station and debus at Pui O Village.
Quick Questions
Our team is waiting for your questions. Please feel free to ask us any questions you might have about our China package tours, Chinese culture, or the sites available. We will gladly help you with any special needs you might have and all questions, like our trip designing is completely free of charge.