Hong Kong Zoological and Botanical Gardens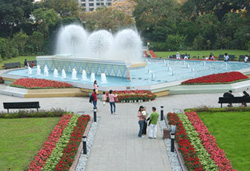 More Photos

Chinese name: 香港動植物公園
Location: on the northern slope of Victoria Peak, at the Albany Road, Central District, Hong Kong.
Ticket: free
Opening time: 06:00-19:00
- Fountain Terrace Garden: 06:00-22:00
- Greenhouse: 09:00-16:30
How to get there:
- Depart from Central: take buses No.3B, 12, or 13.
- Depart from Admiralty, take buses No.12A, 12M, 40M, 40P or 40.
- Depart from Causeway Bay, take buses No.23A or 23B.
- Depart from North Point, take bus No.23.
- Depart from Lok Fu, take bus No.103.
Nearby attractions: Hong Kong Park, Victoria Peak.
Introduction to Hong Kong Zoological and Botanical Gardens
Covering about 5.6 hectares, the Zoological and Botanical Gardens is the earliest park built in Hong Kong which is well maintained with good selection of trees and plants, birds, mammals and reptiles, benches under shade and around a large fountain. Apart from rich varieties of plants and animals, the Zoological and Botanical Gardens of Hong Kong serves as one of the loveliest outdoor places for free with its extra facilities and attractions like fountain terrace, a memorial arch dedicated to the Chinese who died assisting the Allies during the two world wars, a bronze statue of the previous governor Arthur Edward Kennedy in memory of his contributions to the development of Hong Kong, and a bronze statue of King George VI in commemoration of the 100th anniversary of British colonial rule over Hong Kong.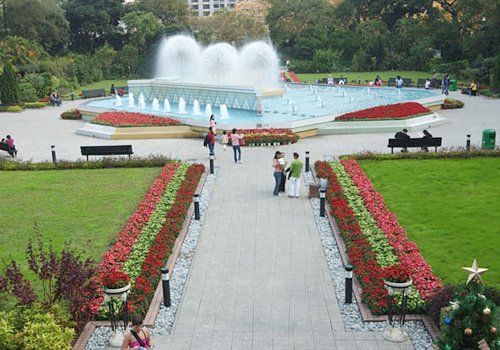 Hong Kong Zoological and Botanical Gardens is known as two divided parts, the eastern of which is the old garden with a Children's Playground, a Aviaries, the greenhouse and a Fountain Terrace garden, while the west of which is the place where mammals and reptiles are found.
A brief history around HKZBG
Formerly an official mansion of Hong Kong Governor, construction of the garden on the site begun in 1860 and partially opened to the public in 1864; totally opened in 1871, the garden was served only as a botanical garden at first. Botanical garden provided a natural environment and atmosphere that it was a popular dating place among lovers in the old days. From 1876, the garden introduced some birds and mammalian species for viewing. After 1958, the garden was gradually expanded mainly for mammalians and reptiles. As the constant increasing number of zoological exhibits, the Botanical Garden was officially renamed in 1975 as the present one- the Hong Kong Zoological and Botanical Gardens.
Plants in Zoological and Botanical Gardens of Hong Kong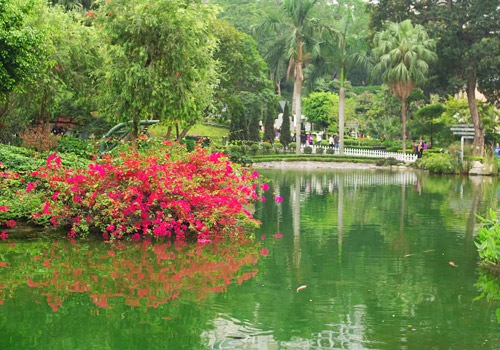 The HK Zoological and Botanical Gardens boasts over 1000 species of plants mainly from tropical and subtropical zones, covering main species both in Hong Kong local and abroad, such as pine and cypress, fig tree, palm, eucalyptus, yulan magnolia, camellia, cuckoo, philodendron, etc; rare species include metasequoia, Grantham's Camellia, Camellia nitidissima, unique plants with distinctive shapes, leaves, barks and fruits are hoop pine, traveler's tree, yagua, pagoda-tree, gray gum, hondapara.
The HK Zoological and Botanical Gardens send delicate fragrance all the year around with roses, orchids, kamuning, sweet-scented osmanthus…while in autumn, maples and bald cypress add in colors with suffruticosa plants in the fountain terrace garden which is surrounded with varieties of gorgeous flowers. In the eastern marginal part is the greenhouse, a home to a good collection of plants over 150 varieties.
Animal in HK Zoological and Botanical Gardens
In the HKZBG, there are around 40 cage houses raising for 500 birds, 70 mammalian and 50 reptiles, in which rare species are embodied.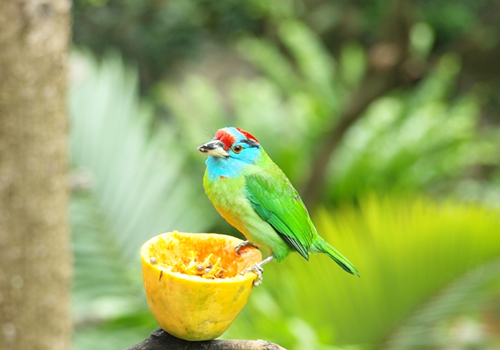 Just outside the greenhouse are several large aviaries, with birds including waterbirds like Wood Duck, as well as flamingos, cranes, and intensely coloured Scarlet Ibises that grace an artificial waterfall. Many of the land birds are small, and with several species from East Asia. The Black-casqued Hornbill is among the ZBG's larger land birds, which is an African species. Below the aviaries is a large fountain, set in an open area with good views over Central high-rises.
In the west section of the Hong Kong Zoological and Botanical Gardens, mammals and reptiles are exhibited. Orang-utans are the stars, though they can seem disdainful of their fans, maybe just slumping on the floor or on high ledges. There are also lemurs, tamarins (tiny monkeys; the ZBG's had success in breeding some rare species, which in the wild are now restricted to tiny pockets of South American rainforest), macaques, porcupines, gibbons, and mouse deer - the world's smallest hoofed animals, also some tortoises and - if you walk down to a lower exhibit - a huge python, and a couple of Yangtze Alligators.
Quick Questions
Our team is waiting for your questions. Please feel free to ask us any questions you might have about our China package tours, Chinese culture, or the sites available. We will gladly help you with any special needs you might have and all questions, like our trip designing is completely free of charge.