Deep Water Bay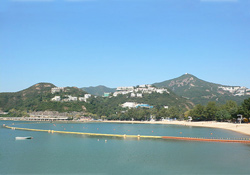 More Photos

Chinese name: 深水灣
Location: a bay beneath Violet Hill, the middle part of southern shore, South District, northwest of Repulse Bay, east of Brick Hill, Hong Kong.
Ticket: free
Opening time: all day long
How to get to Deep Water Bay: take buses No. 6 6A, 6X or 260 at Exchange Square (交易廣場) in Central District.
Introduction to Deep Water Bay
Surrounded by hills, the Deep Water Bay of Hong Kong is a bathing beach in the city, a full view of which could be appreciated at the mountain top of the Ocean Park. Located in the northwest of Repulse Bay, the water in Deep Water Bay is said deeper than that in Repulse Bay, hence obtaining its name. Though less famous to tourists compared to Repulse Bay, the beach of Deep Water Bay is rather popular among locals with its beautiful setting and more peaceful atmosphere, which makes it a preferable dwelling for a number of Chinese rich men and notable celebrities from Hong Kong and even from mainland and other parts in the world. A Seaview Promenade, the pathway connecting the two beaches, allows joggers and walkers to exercise along the seashore when admiring the stunning sea view.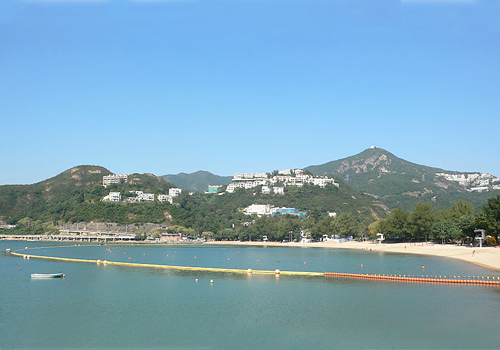 Under the management of the HK Leisure and Cultural Services Department, the area of Deep Water Bay is equipped with changing rooms, shower facilities, barbecue pits, parking lot, and the largest golf course in Hong Kong Island for 9-hole playing; additionally, lifeguards are on duty around the bay. For its deeper water, surfboard and windsurfing addicts are also active in the beach of Deep Water Bay.
Tips:
The rising of a shark-flag or a red flag implies the dangerous findable sharks, red tides, rough sea or polluted seawater, during which period it is wise to keep an eye on broadcastings before entering the water.
Quick Questions
Our team is waiting for your questions. Please feel free to ask us any questions you might have about our China package tours, Chinese culture, or the sites available. We will gladly help you with any special needs you might have and all questions, like our trip designing is completely free of charge.