Harbin Transportation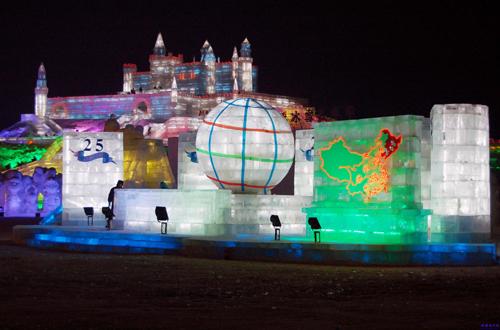 Thanks to the preferable geographic location, transportation is quite convenient in Harbin, a city in the interior of the Asia-Pacific economic development zone. It is a transportation hub of Northeast Asia, Europe and the Pacific area.
By Air
Located some 33 kilometers northwest of downtown, Harbin Taiping International Airport is the second largest international air harbor in the northeast area of China. It has daily flights to 47 tourist cities of China like Beijing, Tianjin, Shanghai, Nanjing, Qingdao, Wenzhou, Xiamen, Guangzhou, Shenzhen, Shenyang, Dalian, Xi'an, Hong Kong, etc. and scheduled flights to some cities of American, Russia, Korea, Japan, Singapore, Malaysia, etc.
- From the airport to downtown city, there are buses run every 30 minutes; it will take 40 to 60 minutes and the price is 20 yuan.
- From downtown to the airport, there are buses at the Civil Aviation Hotel of No.99, Zhongshan Road, and the No.30 Xinyang Road. Buses at Zhongshan Road don't leave until all the seats are taken, so it is wise to get on 2 to 3 hours ahead, and the last bus there leave at 18:00; Only two buses on Xinyang Road leave for the airport each day at 10:30 and 12:00.
- Taxi is also available between airport and downtown Harbin, and the cost is about 130 yuan.
By Ship
Harbin is in the middle reaches of Songhua River, and enjoys favorable water transportation route along the Helongjiang River and Wusuli River. Today, Harbin has mutual routes with some domestic ports as well as ports of Russia, Japan, Korea, and some Southeast Asia countries. And the transportation has also expanded from inland river routes to the ocean routes. In addition, there are some tourist ships from Harbin to Russia; while influenced by weather, the navigable period for passenger transport is only from the middle of April to the first ten days of November.
By Train
There are Harbin Train Station and Harbin East Train Station in the city. Harbin Train Station is operated for lines passing through the city, and the Harbin East Train Station operates lines that start and end in the city.
Daily train lines in Harbin run to most cities in Heilongjiang Province, the northeast areas and eastern cities of Inner Mongolia. Lines also leave for tourist cities of other parts in the country, like Beijing, Shanghai, Tianjin, Guangzhou, Hankou, Zhengzhou, Jinan, Yantai, Dezhou, Xuzhou, etc. Besides, there are bullet high-speed trains run between Harbin and four cities in the province, Tsitsihar, Mudanjiang, Suihua and Kiamusze.
By Bus
There are many bus stations in Harbin, and the most used for tourists is Nangang Station and Jiaohua Station which are both in large scale and near the Train Station. Daily coaches run to cities, counties and towns in the province as well as to over 20 cities in the country, such as Beijing, Shanghai, Nanjing, and the cities in Liaoning, Jilin, Xinjiang, Hebei and Henan. As the weather is rather cold in winter, it is suggested to take trains instead of coach to distant cities.
Public Transportation
Buses- the public transportation is quite convenient in Harbin with over 100 running lines, including bus lines, trolley lines and multimodal transports. For the convenience of citizens and tourists, sightseeing minibuses also run to the main attractions in the city.
Taxis- pricing starts at 9 yuan (including 3 km), and 3 kilometers after the additional 1.9 yuan per kilometer.
Ships- there are 3 ships connect the city to the Sun Island, which cost 20 yuan and a travel period of half an hour.