Harbin Cuisine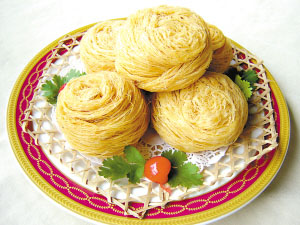 Influenced by the Russian cuisine and cooking culture of ethnic groups in the area, Harbin dishes can be divided into two styles, the Northeast Cuisine and the authentic Russian dishes.
Northeast cuisine specializes in stewed dishes with strong tastes and large in quantity. Though rugged in the look as bulks and salty in the flavor, the dishes are tasty with bright colors. The typical authentic northeast dishes are Disanxian (地三鲜, sautéed potato, green pepper and eggplant), Stewed Chicken with Mushrooms (小鸡炖蘑菇), Braised Pork with Vermicelli (猪肉炖粉条), Cuanbairou (汆白肉, quick-boil pork and Chinese sauerkraut), Stewed Fish of Demoli Town (德莫利炖活鱼).
The recommended restaurants are Futailou (福泰楼), Beilaishun (北来顺), Jiangnanchun (江南春), Orient Dumpling King (东方饺子王), and Wu Family's Sauced Bones Stewing Restaurant (吴记酱骨头炖菜馆).
Russian food is represented by Stewed Beef with Potatoes (土豆炖牛肉) and Dalieba Big Bread (大列巴面包). There are many authentic Russian restaurants in Harbin, especially near the Central Street. The recommended restaurants are Huameixi Restaurant (华梅西餐厅), Xigema Restaurant (西格玛食府) and Luxiya Western Restaurant (露西亚咖啡西餐厅).
Tips:
1. The best places for Harbin food are concentrated in the Central Street, which is a most characteristic exotic street in the city with different styles of architectures as well as for cate and shopping;
2. Northern style food gives full measure and most dishes are stewed that not easy to take away leftovers, therefore, it is suggested to order dishes per capita, e.g. three people order three dishes and four people order four dishes;
3. Because of the cold weather, dishes in Harbin is more salty than that in other parts of the country. Thus, if prefer light or sweet flavor, it is possible to tell the waiters when ordering;
4. If travel in summer, do not miss the cold drinks in Harbin; recommended cold drink shops are Madieer Cold Drink (马迭尔冷饮厅), Huamei Frizen Sucker (华梅冰棍) and Laodingfeng Cold Drink (老鼎丰冷饮厅).