Seven-tiered Buddhist Pagoda

More Photos

People always say: saving one's life is more than setting up seven-tiered Buddhist pagoda. Generally speaking, the number of Buddhist pagoda storeys is odd and the seven-tiered pagoda is the most common type to see. The Buddhist pagodas are built to bury men of virtue or collect Buddhist scriptures, by those who are believed to have immeasurable and boundless merits. The renowned Seven-Tiered Buddhist Pagoda of Harbin is located to the east of Jile Temple of Nan'gang District, and is built in a seven-storey octagonal pagoda style.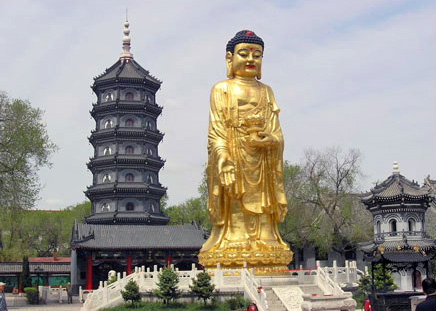 Despite having many characteristics of traditional Buddhist temples, the Seven-tiered Pagoda also has design aspects which are truly unique among the Chinese ancient buildings. The Seven-tiered Pagoda of Harbin is around 40 meters high and covers an area of more than 40,000 square meters. The whole temple complex is filled with bronze casts of Buddha, in total there are 31 arhat casts. Inside the hall, seven Buddhist statues are exhibited, including three Buddhas and four Bodhisattvas. There are also vivid relieves of a crane, phoenix and a lion. Part of its ornaments are quiet similar to the style of western architectures.
Quick Questions
Our team is waiting for your questions. Please feel free to ask us any questions you might have about our China package tours, Chinese culture, or the sites available. We will gladly help you with any special needs you might have and all questions, like our trip designing is completely free of charge.