Ice Lantern Exhibition

More Photos

Chinese name: 冰灯展(Bingdeng Zhan).
Location: Zhaolin Park, No.74, Youyi Street, DaoLi District, Harbin City, Heilongjiang Province.
Exhibition date: It lasts from January 5th to the end of February every year.
Opening time: 13:30-21:30.
Ticket: CNY150 was the price in 2010. Ticket prices for day and night may be different. The final price is subject to official information).
How to get there: take bus No.8, 53, 74, 83, 113, 114, 201 or 206, and get off at Zhaolin Park Station.

Travel tips:
1. During the period of the Ice Lantern Garden Exhibition, a competition of ice carvings will be held in Zhaolin Park. More than 10 countries' craftsmen will take part in this competition. Pay attention to it and you will feed your sight.
2. The lowest temperature in Harbin at that time is at -30 to -20 degrees Celsius. Please wear more clothes and take care of your camera which may not work well in such a cold weather.
Brief Introduction to Ice-lantern Exhibition
Harbin Ice-lantern Exhibition, which is also called Harbin Ice-Lantern Garden Party(哈尔滨冰灯游园会), is the earliest and biggest artistic exhibition of the ice lantern in the open air as a traditional activity in the world. It has been listed as one of the 35 national absolutely rare and beautiful scenic spots by National Tourist Office. Harbin Ice-lantern Exhibition is hold every winter in Zhaolin Park (兆麟公园), which covers an area of 6.5 hectare(about 16 acres) and uses the ice about 2000 cubic meters (about 71000 cubic feet). On the ground, the craftsman will use the raw ice from Songhua River to create more than one thousand vivid and magnificent artworks of ice sculptures which symbolize the wisdom and diligence of Harbin's people. And helped by the modern technological means, these ice sculptures will take on a grand and charming view. The shape and feature of these ice sculptures changes every year, so, the Ice-lantern Exhibition is called the "the forever non-repetitive fairy tale" by locals.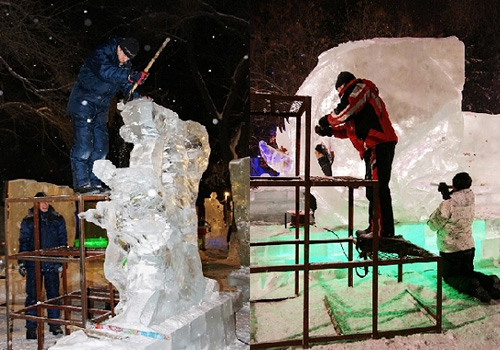 History of Ice-lantern Exhibition
The first Ice-lantern Exhibition was held in Zhaolin Park in 1963. It was once broken off between 1960s and 1970s and was not resumed permanently until 1985. The one who initiated this program is Ren Zhongyi, the first Secretary of Heilongjiang Provincial Party Committee as well as the first Secretary of Harbin Municipal Committee.
In 1960s, the citizens in Harbin used to stay at home because of the cold weather. Nobody wanted to go out and nearly was there no person in the park. This state would last almost for half a year. Mr. Ren wanted to change this situation. A journal to Guangdong in 1962 made him realize that it was necessary to hold a Culture Park in winter like Guangzhou Culture Park, to make people walk out from houses and enjoy themselves. One day, during the folk inspection, Mr. Ren accidentally found an ice lantern lay before an old woman, which was made of icicle with an oil lamp in it. He thought that it was the ice lantern that totally showed Harbin city's specialty and feature. So an unprecedented and important plan of holding an Ice-lantern Exhibition came into being in his mind. And then the first Ice-lantern Exhibition was held formally and grandly in Zhaolin Park in 1963.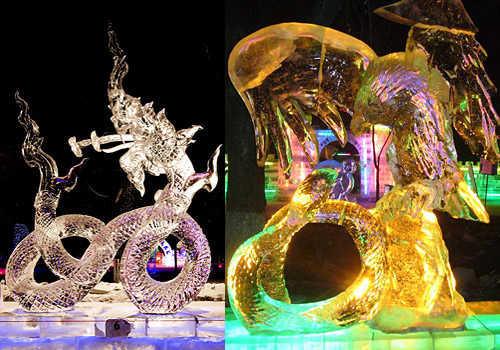 At the first night of the Ice-lantern Exhibition, near fifty thousand people, including adults, children and even blind men, paid to appreciate the beautiful, spectacular and fantastic ice lantern. The tourist team was unparalleled and unprecedented. So, the days planed to hold this exhibition had to be turned from three days to six days and the last few days was forced to be free for the citizens to visit due to the large population. During the Ice-lantern Exhibition, the whole park had been filled with beautiful and colorful ice lantern, as well as the happiness and joy of the visitor. The first Ice-lantern Exhibition has been recorded in the history of the Chinese ice-lantern tourism and it will be memorized in the heart of the people in Harbin forever. With the time passed, the Ice-lantern Exhibition has become the traditional activity of Harbin city and it also has become an indispensable part of the life of people in Harbin.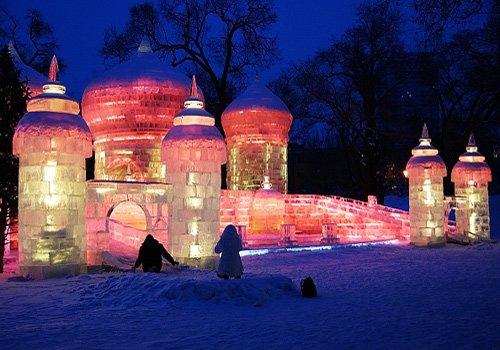 Ice-lantern Exhibition Nowadays
Now the Ice-lantern Exhibition has merged into a local traditional festival in Harbin called Harbin Ice and Snow Festival. Since 1985, the opening time of Ice and Snow Festival, tourists can not only appreciate various ice sculptures and ice-lantern in Zhaolin Park, but also can take part in a series of the international physical activities in Songhua River, such as sitting on the ice sailing boat, hitting the ice monkeys, seeing the wedding on the ice, skating on the ice and watching the competition of winter swimming. When night falls, you also have the chance to attend the evening party. You can appreciate wonderful performances and sometimes you also can take part in it.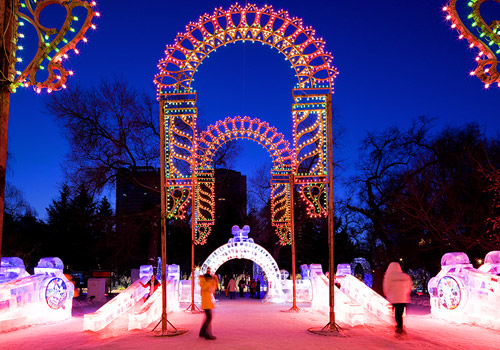 Nowadays the ice-lantern has become the pride of people in Harbin. The Ice-lantern Exhibition has enriched their lives and the art of ice lantern making has reached the world of maturity. It is a unique art exhibition of ice and snow which combines multiple subjects such as gardening, architecture, sculpture, theatrics, Chinese painting, Chinese literature and Chinese music, which causes great influence both at home and abroad. Meanwhile, with the progress of science and technology, especially the rapid development of electronics and optics, the making techniques and process are becoming more and more advanced and complicated. Modern lightings, acoustic and other electronic equipment have been widely used. Now the ice artworks include the ice architecture, the ice sculpture, the ice waterfall, the ice parterre, the ice sliding board, the ice Chinese calligraphy, the ice bonsai, the ice advertisement and of course the ice lantern. So many different artworks are strewn at random in the Ice-Lantern Garden Party, which create a perfect world of ice and snow.
Up till now, a total of 33 sessions of Ice Lantern Garden Exhibition have been successfully held. The accumulative total of guests from both home and abroad is more than 30,000,000. It has already created 7 items of Guinness World Records and made great contribution to the well-known tour city of Harbin. So it is worthy for you to come for a visit.
Quick Questions
Our team is waiting for your questions. Please feel free to ask us any questions you might have about our China package tours, Chinese culture, or the sites available. We will gladly help you with any special needs you might have and all questions, like our trip designing is completely free of charge.