Best time to visit Guilin

Guilin enjoys comfortable seasons throughout the year, and in different climates, tourists can appreciate distinct marvelous scenery of Guilin. Therefore, at any time of the year, tourists can come to visit Guilin to see its beauty. And when it comes to April to October, it is the best time to visit Guilin city. During these days, you can celebrate some traditional festivals such as Red Clothes Festival of Yao nationality of Longsheng County which is at the beginning of April, New Year of the Miao nationality which often falls in October, and the like.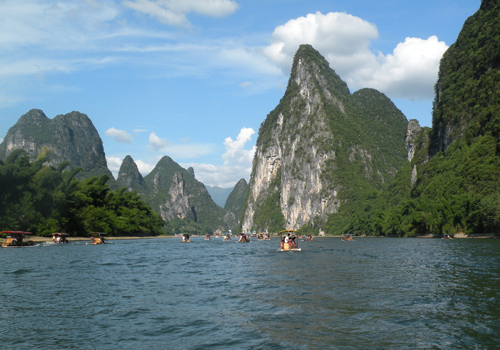 When spring arrives which usually starts from March, the annual temperature of Guilin is around 10℃. Though it may rain from time to time, you can still happily embrace the springtime in your overcoat when going out. Although spring is not considered the tourist rush season, visitors who come to Guilin city can indulge themselves in Peach Blossom Festival of Gongcheng County, Songs Festival of the Zhuang nationality on the 3rd day of the 3rd lunar month and other grand festivals. Besides, as Labour Day Golden Week falls in May 1st, many a tourists will flow into the city, so you are advised to reserve your itinerary and hotel beforehand.
Summer in Guilin often rains from May to August, and the annual precipitation reaches 1,000 milimetres, accounting for more than half of the year in total. While appreciating the mountains and rivers in the rainy season, you will feel as if you were in the traditional Chinese painting; this kind of feeling will be even stronger the moment you cruise the Li River in the misty and rainy days. Of course, you have to bring raincoat or umbrella with you while touring around Guilin in summer.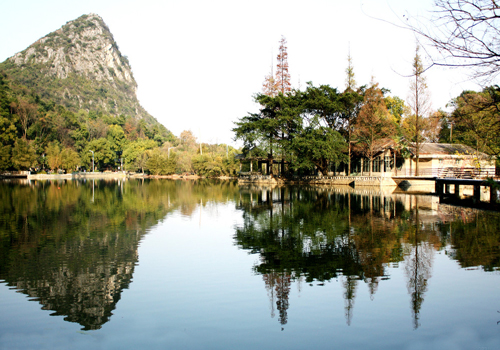 Autumn also sees the crush of mass tourism, when the climate is cool and the temperature is about 20℃. While you are strolling around the city, the aromatic osmanthuses will assault your nostrils. For your information, as National Day Golden Week falls in October 1st, it is sensible for you to reserve your itinerary and hotel in advance if you plan to tour around Guilin.
When winter sets foot in, the annual temperature is around 8℃, and it becomes a wonderful time for tourists to watch snow in Yaoshan Mountain, Mao'er Mountain of Xing'an county, and Dragon's Backbone Rice Terraces of Longsheng county. Due to high humidity in Guilin, visitors still feels chilly with the arrival of cold wave; therefore, bring enough clothes with you when you appreciate scenery of Guilin in winter.