Yuzi Paradise

More Photos

Yuzi Paradise of Guilin, named Yuzi Le Yuan in Chinese (Chinese: 愚自乐园), is located on the half way from Guilin to Yangshuo, boasting over 600 hectares with Karst Mountains. Yuzi Paradise is a large-scale sculpture park dedicated to the promotion of contemporary art and culture in China.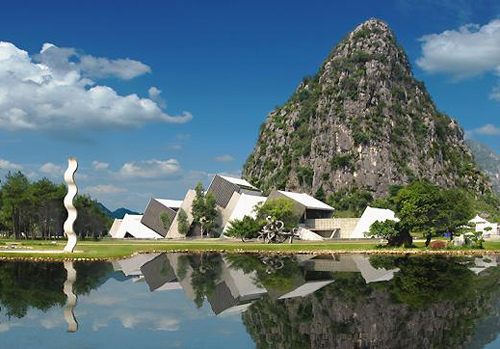 Founded in 1997 by Taiwanese entrepreneur Tsao Rhy-Chang, Yuzi Paradise has held 11 sculpture symposiums from 1997 to 2003, which have invited artists from 47 countries and regions including America, UK, France, Italy, Japan, etc, and more than 200 works are left for displaying in this dreamland. If the beautiful waters and hills of Guilin is the creation of nature, then Yuzi Paradise is just an ideal place for adventure of both nature and culture.
Since opened to the public on April 1, 2004, Yuzi Paradise has become a place of art fantasyland and vacationland attracting people from home and abroad. As the constant promotions of art activities, more and more artists and art lovers come to Yuzi Paradise for art spirit. With increasing modern arts and innovative architectures displayed among the picturesque Guilin landscape, Yuzi Paradise provides travelers with a brand new experience of leisure vacation in Guilin.

Architecture in Yuzi Paradise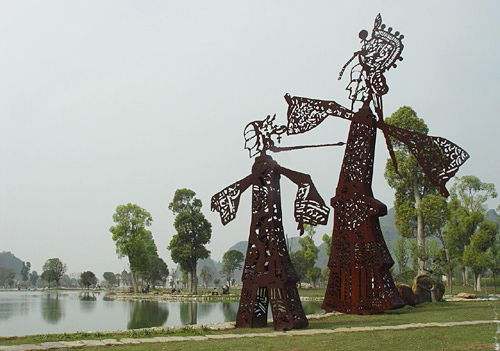 Except the outdoor sculptures, the architecture in different styles is another characteristic of Yuzi Paradise and has impressed almost every visitor. Each building has unique shape and structure with different inner implications, which has been naturally designed into the topography and landscape around it.
1. International Arts Center --- The inspiration comes from Guilin's mountains, which is designed as constant triangles extending to left and right. Those slops of 30 degrees or 60 degrees make a vivid contrast of unbalance and unsteadiness that make it a dynamic building like running hills.
2. HOMA Chateau --- HOMA Chateau is a green eco-building. The designer adopts unique green geometric pyramid in shape to express the idea of harmony between culture and nature. In each side of the building, there is a different angle to see the world and feel the life.
3. HOMA Courtyard --- The appearance of HOMA courtyard implies the moral of Heart Sutra. The purpose of the design is to provide a fresh comfortable rest place for modern busy spirit.
4.Day Dream Palace --- It is the private lodgings for founder of Yuzi Paradise Mr. Tsao. It is a hurricane-shaped one and rotates in counterclockwise direction, implying the infinite energy of life pursuit. Numbers of precious personal art collections are displayed here.
5.Flying Spa --- With a quarter of circle shape and steel-frame structure, the outer wall are all in mirrow glass. It just like a crystal ball or a sphere mirror reflecting the surrounding landscapes.

HOMA Chateau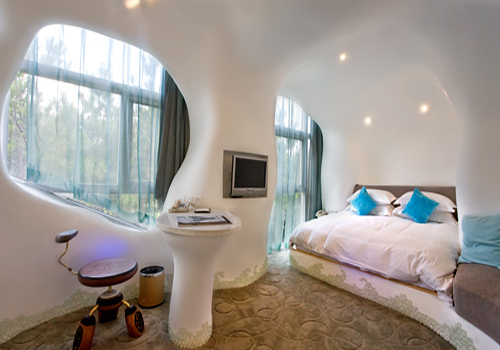 HOMA Chateau of Guilin is one of the top level designed hotels in Asia. Modern art is the spirit of HOMA Chateau, and the hotel is an amazing big sculpture itself. Each of its 46 supreme rooms is designed totally different; no two rooms are alike, and each is a unique art. Devoting to personalized VIP Host service, HOMA Chateau embraces the openly art museum of Yuzi Paradise with its art style, which provides an unprecedented experience for those high-quality living pursuers and art lover travelers.
Room prices of HOMA Chateau range from RMB 2000 to RMB 8800. 46 supreme rooms are designed differently mainly in five series with exquisite handiworks, which can easily touch your heart by its low-pitched and luxurious styles:
1. Chinese in a Modern Style: Modern elements with a Chinese concept.
2. A-Kan Series: Decorated by residential artist Kan Hsin–yi (Taiwanese). Stone, wood and bronze are the main materials which vividly express the vitality of Taiwan aboriginal people.
3. Cave Series: Inspirited from Guilin Karst caves and provides a raw aesthetic experience.
4. Lin Grass Series: Lin Grass materials and furniture is the basic concept in this design.
5. Contemporary: Free style in modern exciting elements.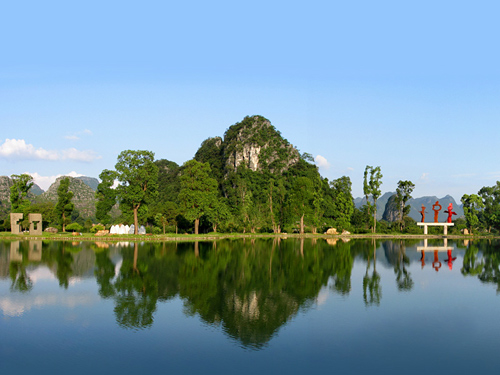 Distinguishing from other resorts, HOMA Chateau employs a unique way in management. It has warmly construct a private back garden in the park for hotel guests, which including Yugong Mountain, Sun Lake, Light Lake, Lotus Restaurant, Wind Forest Café, Conference Center, Swimming Pool, Fitness Center, Business Center, Dream Palace, Art Gallery and the Flying Spa:
1. Landscape --- Walking at the foot of Yugong Mountain or by the Sun Lake and Light Lake, playing in the Sweet grass Garden or exploring the Jatropha podagrica from Australia in Cactus Garden, you can experience every fun and Guilin landscape that you may wish in the garden.
2. Delicious --- You can enjoy a fashion feast in Lotus, or have a delightful coffee in the Wind Forest; if you still eager to more adventure for delicious, dinner service by lake side, in the cave or in the wild are also available.
3. Flying Spa --- Flying Spa experts in Chinese, Thai and aromatherapy massage. The provided traditional healing with high quality natural materials will deliver the guest utmost in relaxation and rejuvenation.
4. Atelier --- Every one can create his art under the instructions of artists or local professors with rich provided materials. Art Course of Jewelry making, Pottery, Chinese Calligraphy, Figurine Painting and Printing are available in Atelier.
Atelier in Yuzi Paradise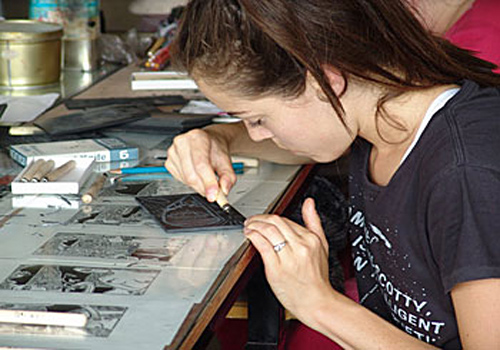 The Atelier in Yuzi Paradise is the biggest one in Asia, with seven studios of stone caving, wood caving, metal, bronze-work, pottery, print-making and glass blowing. All the sculptures and artworks that you can see in the park are made in Atelier. The outstanding professional facilities in Atelier can offer rich raw materials, expert assistance, and critical managerial support for both large and small creations. It is not only a dream paradise for artists but also a perfect stage for talented art lovers.
New themes for art activities are continuously updated in Atelier; art creation contests for visitors are held at regular time, and residential artists create their arts in the park all the year round. From 2009 on, Yuzi Paradise hold new painting symposiums every year. Whenever you visit in Yuzi Paradise, you may meet an artist around the park or have a chance to talk with one in Atelier.
Visitors and hotel guests can also participate in some artistic experiences under the direction of professional art tutors, like engraving prints, making pottery, Chinese Calligraphy, making jewelry, painting stones or figurines, etc. The professional service in Atelier just makes you a real artist to experience the joyfulness of creation and you can take home your own masterpiece.

How to get to Guilin Yuzi Paradise?
1. Depart from Guilin: take a bus from Guilin to Yangshuo at the square in front of the Guilin Railway Station and get off at the intersection of Yuzi Paradise. It takes about one hour.
2. Depart from Yangshuo: take a bus at the exit of the Yangshuo Bus Station (Note: do not buy ticket at the Ticket Office, because that means a non-stop shuttle bus), then get off at the intersection of Yuzi Paradise. It takes less than one hour.
Once arriving at Yuzi Paradise, guests who check in HOMA Chateau will be received by a VIP Host who serves as a private guide for the stay and could assist guests with any task from flight booking to gifts purchasing. In addition, tailor-made travel packages in Guilin, secretary service, car renting and bicycle renting are also available.
Quick Questions
Our team is waiting for you questions. Please feel free to ask us any questions you might have about our China package tours, Chinese culture, or the sites available. We will gladly help you with any special needs you might have and all questions, like our trip designing is completely free of charge.