Guangzhou Transportation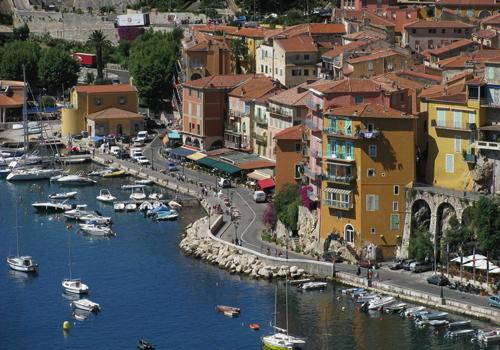 Airport in Guangzhou
Guangzhou Baiyun International Airport, situated in the border region of Renhe Town, Baiyun District and Xinhua Street, Huadu District, is 28 kilometers away from the Haizhu Square in the downtown area of Guangzhou. It is one of the three international aviation hubs in mainland China. Guangzhou Baiyun airport connects China and other countries, playing a significant role in the layout of Chinese civil airports. Up till now, its airline network covers five continents, which enables passengers to fly to more than 220 cities home and abroad.

Transportation To & From Guangzhou Baiyun International Airport
1.Shuttle Buses
There are 16 airport expresses and shuttle buses lines operated from the airport and leading to all districts of Guangzhou city. Especially shuttle bus is available between the airport and Guangzhou South Railway Station.
2.Metro
Travelers can reach the ground floor of the tourist building of the airport from the downtown by Line 3 northern extension of Guangzhou metro. It takes about 45 minutes.
3.Coaches
Long distance coaches are available at Guangzhou Baiyun International Airport to some cities or areas of Guangdong province such as Shenzhen, Zhuhai, Zhongshan, Foshan, Dongguan, Zhaoqing and Shunde.
4.Taxi
Passengers can also choose to take taxi for Guangzhou Baiyun airport or the urban areas if in a hurry, though it costs relatively higher. The time and cost vary depending on distance.
More information about the transportation to and from Guangzhou Baiyun International Airport you can visit the website of the airport: https://www.gbiac.net/byairport-web/traffic/index?urlKey=wfjc_en
Railway stations in Guangzhou
Railways in Guangzhou city are advanced. Beijing-Guangzhou Railway is the main line linking north and south China. Besides, Guangzhou-Maoming Railway, Guangzhou-Meizhou-Shantou Railway facilitate the east and west Guangdong province. There are two main railway stations in Guangzhou, that is, Guangzhou Railway Station and Guangzhou South Railway Station.

Guangzhou Railway Station
Located on the Huanshi West Road (环市西路), next to provincial bus station and opposite to Liuhua Hotel, it is one of the main railway hub stations in China. The main lines of Guangzhou Railway Station are Beijing-Guangzhou Railway, Guangzhou-Shenzhen Railway, Guangzhou-Maoming Railway, and Guangzhou-Foshan-Zhaoqing Intercity Railway. Travelers can take Guangzhou metro Line 2, Line 5, or buses such as No. 30, 180, 211, 228, 257, 529 to get there.
Guangzhou South Railway Station
Located in Panyu district of Guangzhou city, it is a modern large-scaled tourist railway station as well as the core station of Guangdong-Hong Kong-Macao Greater Bay Area and the Pan-Pearl River Delta Region. The main lines of the train station are Beijing-Guangzhou High-Speed Railway, Guangzhou-Hong Kong High-speed Railway, Guiyang-Guangzhou High-speed Railway, Nanning-Guangzhou Railway, Guangzhou-Zhuhai Intercity Railway, Guangzhou-Foshan Circular Railway, Guangzhou-Huizhou Intercity Railway, and Guangzhou-Foshan-Zhaoqing Intercity Railway. Guangzhou metro Line 2 and Line 7, and buses such as 288A, 301A, 303A, 309A are available to Guangzhou South Railway Station.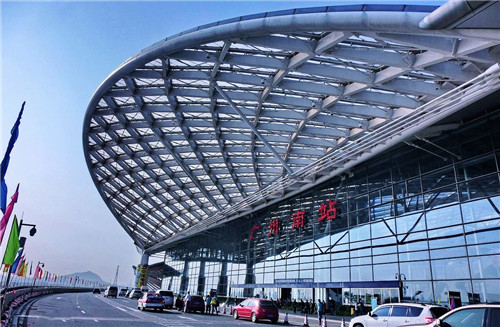 Long-distance bus stations in Guangzhou
Guangzhou has a highly developed transportation network, which enables tourists to reach the cities in Guangdong province very conveniently. Coaches from Guangzhou to the cities such as Shenzhen, Zhuhai, Zhaoqing run frequently every day. At present, there are over ten long-distance bus stations in Guangzhou city and every day sees many a coaches departure from the stations.

Waterways in Guangzhou
Now, Guangzhou has trade contacts with more than 400 ports in over 100 countries around the world. Huangpu-New Port and Xinsha Port are located in the east Guangzhou, the estuary of the Pearl River, both of which are the biggest container terminals in south China. Passengers and cargoes can be transferred to Hong Kong from Guangzhou at Lianhuashan Port and Nansha Port. Besides, ships can get to Guangxi Zhuang Autonomous Region from Guangdong province via its inland waterways.

Guangzhou Metro
There are 14 subway lines in operation in Guangzhou, all of which have covered so many prime places of the city that visitors can tour around without difficulty. The metros in Guangzhou generally run from 06:00 in the morning till 23:00 or so in the evening. Wherever the metro pulls in, the stop is announced in Mandarin, Cantonese and English in turn, followed by the nearby location or landmark in Mandarin.
Detailed information you can find at the official website of Guangzhou Metro: http://cs.gzmtr.com/ckfwEnglish/
Guangzhou City Transportation
Public transportation in Guangzhou city includes buses, trolleybuses, tourist special lines and so on. Tourists can buy a transportation card called Yangchengtong, which is sold in banks and convenience stores. With the card, you can pay for the bus, taxi, metro, ship and other means of transportation and be given a discount of around 5% on the single-trip price. Moreover, in the designated supermarkets, fast-food restaurants, you can pay with it, too. To some extent, it is similar to Octopus Card of Hong Kong.
Bus – they are self-service buses and passengers must get on from the front door and get off from the back door. The buses generally run from 06:00 to 22:30. In effect, night buses are available so as to make it easier for residents to move around, running from 22:00 to 24:00.
Trolleybus – Guangzhou is the only city in Guangdong Province with a trolleybus system. At present there are 15 lines in the city and all the buses are equipped with air conditioning.
Taxi – in Guangzhou you will find cabs in different colors, that is, red, yellow, blue, champagne golden, green. Though they belong to different taxis corporation, the starting prices are the same. In the urban area, the starting price is 12 yuan (including 3 kilometers), after 3 kilometers an additional 2.6 yuan for one kilometer, after 25 kilometers additional 3.9 yuan for one kilometer.
Cruise – Pearl River cruise is available at night. Different boats are operated to satisfy travelers' demands. You can have fun, try the foods and have a relaxed time on the boat.