Guangzhou Cuisine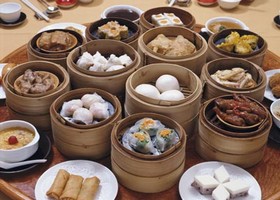 Guangzhou food, with a long history is well reputed around China. Every year food festival is held here. The year of 1956 saw 5447 kinds of dishes presented on Guangzhou Delicacies Exhibition.
Guangzhou Cuisine is representative of Cantonese Cuisine, which absorbs the essence of famous cuisines nationwide and mixes itself with western food. Guangzhou food are not only excellent in ingredients and exquisite in workmanship but also in vast in variety. In Guangzhou cuisine, there are more than 21 ways of cooking, frying, sautéing, simmering, braising, and stewing being the most popular. In addition, it attaches great importance to clour, aroma, taste and appearance; in terms of flavour, it is fresh and smooth. Guangdong food also varies with seasons. In summer, it tastes mild while in winter it tends to be strong.
Braised Radishes and Briskets (萝卜牛腩)
Braised radishes and briskets is one of the traditional snacks in Guangzhou. The main ingredients are white radishes, briskets and some seasonings. On the bustling streets like Beijing Road, Shangxia Jiu Road, you will drink in the scent. And often, the streets see young men and women rambling with a bowl of braised radishes and briskets.
Steamed Vermicelli Roll (肠粉)
Steamed vermicelli roll is a kind of popular snacks in Guangzhou, in the meanwhile, it is a necessity for morning tea and night market. It gets its name due to its resemblance to chitterlings. Now, whenever you are in a eatery, tea house, hotel or restaurant, you can always try it!
Tortoise Herb Jelly (龟苓膏)
Being afraid of suffering from excessive internal heat, Cantonese like tortoise herb jelly most. Self-made jelly is brown, and translucent if honey is added. Though it tastes sweet at first, it is indeed a little bitter. It is said the more bitter, the better, since bitterness can get rid of excessive internal heat.