Zhaoqing Seven Stars Cave Scenic Park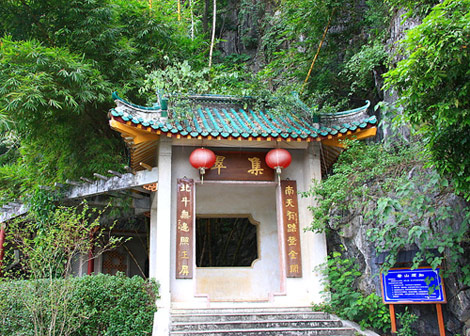 More Photos
Seven Stars Cave Scenic Park in Zhaoqing City of Guangdong Province centers around the Star Lake and the Seven Peaks that scatter like the track of the Big Dipper, such special shape has brought it fame and recognition throughout China. This mammoth lake stretches over 20 kilometers, occupies 6,490,000 square meters and has a string of small islands at its center. There is semi-permanent mist shrouding above the lake during the cooler months, which adds more beauty to the incredible mountain scenery. The combination of the lake and the mountain behind it is what draws millions of tourists every year, and a national-level boating base has been set up there.
Modeling after antique, the Seven Stars Cave Memorial Arch is located in the south of the lake district of Zhaoqing City. The arch itself is 12 meters high and 17.5 metres wide, behind the arch lays a vibrant shopping and entertainment district as well as the city's largest musical water-fountain which, on weekends, offers free daily shows.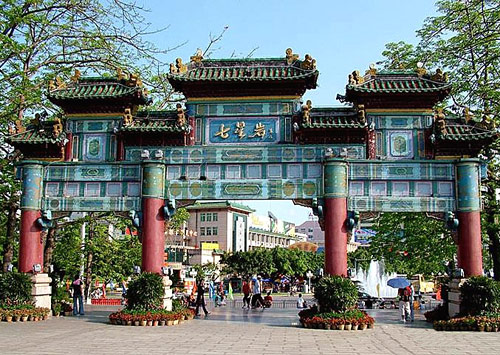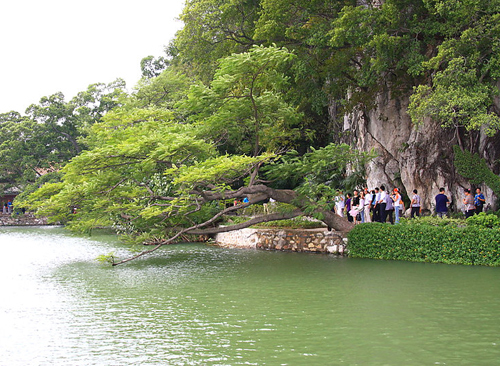 Inside the Seven Star Cave Park there are over 530 examples of ancient and imperial stone engraving and almost all of them are perfectly persevered. Among all the stone engravings in Guangdong, the ones of Tang Dynasty are considered to be most precious and inside the park there are four. Remarkably on most of the stone engravings there are not only examples of Chinese but also some in Tibetan and Spanish. Among all of these engravings, the 'On Stone Room of Duanzhou' inscribed in regular script by Li Beihai from Tang Dynasty is the top masterpiece. Moreover, some of China's most well renowned poems in diverse traditional form has been engraved onto the stones, totaling 252 and hence it is commend as 'a poetry gallery of a thousand year'.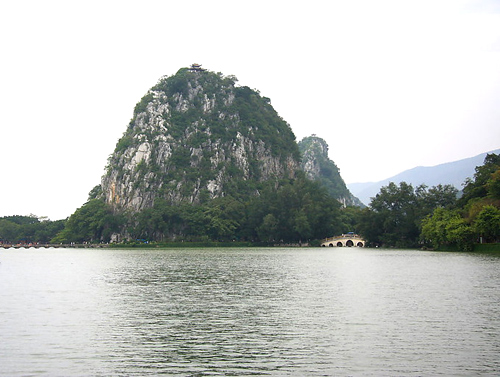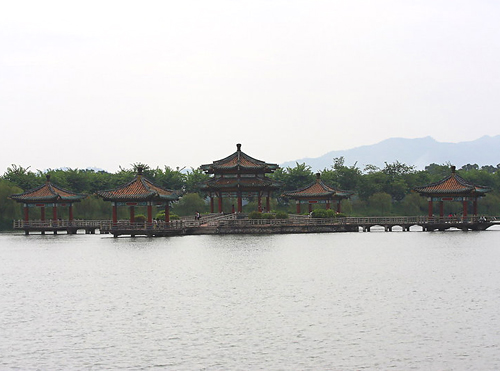 As the first cave opened to tourists, the Stone Room Caves is one of the most amazing features of this scenic park. It consists of Dragon Stone Cave, Green Cloud Cave and Lotus Flower Cave; people can visit the Dragon Stone Cave by small boat but can visit the other ones by small boat or on foot. These tunnels that vary in both size and shape possess amazing stone structures inside and themselves have over 330 recorded ancient stone engravings.
Located in the Fairy Maiden Lake and to the northeast of the Seven Star Cave, the Stone Cave Ancient Temple is one of the definitive highlights of visiting this scenic area. Originally created in the early Tang Dynasty and rebuilt in the Ming and Qing Dynasties, this Stone Cave Temple is nationally famous. The unique stalactite formations have been believed since ancient times to magically produce rice granules and have thus become known as the 'rice holes'.
Opening time: 7:30-17:30
Quick Questions
Our team is waiting for your questions. Please feel free to ask us any questions you might have about our China package tours, Chinese culture, or the sites available. We will gladly help you with any special needs you might have and all questions, like our trip designing is completely free of charge.