White Cloud Mountain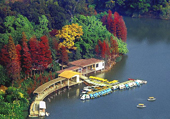 More Photos

Chinese name: 白云山 (Baiyun Shan).
Location: Baiyun District, Guangzhou City, Guangdong Province.
Entrance fee: CNY5.
Cable car in the mountain: CNY30 / one-trip / person.
Best time for visit: October-December (generally, rainy from April to June, typhoon season in August and September).
How to get there:
- take bus No.210 and debus at Bai Yun Suo Dao 1 (白云索道1, Baiyun cable car No.1), then walk some 390 meters to the South Gate of Baiyun Mountain;
- take bus No.257 and debus at the stop of Bai Yun Suo Dao 2 (白云索道2, Baiyun cable car No.2), then walk some 360 meters to the South Gate of Baiyun Mountain;
- take bus No,529 or 805 and debus at Wai Yu Xue Yuan 1 (外语学院站1), then walk some 200 meters to the West Gate of Baiyun Mountain;
- take the subway Line 2 at Exit A of Guangzhou Railway Station and get off at Xiao-gang Station Exit A, then walk for some 910 meters to the West Gate of Baiyun Mountain.
Introduction to Baiyun Mountain
Known as the NO.1 of the Eight Great Sceneries of Guangzhou and a national-level scenic area, Baiyun Mountain has been being a trademark of Guangzhou tourism since the ancient times. Comprising over 30 peaks, with the main one Moxing Peak being 382 meters, Mt. Baiyun scenic spot covers a total area of 20.98 square kilometers. It provides a full view of Guangzhou and the Pear River to ascend the top of the mountain. When it is late spring or after rains, there are always white clouds coiling around the mountain and it creates a wondrous mountain view, hence the name "Baiyun Mountain (literally White Cloud Mountain)".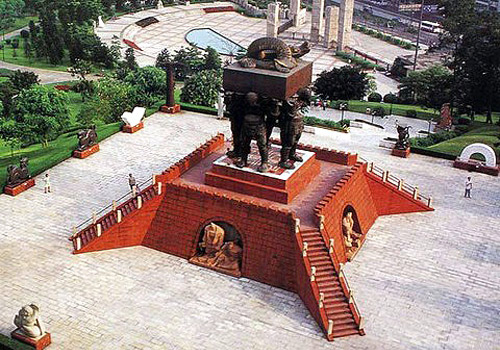 As a time-honored tourists site, Baiyun Mountain was once home to a number of historic relics, most of which were unfortunately destroyed during the vicissitudes of history. After the founding of P.R. China in 1949, an administrative department was established to take charge of Baiyun Mountain and seven sightseeing zones have been developed in the mountain, namely, Lu Lake Scenic Spot, Santail Mountain Scenic Spot, Mingchun Valley Scenic Spot, Moxing Mountain Scenic Spot, Mingzhu Building Scenic Spot, Fei'e Mountain Scenic Spot and Heyi Mountain Scenic Spot, including three "largest" in China: the largest landscape-style garden – Yuntai Garden, the largest natural "birdcage" – Mingchun Valley, and the largest theme park of sculptures. On the day of Chongyang Festival (aka, Double Nine Festival or Elders' Festival), which falls on the 9th day of the 9th Chinese lunar month, it is a tradition for the local to climb up to Baiyun Mountain to celebrate the festival.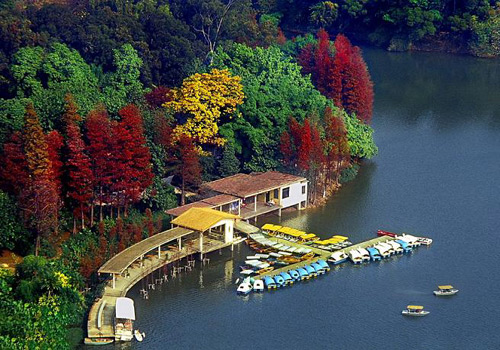 Ecological Environment of Baiyun Mountain
Located in South China with subtropical climate, Baiyun Mountain is endowed with abundant natural resources, including 876 species of plants (657 of which are wild and five of which are endangered species under national protection). With a green proportion of 95%, Baiyun Mountain absorbs 2800 tons of carbon dioxide and produces 2100 tons of oxygen every day, therefore, it is seen as the lung of the city.
Quick Questions
Our team is waiting for your questions. Please feel free to ask us any questions you might have about our China package tours, Chinese culture, or the sites available. We will gladly help you with any special needs you might have and all questions, like our trip designing is completely free of charge.