Lychee Bay

More Photos

Chinese Name : 荔枝湾 (荔枝湾涌) (Lizhi Wan).
Location: Liwan District, Guangzhou City, Guangdong Province.
Entrance Fee: CNY 40.
Best time for visit: All the year round.
How to get there:
1) Public Bus: You can get there by Public Bus No. 2, 8, 9, 22, 85.
2) Subway: Get off at Exit D, Zhongshanbalu Terminal, Line 5.
3) Private car is also a good choice.
Introduction to Lychee Bay – Typical South China's water town providing great enjoyment of architecture, cuisine and native activities.
Clear water flows in curved river way, while red leechee shining brightly on both sides – although the typical south China's water town Lychee Bay suffered recession, but we can still find similar scenes and other impressed entertainments here in this newly constructed famous scenic spot. Lychee Bay in history covered a huge area from west of Liwan Road to North the Eighth Zhongshan Road. The graceful Lychee Bay was once the gathering place of countless merchant princes, reputed scholars and commonplace people.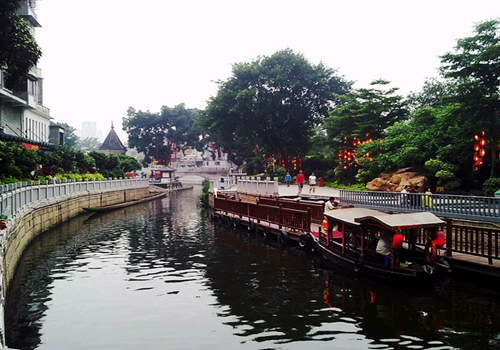 In the descriptions of the ordinary people or the poems of the literary works, Lychee Bay to Guangzhou was what the West Lake to Hangzhou or the Qinhuai River to Nanjing City, which indicated that the city would lose a lot attraction quality without Lychee bay. Today, Lychee Bay is not as glorious as it in history. However, under the government's investment and well management, the reconstruction of Lychee Bay was proved to be a big success. More and more travelers are attracted by its records of Guangzhou natural or cultural essence. Do you still want to search for glory traces through the fading prosperity but ever-continuing recovery and reconstruction?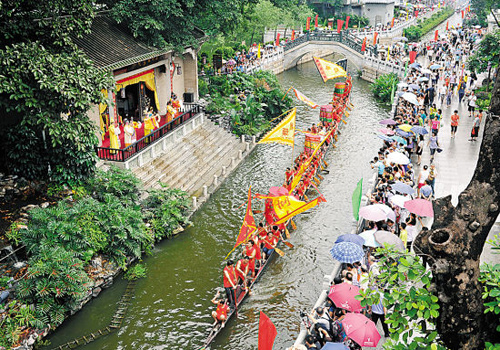 Lychee Bay in history – Prosperous, Decline, Reborn.
Lychee Bay was built to be a summer resort in the early 206 AD (Han Dynasty), and gradually be well-known in South China areas. It's a perfect combination of nature and artificial. In Ming Dynasty (1368-1644), it was ranked as one of the eight most famous scenic spots of Guangzhou.
Decline: Starting from 1958, Liwanhu Park was built and some branch rivers were filled and leveled up to be roads. Along with the establishment of many factories and residences, the water was badly polluted. 1992, the last waterway got covered, which marked the end of Lychee Bay.
Reborn: 1999, government of Liwan District proposed to rebuild waterways of the Lychee Bay and the plan was officially carried out in 2009. 2010, they drew the water of Liwan Lake into the newly constructed waterways – Lychee Bay was back!
Although it changed a lot under the influences of human or nature, the spirit or traces formed in Lychee Bay's hundreds of years' historic accumulation never faded away.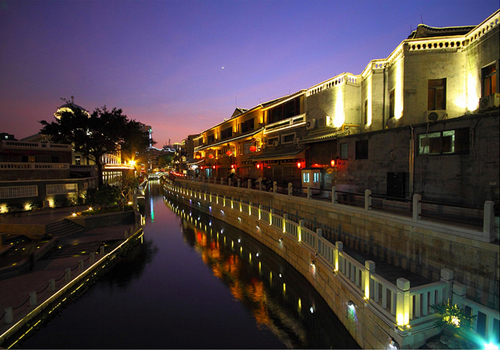 What make Lychee Bay a fascinating tour place? – Architecture, food and customs.
Architecture: A grand feast of Architectural art in Guanxi (Liwan District, Guangzhou) Style.

a) Liangjia Ancestral Temple – Built in Ming Dynasty and exhibited with the history of Lychee Bay.
b) Wenjing Antique Street – There are over 400 antique stores.
c) Wen Tower – With a height of 13.6 meters, built in Ming Dynasty, it stands together with a 157-year-old banyan tree.
d) Longjin Bridge – Opposite to the Wen Tower, in accord to the Chinese tradition (A bridge and a tower built together).
e) Renwei Temple – Chinese architectural essence.
Another factor that makes Lychee Bay attractive is tasty food.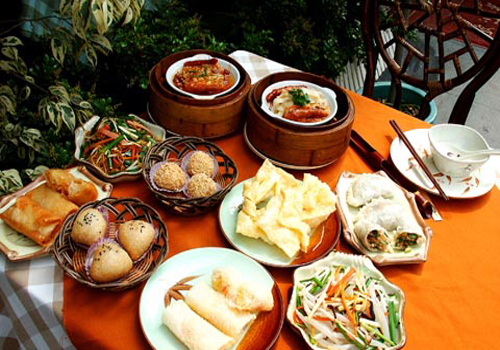 Lychee Bay has a unique cuisine that belongs to its own – Guanxi (Liwan District) Cuisine, similar to Yue (Guangdong Province) Cuisine. This style of cuisine is mainly famous for exquisite snacks. There is no word or picture can describe the taste. Only when you take a bite in person that will you know how delicious it is.
Pleasure boat – what makes your trip more convenient and comfortable.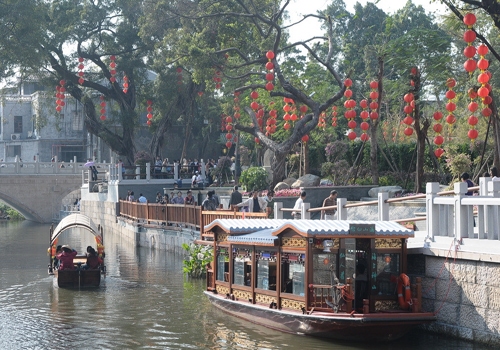 Imagine this, soft wind blows along the river and you lazily sit or lie in the boat, enjoy tasty snacks and meanwhile appreciate the architectural art and local customs on the bank. Keen enjoyment!
If you want your vacation to be leisure, convenient and funny, Lychee Bay will never let you down!
Quick Questions
Our team is waiting for your questions. Please feel free to ask us any questions you might have about our China package tours, Chinese culture, or the sites available. We will gladly help you with any special needs you might have and all questions, like our trip designing is completely free of charge.