Booking Code: VOC-20100519-R
Client's Information: Brian E. Dubiel, USA
Tour Starting Date: Wednesday, 19 May 2010
Tour Destination: Xi'an
Comment on our service from
Brian E. Dubiel, USA
But overall, we had a great time and would recommend your group to any westerner visiting China. Thought you guys did a phenomenal job.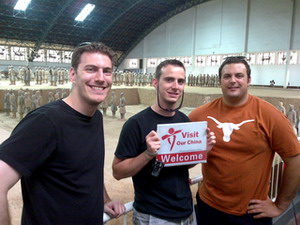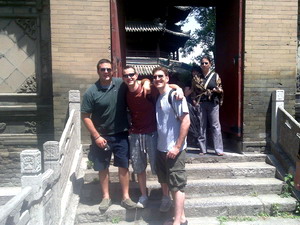 Hello Robert,
I just wanted to touch base and give you some insight as to our trip. Overall we all had a great time, especially spending time with Betty and learning about Chinese culture. She was great at that, she spoke to us as a friend and not just as a tour guide which was great.
The hotel was great, no problems there. Thank you for the Western breakfast at the hotel, it was a welcome greeting. The driver was excellent, the traffic in XIan is crazy and he was great. Knew where and how to go, and the van was very comfortable.
Betty was a great tour guide, she knew so much and was so knowledgeable about every little thing. There really wasn't any complains on Betty throughout our trip.
The only things I could suggest to do better next time, was that the lunch spot when we visited the Terra-cotta Warriors was not very good, it was actually kind of gross. Also, for tours looking to do night activities, I think it would have been great if Betty could have guided us to a couple nearby restaurants which would have been good. There was one night where she did guide us to a street and we had a wonderful dinner with drinks. But a couple of the other nights, we sort of just wandered around the city looking for a place to eat. Didn't feel that comfortable.
Also, another quick point, it was nice that Betty and the Driver was very accommodating for Jeff and Ryan which arrived in the early morning the first day. She allowed us to go back to the hotel to get them settled and then we were off touring. Also due to their lateness coming to the hotel, we we still able to see and schedule everything in the itinerary we were supposed to see, which was also great. So we didn't miss anything!
The night train we took was somewhat of a worry for my group also. He had heard stories of the quality of the train, but when we got on, it was very comfortable and a very smooth ride. I think going forward, if there was an option for our group to secure the entire cabin (buying all 4 of the tickets), we might have opted to do so for added comfort not having a stranger in our cabin. Also, going forward, if you provide more details about the train (that it was periodically air conditioned, that it was a 4 person cabin), I think our group would have felt more comfortable going into it.
But overall, we had a great time and would recommend your group to any westerner visiting China. Thought you guys did a phenomenal job. Thanks Robert, hope this helps.

Brian Dubiel