Dunhuang in brief
The city of Dunhuang is located in the very North East of the Gansu Province. As a major stop-off city on the Silk Road, Dunhuang is also known as the "City of Sands" or "Shazhou" (sandbank) due to its long expanses of sand dunes and golden shiny houses. The city flourishes with many historical and touristy sites that invite every traveler to escapism and respect, in a place where one can even wonder if we are still in China! Dunhuang is located in a fertile oasis where the left remnants of a crescent moon lake and the "Singing Sand Mountain" (Mingsha Shan) can still be visited. Being a strategic point for passing to India, Southern Siberia or even Mongolia, Dunhuang also displays a lot of advantages to enter mainland China and cities like Xi'an and much more. Before traveling to Dunhuang, travelers must know the arid and continental climate that is waiting for them, the city being surrounded by high mountains and located in western mainland China. Ranked as the best tourist destination in the whole Gansu Province, Dunhuang is just a must-see destination on your journey to the Taklamakan desert, Turpan or Urumqi city. A great desert stop-off point that will let you live another China!
History of Dunhuang – An oasis on the Silk Road to western China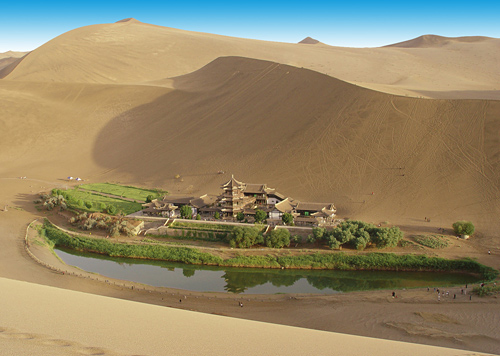 Dunhuang is a major Silk Road camel caravans' stop in ancient times and is inevitably filled with lots of historical and cultural relics waiting for you to be discovered. The city was built in 121 BC, after Chinese defeated the Xiongnu (confederation of nomadic tribes from Central Asia) in great number at this time in the region. With the arrival of the Han and Tang dynasties, the city started to get its full importance by becoming a pivotal hub of communication in the west part of the Hexi Corridor (also called Gansu Corridor) and the Gobi Desert, famous for being the most important route used by traders and military units in ancient times. Major gate to the Central Plains of mainland China, Dunhuang welcomed the arrival of Buddhist monks and priests who built many temples and churches as well as painted mural masterpieces all of Indian inspiration. Today, remnants of this past are still at the disposal of travelers' sight in the Mogao Caves or "Caves of the Thousand Buddhas". Enriched by this great ancient past, the city of Dunhuang is since then home to many national minorities as well as foreigners coming from Iran and India, making Dunhuang a prosperous metropolis bustling with activities.
Dunhuang nowadays – Rich UNESCO sites and cultural relics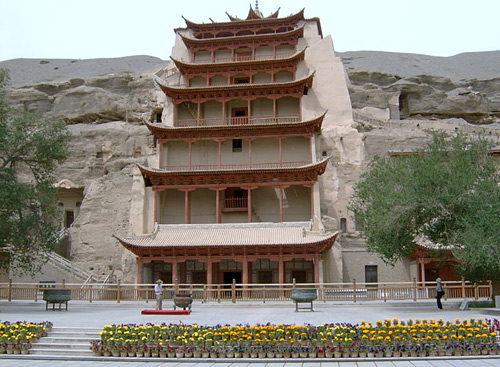 Important tourist attraction and archaeological site, Dunhuang is a place that may fill your curiosity with all its rich and worldly known places of interest. The city is such a gift after hours of monotonous travel that you will for sure fall in love with it: lush natural sceneries, green cultivated fields, oasis, amazing tasty food... Dunhuang is a dreamlike place for lovers of large spaces and desert adventure. While visiting the city, you may stop by the famous Mogao Grottoes located at the rock side of the "Singing Sand Mountain" (Mingsha Shan), where Buddhist arts and carvings will let you enter in the city's ancient culture. The National Geologic Park of Yadan is also a grandiose stop that will fill your dreams with its rare sculptural rocks melting in a misty wind: a site never seen anywhere else in the world! Yumen and Yangguan Passes, extension of the Great Wall, Crescent Moon Spring... Dunhuang has a haunting beauty that will not let travelers unmoved especially at night with its star-studded sky on a sand dune skyline. Beautiful natural sceneries, historical sites, Dunhuang is also a place where enjoying famous specialties like the Dunhuang carpet, the Ming Mountain large dates, the Zhiyan peaches and grapes. Touring Dunhuang is just experiencing the desert region of China at its best point!