Dunhuang Transportation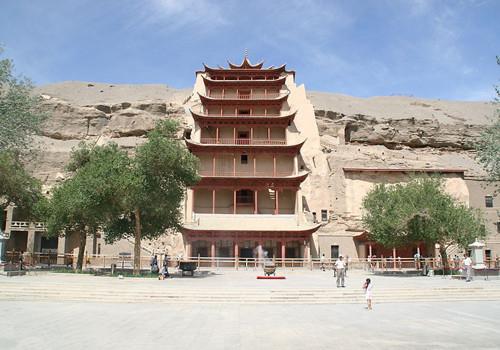 By Air
Dunhuang Airport is situated thirteen kilometers away from the eastern part of the city. At present, regular airlines from Dunhuang to lanzhou, Xi'an, Beijing, Jiayuguan, Urumqi are available, 38 flights each week. It will cost you about 30 yuan to 40 yuan to drive you from the airport to the downtown area by taxi.
By Train
Dunhuang boasts two railway station, that is , Liuyuan railway station and Dunhuang railway station.
Liuyuan railway station - located 128 kilometres away from the northwestern part from Dunhuang city. Visitors can take trains from Dunhuang to Beijing, Shanghai, Xi'an, Chengdu, Lanzhou, Urumqi and other ten cities. Shuttle buses bound for the downtown area are within reach day and night. It will take you about two hours and cost you 15 yuan.
Dunhuang railway station – located ten kilometers away from the eastern part of the city. Dunhuang railway connecting dunhuan city and Liugou stop, Guazhou County is 169 kilometres long. From Jiayuguan to Dunhuang, it is 400 kilometres plus and it takes you about seven hours to reach the destination.
By Bus
Coaches bound for Jiuquan, Lanzhou, Xi'an, Hami, Turpan, Urumqi, Golmud and other cities are available in Dunhuang. If you plan to spend your holidays in Tibet, you can get off at Golmud before transferring to Lhasa. Dunhuang railway station, opposite to the Lufeitian Hotel on Mingshan Road, has buses heading for Lanzhou, Echoing-Sand Mountain and Crescent Lake, Jiayuguan and other places.
City Transportation
Taxi – it is roughly estimated that there are 320 taxis in different sorts. For Charade taxis, the starting price is 5 yuan; for Santana taxis, the starting price is 10yuan.
Bus – of a few bus routes, the most practical are two, both of which are located on the Mingshan Road near Dunhuang restaurants. No. 3 bus can bring you straight to Echoing-Sand Mountain, while buses to the Mogao Grottoes depart from the downtown at 08:30, running every 30 minutes.
Bicycle – now that Dunhuang city is not that big, you can tour around the city on foot or by bicycle. There are four cycle hire spots all over the city. Or you can take rickshaws, which is also convenient for visitors.