Yangguan Pass

More Photos
Chinese name: 阳关 (Yang Guan)
Location: It is located approximately 70 kilometers southwest of Dunhuang City, Gansu Province of China.
Opening time: All day long.
Ticket: Around CNY 50.
How to get there: Generally you need to hire a private bus to get there from Dunhuang city.
Introduction to the Yangguan Pass
Yangguan Pass is a important part of the Silk Road. It is the key place to the transportation between ancient China and other countries.Yangguan, literally means "Sun Gate", is a mountain established in 121BC of the Western Han Dynasty (206BC - 24AD) to defend against the attacks of other minority nationalities, and to develop the area of Xiyu - the western regions of Han Dynasty being the area west of Yumenguan Pass including what is now Xinjiang and parts of Central Asia.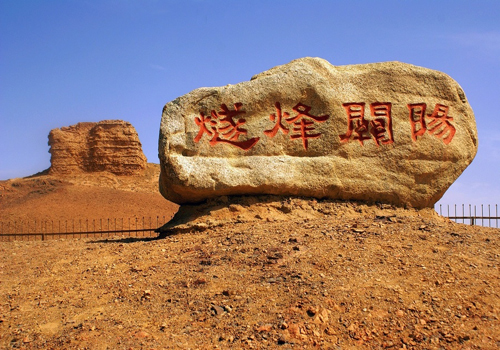 History of the Yangguan Pass
Yangguan Pass is one of China's two most important western passes, the other one is the famous Yumenguan Pass. It once was the gateway to the Xiyu area and an important pass on the Silk Road. Eminent Buddhist monk Xuan Zang set foot there on his return to Chang'an (Xian) from India. During that period, Yangguan Pass, as a military stronghold, was rich in water and was an oasis.
The location of ancient Yangguan Pass was submerged by the desert, the city of Yangguan Pass being unable to escape too, leaving only the remains of the beacon tower of Dundun Hill to witness the vicissitudes of Chinese history. But it is a desert full of precious deposits. There is a legend that the trousseau of a princess of the Tang dynasty was buried here by a sudden sandstorm. For this reason, locals call this desert 'curio beach'.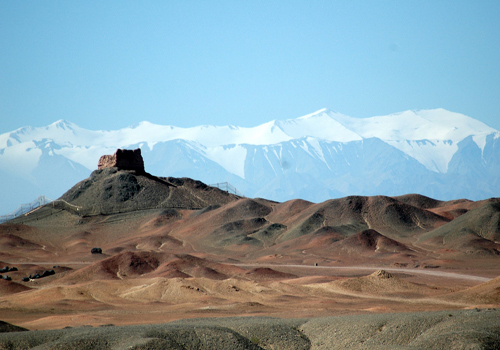 Yangguan Pass in nowadays and its cultural references
Yangguan Pass always reminds Chinese people of a great poem which is wrote by the Tang Dynasty (628 - 907 AD) poet Wang Wei to describe his sad parting with his friend.
送元二使安西
渭城朝雨浥轻尘,
客舍青青柳色新。
劝君更尽一杯酒,
西出阳关无故人。
Translation:
Seeing Yuan Er off on a Mission to Anxi
The morning rain of Weicheng dampens the light dust,
The guest house is green with the colour of fresh willows.
Let's finish another cup of wine, my dear sir,
Past the Yangguan out to the west, old friends there'll be none.
Nowadays, the area around Yangguan Pass has become the last grape planting base in northwest China.
Tips:
Take thick clothes because there is big temperature difference between the day and evening.
It has a dry climate, so take enough water and fruits.
Quick Questions
Our team is waiting for your questions. Please feel free to ask us any questions you might have about our China package tours, Chinese culture, or the sites available. We will gladly help you with any special needs you might have and all questions, like our trip designing is completely free of charge.