The White Horse Pagoda

More Photos
Chinese name: 白马塔 (Bai Ma Ta)
Location: Bai Ma Ta Village, Danghe Town, south of the Dunhuang City. It is about 2 kilometers away from the center of the city.
Ticket: CNY 15 per person.
Opening time: 8:00 - 18:00.
How to get there: It is not far from the downtown, so you can take a taxi.
Introduction to the White Horse Pagoda
The White Horse Pagoda was built by an eminent monk to commemorate a white horse in 386 AD. It is an important part of the Silk Road. It has nine-storage, with a height of 12 meters and a width of 7 meters. People repaired the structure in every dynasty, therefore the White Horse Pagoda keeps its original beauty and always take the lead among the tourist attractions in Dunhuang as is regarded as "scenery within the scenery".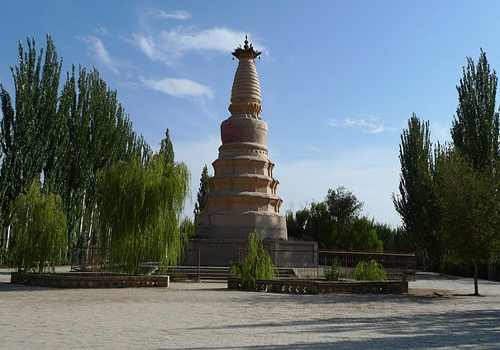 History of the White Horse Pagoda
People said that in North Liang period of the South and the North Dynasties (420~577A.D.), an Indian Buddhist master called Jumoloce riding a white horse with some scriptures came along the Silk Road to China to spread Buddhism. When he arrived in Dunhuang, his horse became ill and died. Jumoloce was very sad, he found a vacant land and buried the horse in Buddhist custom. Then he went on his journey eastward to preach and spread the Buddhism.
Since that time, Buddhism became popular in Dunhuang. Local people later built a pagoda called the White Horse Pagoda close to the place where Jumoloce buried his horse to commemorate this Buddhist Master.
About the Buddhism in China
Buddhism spread into China from India through Yutian (in Xinjiang Province) of the West Regions and Shanshan 1,000 years ago. Gradually more and more people believed in Buddhism and recorded many events that Chinese monks went to West Regions for Buddhist scriptures or Buddhism spread from the West Regions into China.
In fact, in the long history of Buddhism, along the Silk Road believers had built many temples and caves to pay their respect to those monks who had dedicated their life to the spreading of the Buddhism. The White Horse Pagoda is just one of these buildings and tourists who want to cover the ancient Silk Road will not miss the opportunity to visit it.
Quick Questions
Our team is waiting for your questions. Please feel free to ask us any questions you might have about our China package tours, Chinese culture, or the sites available. We will gladly help you with any special needs you might have and all questions, like our trip designing is completely free of charge.