Dunhuang Museum

More Photos

Chinese name: 敦煌博物馆 (Dunhuang Bowuguan)
Location: No. 8, East Yangguan Road, in the city center of Dunhuang City, Gansu Province.
Opening time: 08:00-18:00
Ticket: free
How to get there: take taxi, bicycle or walk to the attraction.
A brief introduction to Dunhuang Museum
Formerly an Archaeology Office, which is subordinated to Cultural Center of the city, Dunhuang Museum was officially founded in October, 1979. Built with three storeys and covers an area about 2400 square meters, the exhibition building of the museum was completed in 1984. Dunhuang Museum is a comprehensive topography one principally exhibits historic and cultural relics. Now it has collected over 4000 precious cultural relics in the locality.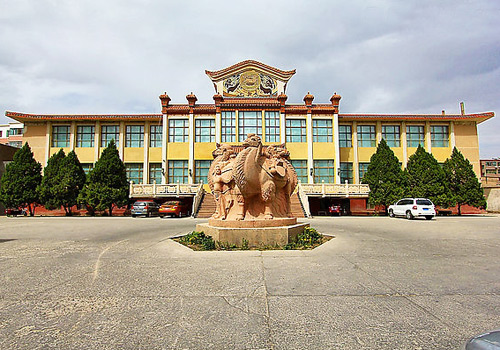 What to see in Dunhuang Museum?
There are three exhibition parts in Dunhuang Museum.
The first part displays the documents and sutras found in the 18th cave (the Sutra Cave) of Mogao Grottoes of Dunhuang.
The second part focuses its point on unearthed cultural relics from tombs of past dynasties, such as Han Dynasty (202BC-220AD), Three Kingdoms (220-280), Jin Dynasty (266-420), Sui Dynasty (581-618) and Tang Dynasty (618-907). These relics include stone tablets, stone towers, pottery wares, lacquer beasts made for tombs, kylin sculptures, etc. The kylin is rarely seen, which is a high relief with four hoofs soaring aloft.
The third part is the exhibits of kinds of silk, brocade, grosgrain, and the like, which provide sufficient material objects for the ancient Silk Road. In addition, Han Jian (a kind of book composed by bamboo slips for writing on during Han Dynasty), ancient iron tools, bronze tools and various ancient weapons are also found in this part, which is beneficial for the researches of ancient communication between China and western countries in the fields of politics, economy and culture.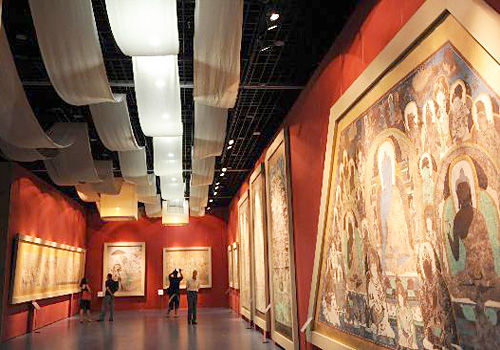 In the two exhibition halls for historical relics of Dunhuang Museum, there are over 2000 pieces of treasured cultural relics collected in local which span from primitive society to the late Qing Dynasty (1644-1911). Exhibits are types of pottery, sutras, ancient coins, tiles, bronze, silk, pearls, jades, etc. In the hall for Great Wall of Han Dynasty, it is the instruction about the ruins of the Great Wall of Dunhuang with exhibits of Han Jian, hemppaper, barley, millet, torches used in beacon tower as well as a model of the Great Wall ruins. An additional exhibition hall of calligraphy and painting in Dunhuang Museum are the works created by celebrated painters and calligraphers of Dunhuang.
Quick Questions
Our team is waiting for your questions. Please feel free to ask us any questions you might have about our China package tours, Chinese culture, or the sites available. We will gladly help you with any special needs you might have and all questions, like our trip designing is completely free of charge.