Yading Scenic Area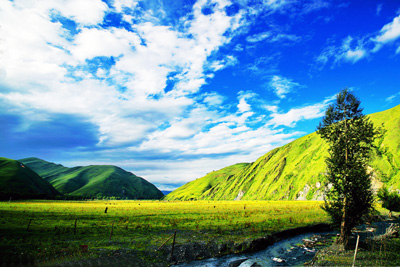 More Photos

History and Culture
Yading Scenic Area is located in the southern of Dao Cheng County in Sichuan Province and is nationally renowned as a hub and a new eco-tourism spot, a provincial ecological protectorate and one of the most important regions of Tibetan Buddhism in south-western China. This ecological preserve was established in 1999 and the remote location has preserved its beauty and untamed wildness.
The most important beacon of Tibetan Buddhism in south-western China religion runs deeply through all the townships that exist within this truly unique scenic area.

Geography and Climate
Yading possesses some truly astounding natural land formations, the Three Hue Snow Mountain is one of such example, a mountain that as three distinctive shades of colour from the bottom of the top tourists can marvel how its steely grey base slowly melds into a pure white cap with the backdrop of a vast blue sky, this towering mountain is capped with snow all year round.
The Immortal Mountain is another breathtaking sight to behold, this is the highest mountain in Dao Cheng County rising over 6,000 metres above sea-level, in summer the glacier melt and a system of huge lakes is created at the mountains base, the mountain is also surrounded by dense alpine forest making it extremely picturesque.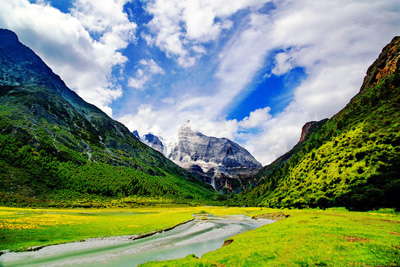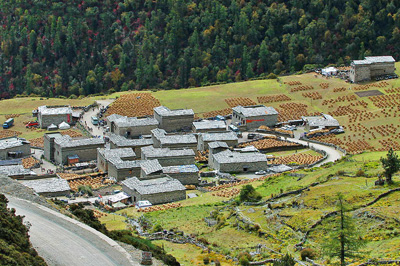 Other highlights include the Great Mengzi Valley which stretches from 13km and is only comparable to the Tiger Leaping Gorge in respect to its depth. The Ru Bucha Hot Spring is a popular destination for tourists, holding over 7,000 cubic metres of clear, tasteless water it is completely potable and because it is so rich in natural minerals which has be claimed to cure heart and skin ailments and well as improving general health, the water can get as hot as 67 degrees Celsius.
The Kasi Underground Valley is a naturally occurring underground ravine that spans 15km and can reach up to 3000 metres in height. The dank quiet bowels of the cave are punctured only by the faint whistling on wind, this underground valley is home to over 2,000 types of plant life and often shrouding in mist that makes vision next to impossible.

How to Get to Yading Scenic Area
The most efficient means of reaching Yading is travelling through Dao Cheng first; it is a three hour bus journey from Dao Cheng to Yading.
Quick Questions
Our team is waiting for your questions. Please feel free to ask us any questions you might have about our China package tours, Chinese culture, or the sites available. We will gladly help you with any special needs you might have and all questions, like our trip designing is completely free of charge.