Dali Cuisine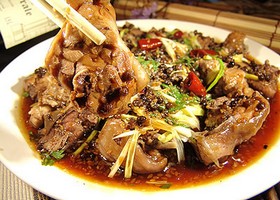 Dali is a great place to experience the hospitality and etiquette of Bai ethnic group. The dinner menu of Dali has a great fish selection that comes from Erhai Lake. Local snacks are also unique.


Fish Casserole (砂锅鱼)
Fish Casserole is one of notable specialties in Dali. Tender sliced chicken are simmered and perfectly cooked with winter mushrooms, and Sinamia or carp that is fresh from Erhai Lake. This impressive dish both looks and tastes savory.


Hot and Sour Fish with Green Plum (翠梅酸菜鱼)
The Hot and Sour Fish with green plum in Dali will make your eyes water. This dish is cooked with chili pepper as major ingredient and fresh green plum dispelling the smell of fish. The flavor and nutrition of fish is perfectly maintained.


Frozen Fish (冻鱼)
Frozen Fish is a cold dish favored by Bai people, who like to eat them in the sunshine from autumn through March next year. It is cooked like hot and sour dish but with more seasoning and less condiment.


Board Noodles (板面)
Board noodles are also called pulled noodles and longevity noodles. In the past, board noodles could only be served during festivals, birthdays or celebrations.


Dengchuan Dairy Fan(邓川乳扇)
With an amazingly flaky and creamy look, Dairy Fan of Dali fines a good sale in Southeast Asia. Dengchuan town of Eryuan County in Dali is known as hometown of cow with lush grass. Dengchuan is rich in dairy products. Dairy Fan is most outstanding of the lot. It a kind of cheese made from milk originally by Bai People. Dairy Fan derives its name from its shape. Dairy Fan can not only taken as a dessert but also cooked into different delicacies.


Braised Pork with Carved Plum (雕梅扣肉)
Eryuan County is home to plum. Carved Plum is the traditional specialty of Bai people in Dali. Local girls pick green plums in spring, carve them with elaborate patterns, press then into chrysanthemum-shaped pastry, dispel acidity in salt water, and finally soak them with brown sugar and honey in a clay pot. Carved Plum tastes sweet, sour, and refreshing. Streaky Pork is braised with carved plum for some 4 hours, absolutely addictive.


Stewed Plum (煮梅)
It can also be called Boiled Plum with plum being simmered in a clay pot for one to two months until the color turn to dark. Stew plum lasts for few years. Bai people gift their relatives and friends. Stewed plum can be used as ingredient of cold dish and sour-and-spicy fish, because it's much sourer than vinegar essence. At the same time, stewed plum is a good traditional medicine to treat chronic diarrhea and dysentery.
Three Cups of Tea ( 三道茶)
Local Bai people show their respect to guests by serving them with three cups of tea, which are made up of bitter tea, sweet tea and after-taste tea.
Dali Beer
Dali Beer is noteworthy because it is made from snow water from Cang Mountain and topped with imported malt and hop. It is deeply loved by tourists with good flavor and fine bubble.
Recommended Gourmet Street in Dali: Foreigner Street in Dali Old Town and Qiwen Shiashang Pedestrian Street in Dali New Town.