Tie-Dyeing Zhoucheng

More Photos

Chinese name: 周城 (Zhou Cheng)
Location: 23 kilometres away from the north of the Ancient City, Dali city, Yunnan province.
Admission fee: free.
Opening time: all day long.
How to get there:
- By mini bus or coach from the Ancient City of Dali.
Best time to visit: in spring (March to May) and in summer (June to August), when many festivals are held.
Recommended time for a visit: one day.
Introduction to Zhoucheng Village
Zhoucheng village, also known as the home town of tie dyeing of the Bai ethnic group, is 23 kilometres away from the north of the Ancient City of Dali, and 38 kilometres away from Xiaguan town. With more than 8,000 Bai people inhabiting this village, Zhoucheng Village is the largest village in Dali where the Bai ethnic group lives, covering an area of 4,700 square metres.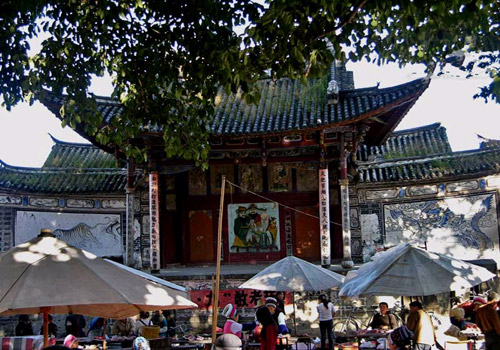 Not only is Zhoucheng Village renowned for Butterfly Spring within, but also for its well-preserved all sorts of traditions, thus, enjoying the reputation as the living fossil of folk customs of the Bai ethnic group. The compact slabstones, meandering spring water, buildings with black tiles and white walls, and architecture with stone walls, generate a sense of tranquility and simplicity in you all at once. Like many other villages of the Bai ethnic group, Zhoucheng Village has its own icon. Two local temples are in sight; one enshrines Du Chaoxuan, a hero killing boa, the other isconsecrates Zhaomu Langgang, the primogenitor of Zhoucheng Village.
What to see?
In Zhoucheng Village, you can not only appreciate the residence, but also tie dyeing, weddings, and handicraft.
Tie Dyed production
Tie dye is a traditional craft dating back to the end of the Ming Dynasty and the beginning of the Qing Dynasty. Tie dyed production combines culture and art perfectly, which is usually made from knit or woven fabric after tying and dying. When it is finished, a simple but elegant handicraft is before your eyes. Nowadays, you can discover 250 sorts of production, some of which sells to the Europe and the Americas. Famous known as the home town of tie dyeing, Zhoucheng Village sees its locals ranging from the ten-year-old girls to hoary-headed grandmas tie dye skillfully. And you will be amazed to find this fact!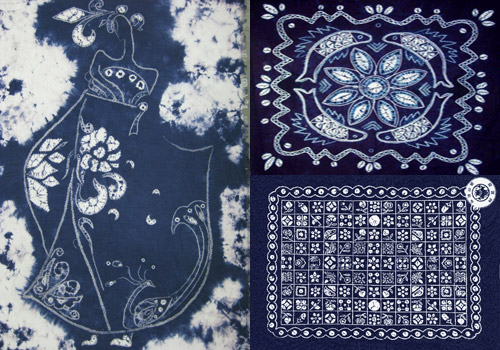 Ancient Stage
In the north square there is a wood-made ancient stage, built in the year of 1895. Facing west, the stage is as high as two metres, with couplets hanging beside. On the opposite side stand two trees where people gather for village fair trade. When the Torch Festival is on the way, performances are on stage.
Torch Festival
The Bai ethnic group celebrates the Torch Festival on the 25th day of the sixth lunar month, besides the Spring Festival, the Dragon Boat Festival, and Mid-autumn Festival. If you come to visit this village during this time, you can experience the ethnic minority atmosphere of this grand festival.
Weddings of the Bai Ethnic Group
As yet, in the wedding of the Bai ethnic group, you can find the bride wearing ancient but elegant dressings, and red coronet with yellowish green fluffy balls on the head. A small mirror is hung around her neck so as to exorcise an evil spirit and show the couple has mutual affinity. In addition, it is a custom that a bride has to wear sunglasses to exorcise the demon.
Quick Questions
Our team is waiting for your questions. Please feel free to ask us any questions you might have about our China package tours, Chinese culture, or the sites available. We will gladly help you with any special needs you might have and all questions, like our trip designing is completely free of charge.