Erhai Lake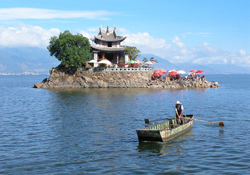 More Photos

Chinese name: 洱海 (Er Hai)
Location: in northwest of the Ancient City of Dali, Yunnan Province.
Opening time: all day long.
Ticket:
- Free for Erhai Lake Park.
- CNY142 for a ticket of sightseeing on the lake in a pleasure-boat (price includes entrance fee to Nanzhao Island and performance of Bai People).
How to get to Erhai Lake:
- Depart from the Ancient City of Dali: it is convenient to Erhai Lake just by foot, or take bus No.2, take taxi or by carriage;
- Depart from Xiaguan (下关): take bus No.6 or take taxi.
Best time for visit: all year round; it is said that Erhai Lake offers best scenery in Chinese lunar March (around in April in western calendar).
Nearby attractions: Mt. Cangshan, Ancient City of Dali, Three Pagodas and Butterfly Spring.
Introduction to Erhai Lake
Located in Dali City, Erhai Lake is considered a Mother Lake of locals (Bai Minority) and it was cordially called as Gold Moon by Bai people. An elegant and graceful lake in plateau, Erhai Lake of Dali is the second largest freshwater lake in Yunnan Province and a seventh largest one in China. Erhai was called Yeyushui or West Erhe in ancient times. The lake got its name from its ear-shape as ear called Er in Chinese. Lying against Mt. Cangshan, Erhai Lake possesses great charms especially with a Moon Scene, which is one of the Four Greatest Scenes in Dali (other three are flowers of Shangguan, winds of Xiaguan and Snow of Mt. Cangshan. If look down in the sky, the Erhai Lake is also a crescent-shape, peacefully lying between Mount Cangshan and some dams.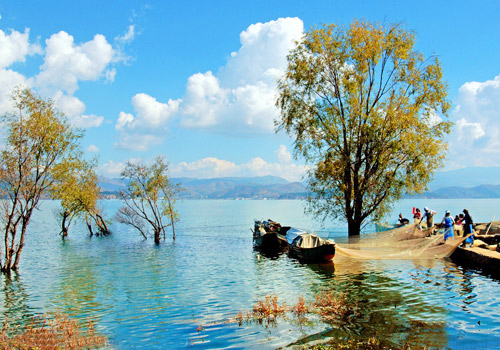 With a preferable superiority in location, Erhai Lake is abundant in aquatic resources and living beings; it is an important food source for the local Bai people and used to be a royal deer ranch in old times for Nanzhao Kingdom. The lake holds a high diversity of carps with the kind named Gong Fish being the most famous which is crowned as the King of Fish. And a great variety of edible seaweed products from the lake are the favorable cuisine materials of local dishes. Definitely, Erhai is the cradle of Dali in politics, economy and culture, and plays a key part in the city's development in water supply, agricultural irrigation, generation of electricity, climate adjustment, fishery, shipping and tourism.
Geographical features of Erhai Lake in Dali
Originated from Bibi Lake of Eryuan County in the north and end in Xiaguan in the south, the Erhai is an alpine fault lake in Dali with an altitude of 1972 m. It has a length of 42.58 km, a width of 9 km, a lake surface of 256.5 square kilometers and an average depth of 10 m (the deepest depth is 20 m). Even if the Erhai Lake is smaller than the Dian Lake (also in Yunnan Province) in terms of area, with a deeper water level, it has a larger impoundage about twice as much as that of Dian Lake. As it took shape at the end of Ice Age as a result of sedimentation and erosion, the water in Erhai Lake is crystal clear with high transparency clarity, which made the Erhai Lake with great reputation as A Immaculacy Gem Amidst Mountains or A Gem on Plateau since ancient times.
What to see in Erhai Lake?
Erhai Lake of Dali is a scenic spot with some curvaceous and gorgeous beauties. The charming scenes of Erhai lies in its accompanied Mt. Cangshan in the west, Mt. Yu'an in the east as well as its three islets, four sandbars, five lakes, nine lake bends and numerous bays, of which with Guanyinge Island, Jinsuo Island (Golden Shuttle Island), Nanzhao Island and Xiaoputuo Island being available for visits.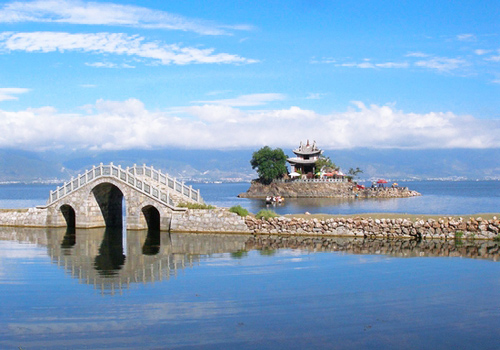 Enjoy a temperate and moist climate, the beautiful sceneries of Erhai Lake is just gorgeous and pleasing, especially when appreciated in cruising on the lake. It is a picturesque scene with islets, caves, marshes, shoals, forests, and cottages, and each part offers elegant demeanour respectively. The glamour of Erhai Lake also gains numerous admiring poetic proses wrote by literati from ancient time to nowadays. Furthermore, the charm of Erhai is also reflected in its changeable views in the four seasons and varied scenes in different times of a day. In the morning, it is the hazy scenery with mists and forthcoming sun; soon afterwards, it is the golden crystalline water surface with vigorous rising sun; in dusk, it is a peaceful lake with returned boats under the setting sun and in the evening, it is the breeze gently stirring the glistening lights of waves and moon shadows.
About the Four Greatest Scenes of Dali
Dali provides picturesque scenery all the year round, of which the Four Greatest Scenes are the most attractive and enchanting. The Four Greatest Scenes is shortened as Wind, Flower, Snow and Moon, referring to the winds of Xiaguan, flowers of Shangguan, snow of Mt. Cangshan and moon of Erhai Lake. It is a tradition that in the evening of Mid-autumn Festival on August 15th of Chinese lunar calendar, all the local Bai people take wooden boats on Erhai Lake to appreciate the scarce beauty of the reflecting moon in the lake, which has integrated into the beautiful skylight, clouds, the clear and bright moon in the sky and the placid lake water.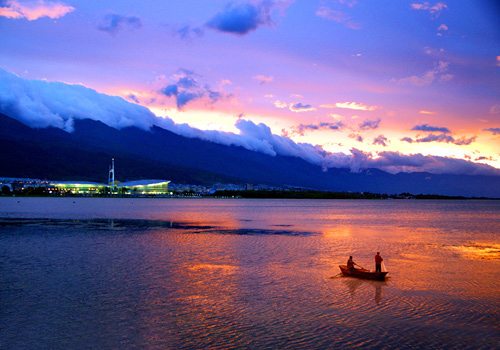 About the moon scene of Erhai Lake, there is an additional tale. According to the story, it is a princess of the heaven who was envious of the happy life of human beings on the earth; and she later descent to the world in a fishing village just aside the Erhai Lake and married with a fisherman. To help villagers to lead a life with ample food and clothing, the princess throw down her magic mirror to the lakebed to give a clear reflecting of fish stock to be fished. From then on, the magic mirror became a golden moon on the bottom of Erhai Lake, giving shines to fishermen for generations, and day by day, a charming moon view was formed for admiring.
Erhai Lake Park
Erhai Lake Park is located on Tuan Mount, in the southernmost of Erhai Lake and some 2.5 km from Xiaguan. It is the best site for a full view of Mt. Cangshan and Erhai Lake. Built in 1975, the park has developed to a certain scale with a large quantity of plants and flowers. Along the way up to the mountain, there are lavish evergreen pines and cypresses, and flourishing flowers especially in northeast face of the mountain, such as camellia, yulan magnolia, cuckoo, primrose, laurel, saussurea, as well as kinds of featured plants of Dali, like willow of Bodhisattva Pool, mangosteen of Mt. Jizu, and Tea plant of Gantong Temple.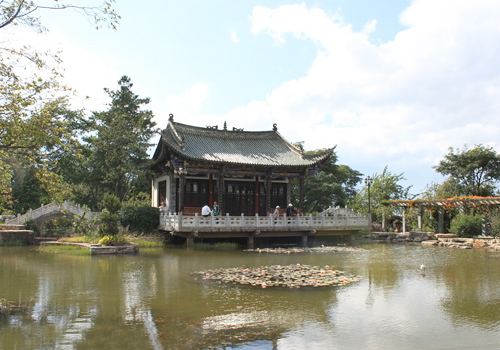 In the north above the shoal of Erhai Lake, it is a lakeside resort with grass lawns on the rim for breaks and relaxing. Behind the lawns, it is the over 200 stone steps that lead visitors to the Wanghai Pavilion (Observing-lake Pavilion) on the top of the mountain, which is just the site with an observing corridor that provide some of the most amazing views of Mt. Cangshan and Erhai Lake as well as the beautiful moon scene of Erhai Lake, one of the Four Greatest Views of Dali City.
Quick Questions
Our team is waiting for your questions. Please feel free to ask us any questions you might have about our China package tours, Chinese culture, or the sites available. We will gladly help you with any special needs you might have and all questions, like our trip designing is completely free of charge.