Butterfly Spring

More Photos

Chinese name: 蝴蝶泉 (Hu Die Quan)
Location: at the foot of Yunnong Peak of Mt. Cangshan, some 27 km from the Ancient City of Dali, Yunnan Province.
Opening time: 08:00-18:00
Ticket: CNY60
How to get to Butterfly Spring:
- Depart from the Ancient city of Dali (大理古城), take tourist bus at the West Gate Station(西门站) and get off at Jiuxiang Scenic Area (九乡风景区); The ride will take about 40 minutes;
- Depart from Xiaguan (下关), take tourist bus and get off at Jiuxiang Scenic Area (九乡风景区); The ride will take about 50 minutes.
Best time for visit: in spring especially on Butterfly Festival (lunar April 15th).
Recommended time for a visit: 2-3 hours.
Introduction to Butterfly Spring
Covering 50 square meters, the Butterfly Spring of Dali is renowned for its superb scenic beauties, as well as the wonder with thousands of butterflies around in spring. As a square pool, Butterfly Spring is just like a pellucid gem that inlaid in the big shade of lavish greens. In spring, particularly during the Butterfly Festival on every lunar April 15th, all kinds of flourishing flowers are blooming, the silk tree aside the spring gives out quietly elegant fragrance and thousands of colorful butterflies of diverse species and in different sizes are playing around attract admirers from home and abroad.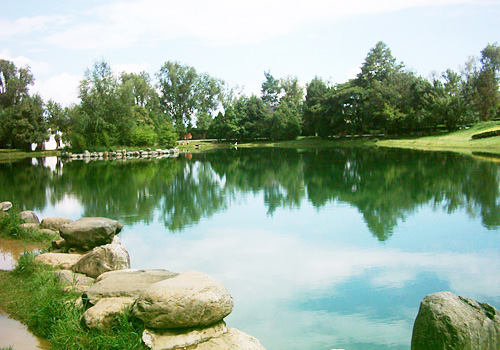 The beauty of Butterfly Spring had fascinated a great many scholars and literati since ancient times, who left numerous laudatory sentences and prose; among them, the geographer and traveler of Ming Dynasty (1368-1644) Xu Xiake is the best known. In his Travel Notes (an excellent reference book that people still followed today), Xu greatly praised the terrific landscape of Butterfly Spring. The Chinese name of the spring on the park gate was inscribed by the modern litterateur Guo Moruo when he visited the Butterfly Spring in 1961. For most Chinese, the attraction was known because of the film Five Golden Flowers in 1950s, which portrayed a love story that happened in the area; while for local Bai ethnic group, Butterfly Spring is a symbol of loyal love, and on every Butterfly Festival, young people will get together around Butterfly Spring and throw a stone into the water for a good wish and sing songs to know each other for the purpose of finding a lifelong companion.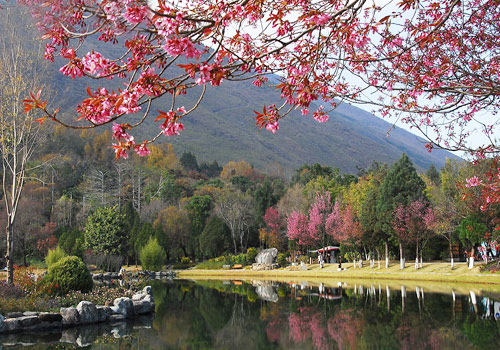 In recent years, the park of Butterfly Spring has been renovated and expanded, a Butterfly Pavilion, a Hexagon Pavilion, a crescent moon-shape pool, a Butterfly Herbarium and a statue of Xu Xiake are added in.
Three Wonders of Butterfly Spring
- Spring
Derived from the snow of the Mount Cangshan, the water of Butterfly Spring is saturated from rocks and sand bed; the water is particularly crystal clear with no pollution, the water yield is steady and in fine quality. Today, the water was cherished for appreciation into another three new constructed pools which are connected with each other.
- Butterflies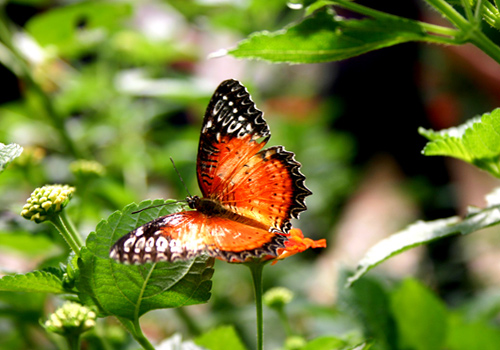 Butterflies around Butterfly Spring are in a wide range. They are in various colors; some are as big as a human palm, some are as small as a bee; there are swallowtails, hairstreaks, and any other variety that people expects to find; some are even in a line with their musts and feet, hanging from the big Butterfly Tree to the water surface, composing a rather spectacle under the sunshine, some are just playing on the top of visitors' head. It is a marvelous butterfly world especially in sunny days in April. Though the wonder only emerges for several days in April, visitors can visit the Butterfly Herbarium at other days, in which there are all kinds of butterflies specimen, and relevant culture and precious date about the butterfly around the Butterfly Spring.
- Trees
There are fernleaf hedge bamboos, Xmas trees along the way to Butterfly Spring, there are abundant pines, cypresses, palm groves, tea grove, azaleas and camellias on the mountains that behind the spring, and featured local fragrant trees of silk tree and pistacia lentiscus surround the spring, of which a big ancient tree that has its branch span the spring is the famous Butterfly Tree. This unique silk tree deserves to be mentioned for its flowers. In flower season, the petals of the flowers are stretching just like flying butterflies in day time, while at night, they will fold and give out faint scents; they are praised as Flying Flowers or Resting Butterflies by poets.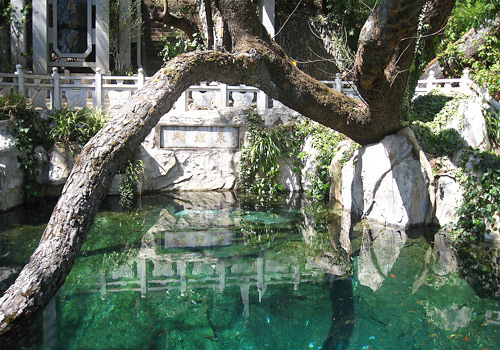 Legend around the Butterfly Festival
There is a beautiful legend about the name of the Butterfly Festival. As the story goes, in ancient time in a village at the foot of Yunjiao Peak of Mt. Cangshan, there is a pretty and ingenious young girl named Wen Gu. Her diligence and beauty are known to all locally and many young fellows treat her as a dreamlover. There is a handsome and kind-hearted young hunter of Bai nationality named Xia Lang who lives on the Yunnong Peak. One year on lunar March 3rd, they meet at a local fair and fall in love with each other at first sight and make a vow to be together forever. However, the tyrannical King of the Mt. Cangshan robs Wen Gu to be his eighth concubine. After learn the news, Xia Lang risks his life and enter into the palace secretly and rescue his lover successfully. However, the king got the news and has his soldiers to go in pursuit. The two youths are exhausted in running and finally get to a pool; under urgent situation, they both dive into the pool. The next day, villagers try to find their bodies and do not find any but see a pair of gorgeous butterflies flying up from the water; they whirling over the water and draw a large number of other butterflies to the place. And that day is lunar April 15th. From then on, people name the pool a Butterfly Spring and celebrate the date a Butterfly Festival.
Quick Questions
Our team is waiting for your questions. Please feel free to ask us any questions you might have about our China package tours, Chinese culture, or the sites available. We will gladly help you with any special needs you might have and all questions, like our trip designing is completely free of charge.