Chongqing Transportation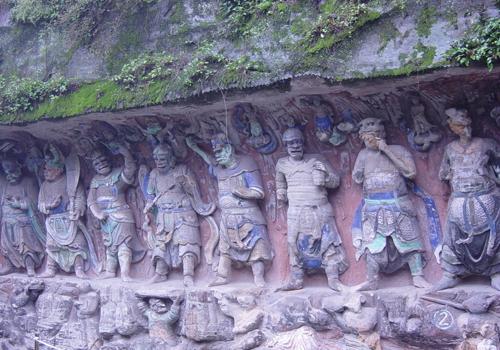 The safest way to get Chongqing is by air, as it is a mountainous city. There are direct flights to more than 40 cities of China. Besides, it can be reached by train, bus and ferry.


By air


Chongqing has two civil airports: Chongqing Jiangbei International Airport and Wanzhou Airport. There are flights from and to domestic cities and some overseas cities: Munich (Germany), Düsseldorf (Germany), Tokyo (Janpan), Nagoya (Janpan), Bangkok (Thailand) and Seoul (South Korean).


Located in Lianglu Town, Yubei District, and 21 kilometers from urban areas, Chongqing Jiangbei International Airport is one of largest airport in Southwest China and takes the lead in opening direct flights to Europe. Shuttle bus from airport to downtown runs from the first flight to last arrival with stops of Foreign Trade Plaza (Waimao Dasha) and Jiazhou Bus Station and takes 45 minutes; Return shuttle bus runs every 30 minutes from Shangqing Si to Jiangbei International Airport (06:00-20:00). People who want to take public bus need to walk for 300 or 400 meters westward to take one of the following buses: No.608, 689, 609, 612, 622, 681, 682, 684, 785. A taxi from the Jiangbei Airport to downtown area should cost at least CNY60.


Wanzhou Airport is located on the south bank of Yangtze River, 15 kilometers from urban area of Wanzhou District and 219 kilometers from downtown of Chongqing (Yuzhong District, or Central Chongqing District). Visitors can take a shuttle bus to downtown (terminus: Kunlun Plaza) at the cost of CNY15. By 2010, there is no bus stop within a distance of 1000 meters. A taxi from Wanzhou Airport to downtown of Wanzhou District should cost around CNY45.


By train


There are totally 4 railway stations in Chongqing: Chongqing Railway Station (Cai Yuan Ba Railway Station), Chongqing North Railway Station (Long Tou Si Railway Station), Chongqing South Railway Station and Chongqing West Station. Located in the Yuzhong District, Chongqing Railway Station is the most highly trafficked railway station in Chongqing. Chongqing North Railway Station is located in Longtou Temple in Yubei District. There are mainly four railways linked with Chongqing: Chongqing-Chengdu (Sichuan Province) railway, Chongqing-Guiyang (Guizhou Province) railway, Chongqing-Huaihua (Hunan Province) railway, Dawan Railway (from Chongqing Wanzhou Railway Station to Three Gorges Dam) railway and Chongqing-Suining (Sichuan province) express railway.


By bus


There are several bus stations in Chongqing: Chongqing Bus Station (Cai Yuan Ba Bus Station, next to Chongqing Railway Station), Chongqing Sha Ping Ba Station, Chongqing North Bus Station (Hong Qi He Bus Station) and West Bus Station (Chen Jia Ping Bus Station).


By ship


Chongqing is an important hub port in the upper reach of Yangtze River. Yangtze River Cruise is the top thing to do in China. Therefore, Chongqing is often the terminal and staring point of Yangtze River Cruise. There are luxury cruise ships from and to Chongqing, including ships downstream to Yichang, Wuhan, Nanning, Shanghai and other cities along Yangtze River. Generally speaking, it takes around two days to get Yichang, three days Wuhan, and five days Nanjing. Most tourists will choose a luxury cruise ship such as Galaxy, Dragon to Yichang in order to see the amazing sights of Three Gorges, which is located in Chongqing and Hubei Province.


City Transportation


-By subway


There are currently three metro lines: Line1, 2 and 3. Line 1 runs from Chaotianmen to Bishan. Line 2 runs from Jiaochangkou to Xinshan Village. Line 3 runs from Yudong to Jiangbei Airport and Huancheng Beilu.


-By public bus


Due to its mountainous terrain, there is nearly no bicycles in Chongqing. Most of public buses run from 05:30 to 21:00. Conventional bus charges CNY1 and air-conditioned car charges CNY1.5.


-By taxi


Flag-down fare of a taxi at daytime is CNY 5 (yellow cab) and CNY 7(white cab) within 3 kilometers.


-By cableway


There is a cable car spanning the Yangtze River, which starts from Changan Temple in Yuzhong District to Shangxin Street in Nan'an District (Southern Bank District). Running time is from 06:00 to 21:45.