Chongqing Cuisine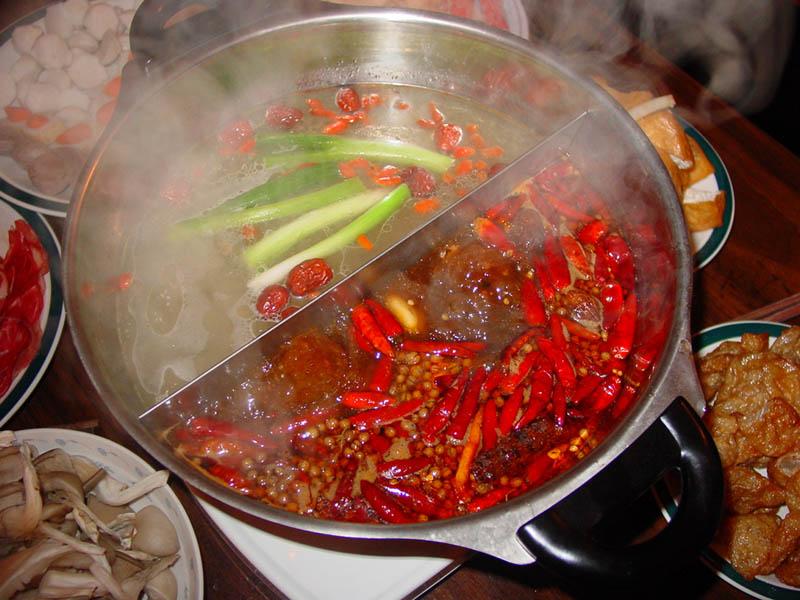 Chongqing Dishes is a branch of Sichuan Cuisine (one of eight Chinese Cuisines) featuring pungent and spicy flavor as a result of liberal use of garlic, chili peppers, Sichuan peppercorn, bean source, mustard, sesame paste and other ingredients.


Chongqing Hot Pot (Chongqing Huo Guo)
Chongqing Hot Pot is the emblem of Chongqing diet culture. It is originated in Chongqing and popular in the country. A crock pot with clear broth or spicy broth is kept simmering on the table when varied food and ingredients are added according to personal preference. Otherwise, people can order a double-flavored hot pot.


Hot and Sour Rice Noodles (Chongqing Suan La Fen)
Chongqing hot and sour is widespread traditional local snack. It features spicy, pungent, fresh, savory, sour and pleasantly greasy flavor. It is made from potatoes or sweet potato powers. It is cheap and fine.


Boiled Fish (Shui Zhu Yu)
It is a popular dish in China. It is cooked with live fish. What's more, chili peppers remove away the fishy smell and keep the fish tender and fresh.


Bangbang Chicken (Bang Bang Ji)
Chicken breast and drum steaks are boiled with water. This dish lives up to its name. In the cooking process, a stick is used to beat it so that it tastes soft and crisp. It features spicy, pungent, tender and tasty.


Glue Pudding (Tang Yuan)
Glue Pudding made of glutinous rice flour which is rolled into a ball and then stuffed with fillings such as sesame, candies. Glue Pudding of Chongqing is noted as it is tiny, sweet and glutinous.


Recommend Gourmet Street
- Nanbin Road Food Street
Located on the bank of Yangtze River in Nan'an District, this is the hottest gourmet street. There are lots of restaurants, refreshment kiosks, tea houses, bars. Besides, it offers beautiful river scenery.

- Liberation Monument Ba Yi Gourmet Street
Located in the Liberation Monument Ba Yi road in Central Chongqing District, this gourmet street is extremely prosperous. Whenever you go, you might find people lining up for buying snacks such as Hot and Sour Noodles, Glue Pudding, Wangyazi Duck Roast, etc.

- Yangjiaping Zhigang Road
Located in Jiulongpo District, Three are arrays of food stalls lining up along two sides, ranging from Chinese dishes, hot pot, to western foods.

- Three Gorges Square
Different from the above gourmet streets, Three Gorges Square features larger and higher-grade restaurants. It is located in Shatianba District.