Liberation Monument

More Photos
Chinese name: 解放碑 (Jie Fang Bei)
Location: at the junction of Minzu Road, Minquan Road and Zourong Road, Yuzhong District, Chongqing
Opening time: all day long
Ticket: free
How to get there:
-Depart from the airport: take light rail Line 3 and get off at Lianglukou(两路口) and transfer onto metro Line 1 and get off at Xiaoshizi 小十字, the east entrance of Liberation Monument. Take light rail Line 3 and get off at Niujiaotuo (牛角沱) , then transfer onto light rail 2 and get off at Linjiangmen (临江门) or Jiaochangkou (较场口), you will find the Liberation Monument right there.
- Bus routes to Liberation Monument include No. 302, 401, 402, 405, 463, 465, 0493, 601.
Best time to visit: all the year round
Brief introduction to Liberation Monument
Located on Minzu Road in Yuzhong District of Chongqing Liberation Monument is a must-see site in Chongqing when you are in Chongqing, just like Wangfujin Street in Beijing, Nanjing Pedestrian Street in Shanghai. It is the business center of Yuzhong District in Chongqing. The largest snack street of Chongqing is just minutes away. Department stores, shopping malls, hotels, restaurants, food markets cluster around the Liberation Monument. Chongqing Liberation Monument was built in 1945 to commemorate the victory of Anti-Japanese War (1938-1945) in China. The 27.5-meter-high monument is generally white with a couple of bells at the top which rings at integral points. A winding staircase leads to the top. It is a standing monument to the great contribution Chonqing people made to the country. It is now the pronoun of Jiefangbei CBD (central business district) in Chongqing. Tourist who comes here can not only taste Chongqing cuisine and snacks but also do shopping.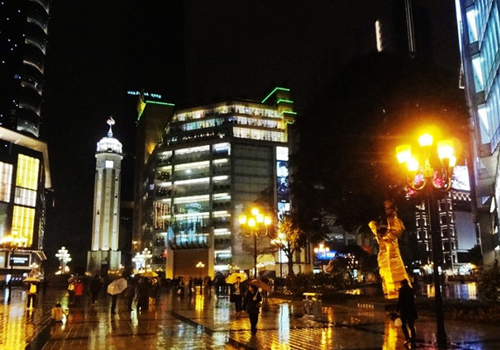 History of Liberation Monument
In March 12, 1940, a wooden memorial was built at the site to mark the death of Sun Yat-Sen, the forefather of democratic revolution in China and was hailed as "bastion of spirit". After the victory of anti-Japanese War in 1945, a monument was constructed by the former national government to encourage the whole nation to fight against enemy. In 1950 the famous communist Liu Bocheng named it as "Chongqing Liberation Monument". The Jiefangbei Plaza was built in 1997 around the monument.
Quick Questions
Our team is waiting for your questions. Please feel free to ask us any questions you might have about our China package tours, Chinese culture, or the sites available. We will gladly help you with any special needs you might have and all questions, like our trip designing is completely free of charge.