Hongya Cave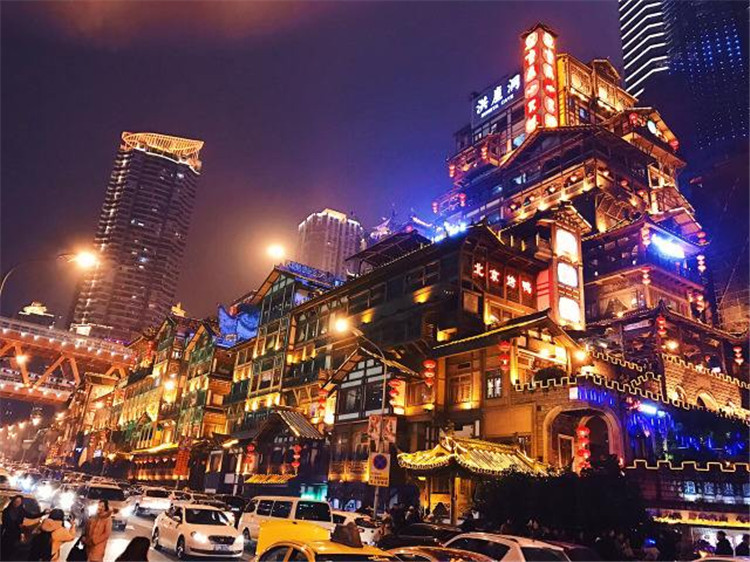 More Photos
Chinese name: 洪崖洞
Location: Cangbai Road, Yuzhong District, Chongqing, China
Opening time: all day long
Entrance Ticket: Free
Recommended time for a visit: 2-4hours

Introduction to Hongya Cave in Chongqing
Hongya Cave, or Hongyadong, formerly known as Hongyamen, was one of the ancient city gates of Chongqing. Located in the Binjiang River area where the Yangtze River and the Jialing River meet, it is a tourist area with functions of sightseeing and leisure vacations. Because of its traditional architecture and folk customs of Chongqing, it is rated as a national AAAA scenic spot. The scenic area is mainly composed of landscapes such as stilted buildings and antique commercial street, with a construction area of 46,000 square meters.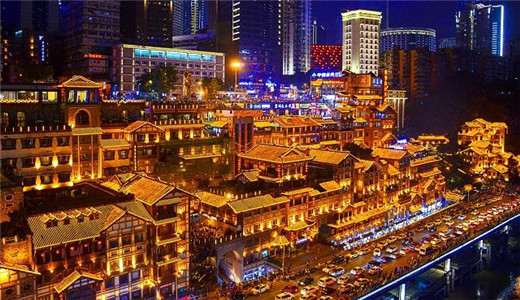 Stilted buildings of Hongyadong belong to the rail-type ones, which are built along river according to the terrain of the mountain. The structure of the buildings is simple and flexible. These stilted buildings with traditional architectural features of Chongqing integrate the six business forms of catering, entertainment, leisure, health care, hotels and characteristic cultural shopping through different architectural techniques, forming a unique "three-dimensional aerial pedestrian street", which has become an urban scenic spot and business center of the city.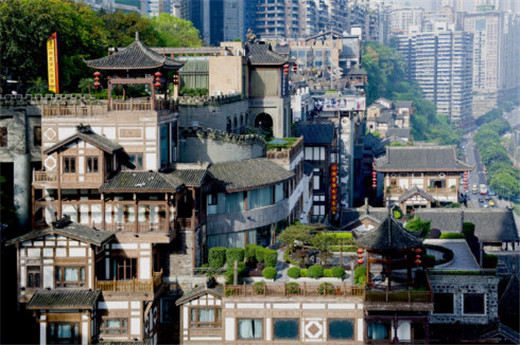 Four streets in Hongyadong scenic area
The construction of Hongyadong makes it form a total of 11 floors. At night, the lights of the scenic spot are turned on at 18:00 and off at 22:00, forming a colorful night scene. There are mainly four streets in the scenic area: Dynamic Bar Street, Chongqing-style Street, Feast Food Street, and Exotic-style Street. The four main streets combine fashion elements with different themes and distinctive features, which has become the direction of entertainment and nightlife in Chongqing.
Dynamic Bar Street
Located on the 5th floor of the scenic area, the Dynamic Bar Street has chain bars from more than 30 countries and regions such as Japan, South Korea, Italy, and Turkey. It is a venue that integrates food, entertainment, making friends, business, shopping, and experience. The street is characterized by exotic cuisine and exotic art.
Chongqing-style Street
Chongqing-style Street is located on the first floor, mainly displaying fashion trends. There are imitation classical houses with red eaves and green tiles, as well as "folk art works" made by the back factories and sold in the front shops on the street.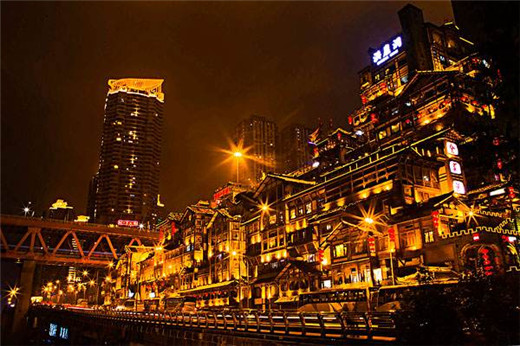 Feast Food Street
The Feast Food Street is a hundred meters long and seven or eight steps wide. The street is paved with slates, showing the scenery of "alternative food city". It is located on the fourth floor and gathers famous domestic and overseas shops. On the side of the river, there are artisans on-site to interpret the production process of gourmet food, while on the side of the mountain, there are many snack bars, where a variety of delicious snacks are gathered.
Exotic-style Street
Exotic-style Street, a small part of the overall landscape of Hongyadong, is located on the 9th and 10th floors. There are restaurants with international cuisines, and cafes with riverside view.
Quick Questions
Our team is waiting for your questions. Please feel free to ask us any questions you might have about our China package tours, Chinese culture, or the sites available. We will gladly help you with any special needs you might have and all questions, like our trip designing is completely free of charge.