Goose Neck Park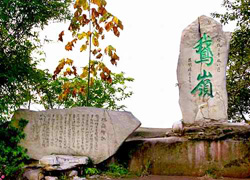 More Photos

Chinese name: 鹅岭公园 (E Ling Gong Yuan)
Location: Changjiang Yi Road, Yuzhong District, Chongqing.
Opening time: 08:00-22:30
Ticket: free.
How to get there: take buses No.109, 224, 402, 403, 405, 413, 418, 421 and get off at E Ling.
Introduction to Goose neck Park of Chongqing
E Ling Park is located in Chong Qing's Yu Zhong District. It is Chongqing's earliest personally owned garden. It is Next to the Yangtze River on a peninsula, it's said that it was originally a land bridge that a governor made to stretch across the river to make transportation easier. The area is a 3A scenic area; it has steep narrow mountains, vast amount of flowers and plants, and a beautiful view of the Yangtze River.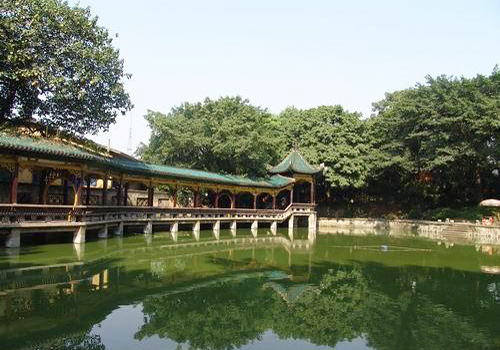 The park is a great place to cool down on those hot Chong Qing summer days, and nights. They have a rope bridge made here specifically for that purpose. There is a building here named Deng Building; it is a great place to get a panoramic view of the near bear area, and a better place to see all the lights light up at night time.
All the architecture and artwork is done in the traditional Chinese way. The park was made by one of Chong Qing's high ranking government officials; the park's name in Japanese is Li park. The park is called Goose Neck Park because of its narrow shape.
More about Eling Park
During the war between China and Japan, the British ambassador lived in the park for 5 years, and the Australian embassy was also located here. After the liberation of Chongqing in 1949, Deng Xiaoping, Liu Bocheng, He Long and Comrade Li Da Lived here. After Deng Xiaoping's march in I958 the park had many renovations. More trees were planted, new pavilions were built, more flowers were planted, they even built a Bonsai Garden, and many other attractions. In 2005 the park became open to tourists for free.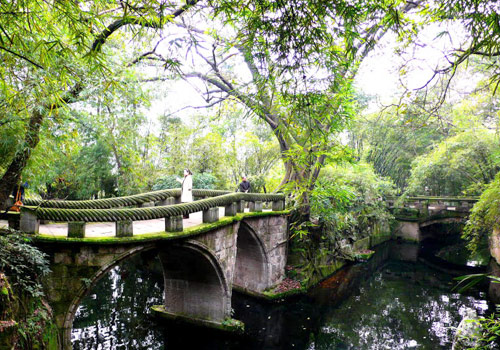 Travel tips:
Also when Traveling in Chong Qing remember it is known as the oven of China. So if you're travelling on a hot summer's day remember to bring sunscreen and apply it every couple of hours, because your sweat will wash it away, also don't forget to apply sunscreen to your hair, neck, shoulders, legs, and arms. If you do get sunburned, buy some medicine to apply at night, and try to avoid washing the burned area with hot water, also try avoiding grabbing the area, or touching it, to avoid spreading of germs which can lead to infection.
Quick Questions
Our team is waiting for your questions. Please feel free to ask us any questions you might have about our China package tours, Chinese culture, or the sites available. We will gladly help you with any special needs you might have and all questions, like our trip designing is completely free of charge.