Great Discovery on Chinese Ancient Silk Road: the Prehistoric Site
2010-03-31News
According to Sichuan Institute of Historic Relic Archaeology, a large-scale prehistoric settlement site-Maiping Relics Site has been confirmed on March 30. Maiping Relic Site is by Dadu River of Hanyuan County, Ya'an City, Sichuan Province, which is on the only route of Chinese Ancient South Silk Road (a route of Chinese Ancient Silk Road). The picture shows the panorama of the excavating site.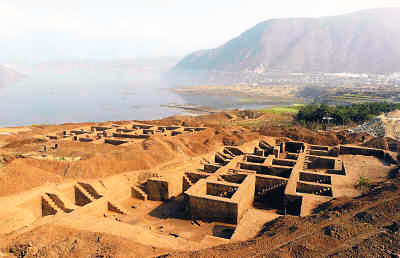 Plus: The Silk Road refers to the road opened by Zhang Jian (an ancient diplomat sent to West Regions in West Han Dynasty). The road started from Xi'an (Chang'an in ancient China), to the countries of Middle Asia, West Asia and connected Mediterranean area via Gansu Province and Xinjiang Province by land. Through this road, the silk and silk fabrics of China were transported to the Middle Asia and Europe continuously and the road became a busy commercial channel gradually. The ancient Silk Road of China included three routes: South Silk Road, Middle Silk Road and North Silk Road; South Silk Road (also called steepy and dangerous road): the 2000-kilometer South Silk Road, one of the oldest international channel of China, started from Chengdu, Sichuan Province and ended in India and Middle East. The South Silk Road also contributed a lot to the world culture.
You can join us to explore the Silk Road if you are interested:
Silk Road Tours
--- By Haphine (VisitOurChina)
Quick Questions
Our team is waiting for you questions. Please feel free to ask us any questions you might have about our China package tours, Chinese culture, or the sites available. We will gladly help you with any special needs you might have and all questions, like our trip designing is completely free of charge.