Wangfujing Street

More Photos
Starting from Chang'an Street in the south and end with National Art Museum in the north, Wangfujing Street extends for a total length of more than 1,800 meters. Being positioned as the most flourishing business quarter in Beijing, the forming of this charming street can be dated back to 1260s.
During Liao and Jin Dynasties, Wangfujing was just a nameless village. Then when it was Yuan Dynasty, more people lived there and it became populous gradually with the name of T-crossing Street. In Ming Dynasty, ten prince palaces were built on the street and business began to appear there. From then on, it was renamed Shiwangfu Street (Ten Prince Palaces Street). In the following dynasty Qing, the previous princes were abrogated and the street got a new name --- Wangfu Street (Prince Palace Street). About the current name Wangfujing Street, it came from a well (Note: "jing" in Chinese means "well" in English) on the street during the year of Emperor Guangxv (in 1905). It is said that it used to produce slightly-sweet water. To mark the well, people added "jing" (well) to the previous name "Wangfu".
At the beginning of the 20th century, the embryo of the Dong'an Department Store was built on a scrapped parade ground. With the forming of the embassy quarters, some banks and shops served only for foreigners turned up in this area. By and by, the commercial activities on the street got upgraded and Wangfujing Street ascended into the list of Four Great Business Quarters of Beijing.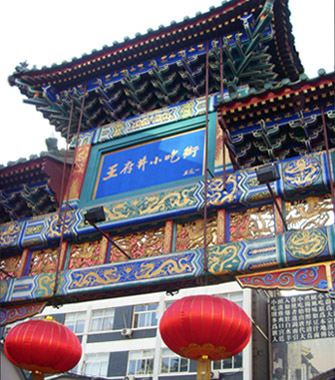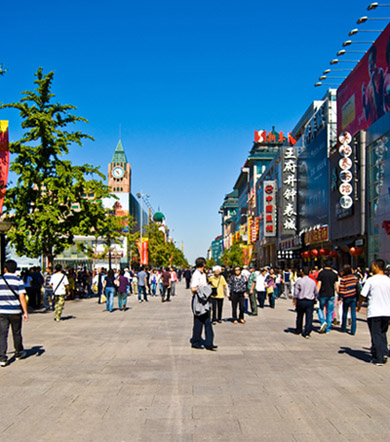 Nowadays, Wangfujing has possessed the grandest business building, shopping mall, hotel and exclusive shop in Asia and hundreds of renowned companies and brands from home and abroad gather there to introduce and show themselves to China even to the world. Wandering along this thriving and commodious street paved with granite, people can feast their eyes on the dazzling commodities and majestic buildings and will feel very pleasant with the neat and considerate design of the facilities: If you want to do shopping, you do not need to put yourself into the crowded downtown, for all kinds of stores and supermarkets at all class are available nearby; if you get tired, it would be a good idea to throw yourself on the seats set on the street and take a good rest; if you cannot wait to share what you have experience on the street with your family and friends, the IC card public telephone booths can make this wish come true; if you always lost your way at strange places, just take it easy on Wangfujing, as guideboards will be everywhere with you...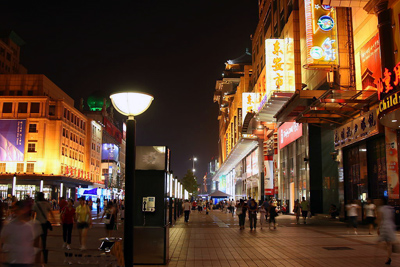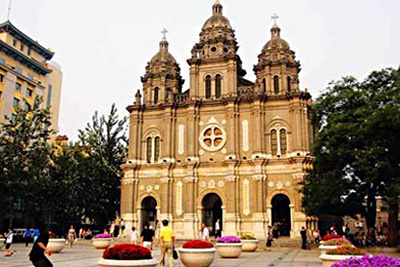 Just like Eiffel Tower and Champs Elysees of France, this street is of modernity and top notch. It has been earning more and more reputation around the world and has established the relationship of Sister Streets with Champs Elysees of France. For many foreigners, it is a necessity to visit the Wangfujing Street as well as to climb the Great Wall if one tours in Beijing.
On Wangfujing, food, shopping, art, sport, religion...no matter what people look for, old or modern, traditional or fashionable, they can almost find their favorite there. No wonder that it is said to be Gold Street of China. Today, more and more people believe that Wangfujing Street would be China's key window where the world touches China and where China knows the world in the future.
Quick Questions
Our team is waiting for your questions. Please feel free to ask us any questions you might have about our China package tours, Chinese culture, or the sites available. We will gladly help you with any special needs you might have and all questions, like our trip designing is completely free of charge.