Taoyuan Fairy Valley

More Photos

Chinese name: 桃源仙谷 (Taoyuan Xiangu).
Location: at Shicheng Town, Miyun County, Beijing City.
Ticket: CNY45.
How to get there:
- By train: North Beijing Railway Station (北京北站) – Shitang Road (石塘路) – Taoyuan Fairy Valley;
- By bus: take bus No.980 or 987 and get off at Taoyuan Fairy Valley;
- Shuttle buses to Taoyuan Fairy Valley are available at Xuanwu Gate (宣武门) of Beijing on weekend.
Introduction to Taoyuan Fairy Valley
Taoyuan Fairy Valley Scenic Area is an ecological tourist destination 90 km north of Beijing, stretching westwards from the western bank of Miyun Reservoir for about 8 km with a total area of 16 square km. The area is covered with dense forest and streams, totaling over 80 landscapes and creating a gallery of natural beauty.
The Taoyuan Lake in the scenic area has a cubage of 50,000 cubic meters, with ancient Great Wall crossing both its ends. Tourists can fish, boat and dive here. The Fairy Valley area is surrounded by water on three sides and protected by mountains on all sides. Tourists can enjoy sunrise on the Great Wall in the east or go to the western side to watch the waterfall, below which wild rabbits are on guard and squirrels are busy with collecting food.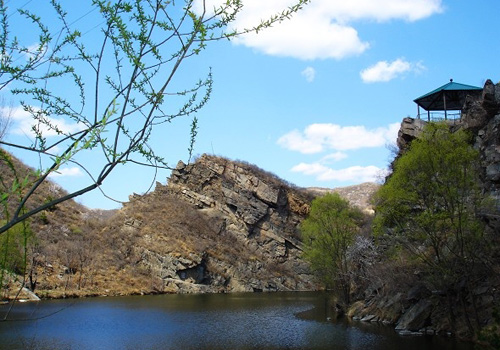 A legend about Taoyuan Waterfall and Gold Tortoise
Tongle Waterfall, Yinxing Waterfall, Tianshu Cave, the coupling Chinese scholar tree, Taoyuan Waterfall and Yixiantian are some of the wonderful views of the scenic area. It is said that long long ago the place was hit by a severe drought and people could hardly live, so they came to the Qinglong Pool to pray for rain. An immortal turtle could not bear to see such a miserable condition and made it rain without permission. That's done out of kindness but it did break the heavenly laws. As a punishment, the turtle was brought away by a powerful eruptible spout of the pool. People kept looking for it after that and got nothing but the trace of it in a cave on the opposite side of the pool one day. In memory of their savior, people burn joss sticks and offer sacrifice to it at festivals, with the wish of the turtle living there forever.
Chinese Filial Piety and Fraternal Duty Center
The Loving Mother Cave was completed and opened to tourists in 2010. It is 21.6-meter-long, 0.8-meter-wide, 5-meter-high and is made up of both natural and artificial caves. The lowest point of the cave is only 1.38 meters high. Inside the cave there are three stone carvings on the wall, with the names of "ten months' pregnancy", "give birth to a child" and "breastfeeding", which aims at reminding people of never forgetting mother's selfless love and care for them.
Totems of All Chinese Ethnic Groups
China has 56 ethnic groups in total, including the Han that accounts for 91.51% of Chinese population (according to the sixth population census data in 2010) and 55 ethnic minorities. The ethnic totems collection of Taoyuan Fairy Valley was also finished in the same year with the Chinese Filial Piety and Fraternal Duty Center. All totems are carved on a complete rock, which is 5-meter-high and 8-meter-wide.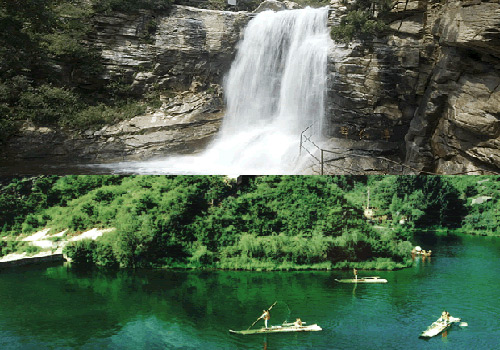 Annual Activities of Taoyuan Fairy Valley
January-February: themed on ice and snow;
June-August: themed on water protection;
September-October: autumn picking;
November-December: red autumnal leaves watching.
Blossom Seasons of Flowers in Taoyuan Fairy Valley
January-February: tulip, oriental cherry.
March-June: lavender, salvia, belladonna lily, alocasia.
May-June: tung tree flowers, lily, medinilla magnifica, agapanthus.
July-August: dahlia.
September-October: wild garland-flower.
October-December: maple, gladiolus, chrysanthemum.
Quick Questions
Our team is waiting for your questions. Please feel free to ask us any questions you might have about our China package tours, Chinese culture, or the sites available. We will gladly help you with any special needs you might have and all questions, like our trip designing is completely free of charge.