Shijinglong Ski Resort
Located a mere 80 kilometers away from downtown Beijing, Shijinglong Ski Resort was opened in 1999 and occupies 400,000 square meters. As the first ski resort around Beijing, Shijinglong prides itself on its modern and well-equipped facilities; its professionally designed ski trails and top-grade skis hall can hold 5000 guests on any given day.
Recently the Shijinglong Ski Resort has 6 ski runs (over 4500 meters in total) catering for all level of skiers, with the longest run being on a maximum slope in 30 degrees, a length of 1,000 meters and a average width of 50 meters. However, the average incline for beginners is in a comfortable 10 degrees.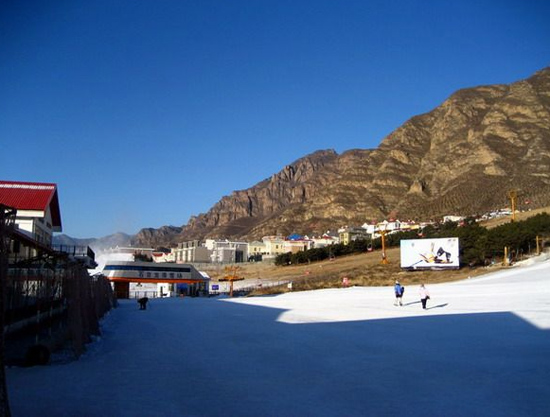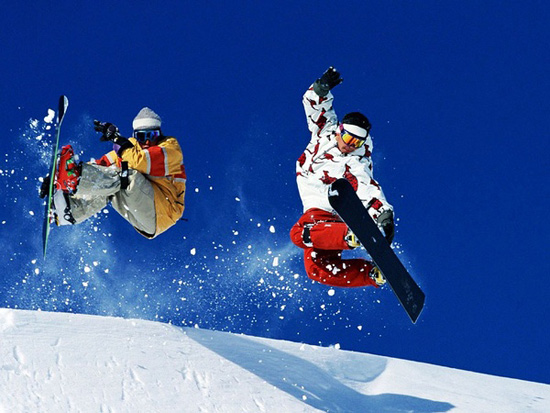 The resort is fully equipped with modern amenities with a mix of quad-chairs and double-chairs; the resort is also completed with the most modern artificial snow-making technology to help compensate for whenever snowfall is not sufficient. In the mean time, younger and inexperienced skiers can learn how to ski well at a carefree atmosphere with the help of competent skimeisters from the Shijinglong ski-school.
Shijinglong Ski Resort provides its guests not only wonderful ski site but also considerate service such as shopping, repasting and parking. The 35,000-square-meter parking lot allow more than 1000 cars parking on it; the fast-food restaurant can cater for 500 people in the mean time and the snack shop also provides delicious food; also, the THREE Paris, a French café sitting at the junction of the intermediate run and the primary run, is a ideal place for skiers to have a short rest while skiing, it is very nice to enjoy the coffee and sunlight on the wide balcony in a romantic snow world.
How to get to Shijinglong Ski Resort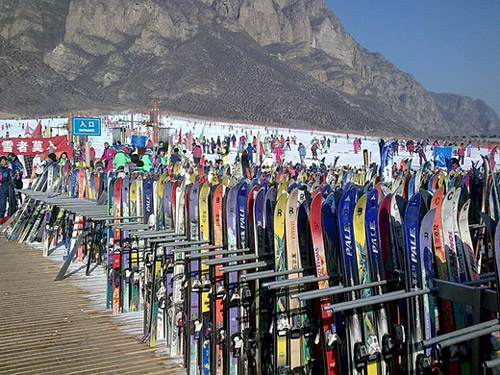 By bus: Take the NO.919 bus at Deshengmen (Desheng Gate) in Beijing, then get off at Yanqing Nan Cai Shi (Yanging South Garden) and take the No.920 bus, get off at the stop of Shijinglong Ski Resort and go east for about 500 meters.
By train: take the train from Xizhi Gate in Beijing to Yangqing Station, and then take the No.920 bus, get off at the stop of Shijinglong Ski Resort.
Self driving: Set out from the Madian Bridge to the Badaling expressway and keep driving along the expressway, drive out at the Exit 22 of the expressway and follow the signpost to the Shijinglong Ski Resort.