Shichahai Scenic Area
Beijing's Shichahai historic and cultural tourist scenic area is located in the western part of central Beijing, the large body of water at the center of this area encompasses an area totally 336,000 square meters, the only location in Beijing holding such a large body of water. This area is also home to some of Beijing's oldest archeological remains, including canals from the Yuan Dynasty that originally carried grain from the field to storehouses. In the Ming and Qing dynasties this part of Beijing was a cultural haven for scholars and officials and lots of poems and articles have been written about when the emperor visited the area. Since 1992 the Shichahai Lake area was renamed the historic and cultural tourist scenic area and is among a list of 25 heritage listed sites in Beijing.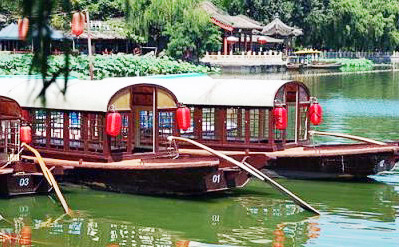 Shichahai Lake is not just an amazing lake in the middle of Beijing it features several equally breathtaking sceneries, where was praised exaggeratively that the spring of the West Lake, the summer of the Huai River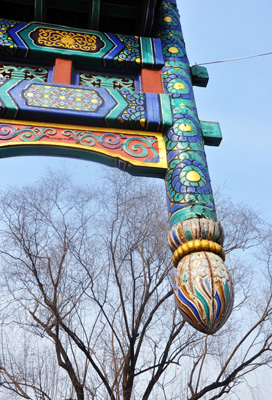 and the autumn of the Dongting Lake can be viewed together here. The Beijing Municipal Government has invested a significant amount to preserve the original gardens, alleyways and ancient courtyards and temples that still stand in the Shichahai Lake region. Part of the perseveration strategy has been to regenerate the area as a restaurant and bar precinct; Shichahai now boasts some of Beijing's most stylish bars and well-known restaurants. Receiving more than 5,000,000 foreign and domestic tourists a year Shichahai Lake area is quickly developing a reputation as one of the must-visit parts of Beijing and one of the five most beautiful areas in China.
Shichahai historic and cultural tourist scenic area now offers a unique fusion of modern and ancient Beijing, one of the most popular ways to explore this alleyways and Hutongs and temples of Shichahai is by the annual Shichahai Culture and Tourism Festival. And it has created its own tourism brands including "Hutong Tour by rickshaw" and "glimpse tour to ancient Beijing before", etc. Heading off to enjoy a quiet drink or some expertly prepared Chinese cuisine or simply wander through a 'courtyard villa', Shichahai offers tourists in Beijing an authentic Chinese experience.