Panjiayuan Market

More Photos

Chinese name: 潘家园市场 (Pan Jia Yuan Shichang)
Location: 100 meters west of Panjiayuan Bridge, south of the East Third Ring Road, Chaoyang District, Beijing.
Opening time: 08:30-18:30 from Monday to Friday, and 04:30-18:30 on Saturday and Sunday.
How to get to Panjiayuan Market: take buses No.34, 36, 37, 51, 122, 434 or 800 and get off at the stop of Pan Jia Yuan.
Introduction to Panjiayuan Market
At the mention of Panjiayuan market, people will take great delight talking about it as it is a famous city card as well as a distinguished spot in the capital city of Beijing. Along with climbing the Great Wall and eating Peking roast duck, going to the Panjiayuan Market is the Top Three Musts in Beijing for all visitors home and abroad.
Known as Pan Jia Yuan Flea Market among locals, the market is the largest one in the country taking the transactions mostly in antiques, handicrafts, arts ornaments, painting and calligraphy, traditional Chinese writing materials, porcelains, wood wares, secondhand furniture, minority products, and other collectibles. It is cordially hailed as a coverall museum. Originally run by small flow traders in Chaoyang Hutong in 1980s, the market is stable at its present location officially in 1995, and now houses over 4000 shop owners from nearly all provinces and municipalities of China with nearly 10000 shop assistants, which include people from minorities of Hui, Man, Miao, Dong, Uigur, Mongolian, Korean, etc.
Layout of the market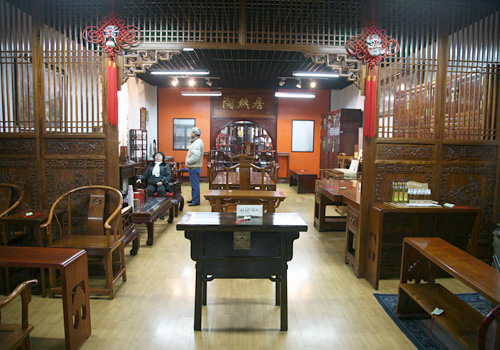 The whole Panjiayuan market can be divided into six parts.
- In the middle is a vast semi-covered area, which is the main part of the market but only open at the weekends. This section is subdivided into four zones for different kind of pieces separately;
- In the west, it is a open air area selling large stone sculptures out of trucks;
- A two-storey building adjacent to the large sculpture section is the site for both modern and traditional furniture;
- The narrow lane in the southernmost is the place where secondhand books and ancient scrolls are sold, cheaper but less authentic versions also sold in some stalls here;
- In the east is a big yard where a wide range of ancient arts and artifacts can be found;
- Small indoor stores surround the market mainly in north and east are the top-class antiques and more expensive and exquisite handicrafts.
What to do in the market?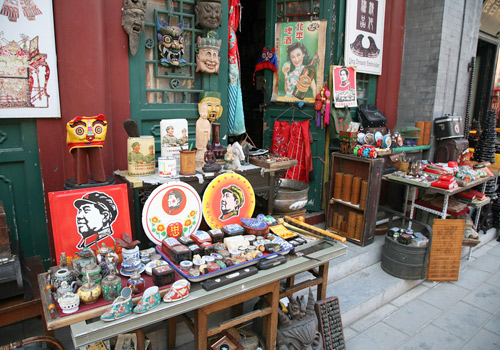 Used to be a weekend-only market, Panjiayuan market of Beijing is now open both on weekdays and weekends, though Saturdays and Sundays are still the best days to visit because of more visitors and temporary stalls. Being the most inexpensive antiques market in the city, it attracts tourists foreign and domestic for sightseeing, window-shopping or hunting the treasures. It is really the place has something for everyone.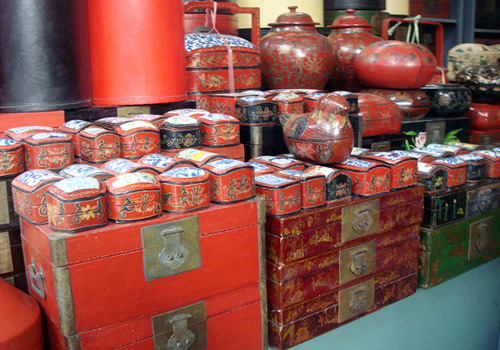 This antiques market is not only a paradise for ordinary collectors and visitors, but also a position for antiques operators. On weekends, many professional antiques traders (including some Korean and Japanese) will come here very early before the daybreak for commodities,. As for those collection beginners or experts, the market serves as a place for value hunting and abilities enhancement on distinguishing genuine articles from the fake ones. With so many similar and exquisite imitations, it is really a hard job to pick out the mixed genuine items. The stories always been telling that very little money may change back a invaluable treasure.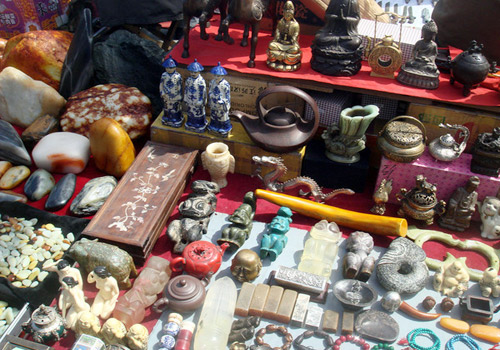 In addition, it is possible in Panjiayuan market to rent a temporary stall for a weekend with some money to sell one's idle pieces or exchange items with others. What's more, delicacies, snacks and drinks around the market are also in great diversity for choices.
Quick Questions
Our team is waiting for your questions. Please feel free to ask us any questions you might have about our China package tours, Chinese culture, or the sites available. We will gladly help you with any special needs you might have and all questions, like our trip designing is completely free of charge.